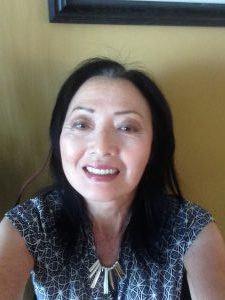 Hi, my name is Monica!
I'm a retired PADI Open Water Scuba Dive Instructor. I received my Open Water Certification in 1983 as a result of meeting my true love who already had a passion for diving.  He had been diving for many years before I met him.
When I enrolled in the Open Water course at a local dive shop I struggled during my training. I had the mask issue… having to take the mask off in water was not to my liking.
I had other issues like the regulator being in my mouth and breathing through that instead of through my nose.
Oh, and yes, there was the part of me diving down to the bottom of the pool (10′ deep) and having to put all my dive gear on at the bottom which I quickly found I was extremely buoyant. It took me several tries to get down to the bottom. I also suffered the anxiety of not being a strong swimmer and all I could do at the time was the dog paddle and side stroke.
At the end of my training in shallow water (pool) my husband and I made the trip to Vancouver Island, British Columbia (Canada) with my fellow dive students and Instructor to do our required 4 open water dives out in the ocean and perform the skills we had learned.
We were all on a big dive boat and I soon discovered I was getting sea sick… I was told I would feel much better if I got into the water instead of dwelling on how my stomach felt. Once we got in.. I discovered how captivating the ocean underwater really was. I was in awe with the sea anemones and how it looked like a beautiful garden, full of colourful fish, octopus and so much more…
I became a certified Open Water Scuba Diver! My husband and I made several trips to British Columbia, Canada to dive but I discovered my anxieties came back.. and so we stopped diving…
Tragedy and a new start…
In 1992, my husband was killed in a vehicle accident. I pretty much 'stopped living' and worked every day including weekends for many years. One morning I woke with the feeling I was not living and realized I needed to do something or I was simply not going to survive. I started going to church and met a young man who had been struggling with his marriage.
He spoke about wanting to become a certified scuba diver and I thought why not… It had been many years and it was now 2005. I knew the best thing for me was to get re-certified into the Open Water course and start fresh again. The night before, I had just purchased a carton of cigarettes and I gave it away unopened and have not smoked since.
My training this time went well and I was enjoying every moment, including the mask removal, and the breathing thru my regular. I did my 4 open water dives in Caribbean water (Turks and Caicos Islands) where the water was calm, warm, and great visibility. I highly recommend you finishing off by doing the final 4 open water dives somewhere warm. Everything felt good! The timing was perfect and I knew this was what I needed to do. I was totally 'hooked' on scuba diving!!
Off to the Turks and Caicos Islands
A few months later,  I gave notice to the family business and ventured off to Grand Turk, Turks & Caicos Islands where I lived and worked at a dive shop for 4 1/2 years. I purchased a vacant beachfront property in memory of my husband and a historical house built in 1870 and had the interior totally renovated. I received my PADI Advanced certificate.. the next course is up. I did 750 dives (seems like a lot … I know some people who have done over 10,000 dives… very cool!). By the way, I still get seasick and thanks to Ginger Gravol (non-drowsy) nothing stops me from enjoying all my dives!
Onward to Utila, Honduras
In 2009, I made the trip to Utila and remained there for 5 months. During that time, I did my PADI Rescue, and Dive Master and received my Open Water Scuba Instructor status. I also received training in Underwater Photography, Nitrox and other specialty dive courses.
Currently…
I don't teach scuba diving anymore but maintain my Instructor certificate by paying my fee to PADI. I'm currently living in Canada… yes, colder weather! I'm enjoying the life of travelling to different places to dive whenever possible and my mission is to continue diving till I'm in my 80's… lol! No kidding… I took an elderly man who was 87 years old diving… wow, how cool is that? He had been diving for years!  Today, I have done over 800 dives with more to come!
Are you interested in learning to scuba dive and have anxieties?
Now that you know a bit about me, I want to let you know that I created this site specifically for you! You don't have to be a strong swimmer… all you have to do is be comfortable in the water and have the basic water skills. Yes, I know, it's easy for me to say. Now… I will admit, I took adult swimming lessons and so now I can do the front crawl. I had to improve my swimming skills in order to become a Rescue diver and of course to be a dive instructor.
If you have tried the beginner or introductory course and have had issues with equalizing your ears, mask clearing, any type of anxieties and you still have the desire or curiosity, I can help you. I have all kinds of helpful tips for you!
Please don't let the fear or doubt stop you. I'm here for you! If you have any questions or comments just leave them below and visit my site on a regular basis because I am always updating with new and interesting information. I know you will enjoy reading them.
Have a wonderful day and thank you for visiting my site!
On land, there is much beauty but God has given us beauty underwater too!
Ahhhh, yes, the joy of scuba diving! Come live the dream!
Cheers!
Monica
Founder of Joy of Scuba Diving
joyofscubadiving.com
Email: monica@joyofscubadiving.com