So you want to learn how to scuba dive. I have the best scuba diving tips for beginners!
There are 9  pieces of important information!
This article is written for anyone interested in wanting to take their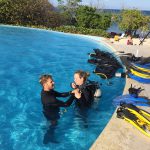 first scuba diver certification course or a quick introductory course to scuba diving (no certificate).
If you're going to do this, you want to do it the right way. Safety is everything!  
This is why I want to share this information to you!
Things you need to know before taking your first dive course:
---
1.Health.
Conditions like:
Asthma (mild, intermittent, controllable to severe)
Diabetes
Heart disease
Cancer
Pneumothorax (lungs)
DCS (Decompression Sickness)
Pregnancy
My advice is to consult with your family doctor first. Before you can learn to scuba dive at a dive shop or resort, you will be given a medical questionnaire to fill out. The form will have a list of medical conditions and any check marks you place will require you to get medical authorization relevant to scuba diving in writing from your family physician.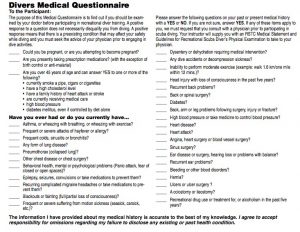 Caution: I have known certified divers who have falsified their information on the  medical form because they wanted to scuba dive desperately. Please don't this!  I've seen divers panic because they couldn't breathe through their breathing apparatus due to the trigger of asthma. This not only puts the asthmatic diver in danger but can also places risk on the diver who is doing the rescue.
What if you have a cold, a toothache, stomach flu?
You're not feeling up to snuff…  your nose is runny, your head feels stuffed up… it's not safe to dive when you have the flu. Chances are, if you're feeling like this, you're not even going to be able to equalize your ears underwater and therefore feel pain in your ears. There are various methods you can relieve the pressure on your ears but it can be more difficult when your sinuses are not clear. 
Got a toothache before you dive? You're better off to get that tooth decay or any dental infections looked after by a dentist before you scuba dive otherwise you might experience the discomfort of tooth squeeze.
For those of you who feel like you have stomach flu, I suggest not diving until you feel better.
Are you prone to motion, boat movement – sea sickness?
I have the perfect solution for those of you who feel seasick – I take chewable Ginger Gravol. It's the best in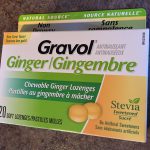 my opinion and is non-drowsy. I've tried the basic Gravol and other seasickness preventatives but they make you tired and after your dive, you just want to sleep the rest of the day off.
Take the Ginger Gravol at least 30 minutes before you get on the dive boat… works like a charm!
2. Know the prerequisites.
a) Do your research online for a scuba diver organization (i.e. PADI, SSI, SDI – members of WRSTC) or contact the dive shop or resort you want to take your course from.
b) Age is a factor. In PADI's case, for example, they will tell you, in most areas, the minimum age is 10 years old.
c) If you're considering PADI's Discover Scuba Diving Course,  the minimum age is also 10 years of age but for this, you will not receive a certification.
d) Be aware that you will need to sign a medical questionnaire that I spoke of earlier.
3. What kind of swimmer should you be?
a) You should feel comfortable in water and be able to put your face directly in the water.
b) Some basic swimming skills are necessary, for instance, you should be able to float and tread water for 10 minutes. The best part is, you can do this anyway you want.
c) You must be able to swim 200 metres/yards any style you want or if you don't want to do that then you must swim 300 metres/yards wearing mask, snorkel and fin. Both require not stopping.
d) If you have physical challenges, you can still earn your scuba diver certification thru adaptive methods and techniques that will enable you to achieve the requirements. The best thing to do is to consult with the dive shop and the scuba diver organization like PADI. SSI or SDI.
4. Know and control your fears.
a) If you're afraid of sharks for example, do some research. I think you will realize sharks mean no harm.
b) If you're afraid of the water, go to the pool and become a stronger swimmer and gain confidence.
c) If you're afraid of being left alone or abandoned, choose a dive buddy you can trust and do your research on the dive shop or resort's reputation. Choose a dive shop affiliated with WRSTC.
5. Give yourself time to learn.
a) If you don't want to spend your time at a resort or dive shop studying from a manual, PADI, SSI, and SDI offer e-Learning for your certification course. You can do this at home and then get a referral and then take that trip to do your 4 open water dives thru a dive shop or resort. The time it takes to get your certification is totally up to you and your dive shop you connect with.
6. Choose your dive location where you want to learn.
I've always had the belief that your first dive is THE most important for someone who is just learning! If you have a bad experience, say the water was rough and visibility was poor and you got seasick, boat ride to dive site took 45 minutes… it simply was not fun.
Ummm, would you consider going diving again even after earning your certification? So easy to get discouraged…
Location is important because you want your first dive to be the best scuba dive experience ever! Exciting news to tell your friends and family when you get home.
In order to get your Open Water Scuba Diver Certification from PADI for example, you must do 4 open water dives. This means for beginners you are diving 60 feet/18 metres. Some things you would want to check out are:
a) Water temperature
b) Seasonal weather conditions – best time to travel
c) Type of diving – drift diving?
d) What ocean?
e) What do you want to see underwater?
7. Choose your dive shop or resort wisely!
a) The dive shop or resort should be affiliated with WRSTC. Check the reviews. Trip Advisors have lots of information to share.
b) It would be nice if the dive shop or resort have a pool where they teach you the scuba dive skills like familiarity with dive gear. Some dive shops don't have pools which is fine too because they will do the training in shallow water.
c) Can also get a list of dive shops thru PADI, SSI and SDI. They are well known scuba diver training  organizations who are members of WRSTC.
d) What kind of dive boats do they have? If you have physical challenges, you would want to know if they are properly trained and have methods to train and assist you both in the water and back onto the dive boat.
e)  Do they pick you up and bring you back to where you're staying? Do you have to walk or take a cab to get there? Are they located at a resort?
8. What's involved in the beginner course?
Get an idea of what your beginner certified course is all about. Classroom, 4 open water dives, confined water, referral, etc. Of course, you want to know the cost too.
9. Purchase your own equipment?
a) It's up to you, but you don't need to purchase any dive gear immediately. All your dive gear rentals are included in the courses.
b) Once you have taken the course and you decide you enjoy scuba diving, which I'm sure you will….  after a few more dives and renting dive gear, you will then be in a much better position to decide or have some ideas of what kind and brand of dive equipment you want to invest in.
Moving forward!
---
Now that I've given you a lot of things to think about and prepare, I hope you found the information helpful! Getting your first scuba dive is exciting and I'm sure you will feel very proud to be a certified scuba diver. You've only just begun into exploring the underwater world! There are many more exciting courses to take.
If you've decided not to do that yet and just go for the short introduction course, that's wonderful too. You will enjoy that just as much and before you know it, you'll long to get certified!
I've mention PADI, SSI and SDI several times here and if you're interested in learning more about them, please click here! The information will help you decide which scuba diver training organization to choose.
If you have any questions or comments, please put them below in the comment box. I hope you enjoyed reading this!!