I've had some people ask me how they can learn to scuba dive for beginners. After some lengthy conversation with them, I found they seemed keenly interested in learning but still had reservations.
So today, my mission today is to help you commit to your first step into the plunge underwater!
I'm going to tell you all about PADI's Discover Scuba Diving Course and why this is the best course for you to take as a beginner especially if you are delaying.
What's holding you back?
---
First, let's find out first what's really holding you back from making this decision. I know you want to learn!!
You're not a swimmer

Shark fear

Fear of not being able to surface

Your friends talk of pain in their ears

Medical condition

Fear of drowning

Fear of running out of air

Claustrophobia

Fear of not being able to do this
Now, let's eliminate as many of these fears as possible.  I had all of these fears except for the medical condition.
Fear can sometimes cause certain anxieties. It can be a bad thing or it can be good as in it keeps us more focused and aware of our surroundings. So, what can be done?  Let's take swimming, if you're not an 'adequate' swimmer then take swimming lessons. This doesn't mean you have to be the swim guru… you're building confidence. This helps to remove the fear of drowning, fear of not being able to do this… do you see what I mean?
Moving onto the sharks, how many people in the world on average in a year do you think get killed by sharks? On average 5!
Cow and bulls have killed more people and dogs on a yearly average kill 30 people in the US. Millions and millions of sharks are being killed for their fins and left to sink into the ocean to die painfully. If you really want to be on the safe side, don't swim in the ocean at dawn or dusk as that is their feeding time.
Whatever your reason is, the only thing that can stop you from learning to dive is maybe for medical reasons. This would mean getting your family physician to give you the ok in writing to do this sport.
Getting to the point!!   PADI Discover Scuba Course!
---
The PADI Discover Scuba Course is the best course to take if you fall in the 'fear' category. Many of you may have already heard of this course but you still haven't taken action.
PADI (Professional Association of Diving Instructors)  was created in 1966. Today, it's the leading and most popular, successful and respected, recreational scuba dive training organization in the world. Their mission… to teach the world to scuba dive safely! Since 1967, PADI has issued over 24,000,000 scuba dive certificates all over the world.
What does taking the Discover Scuba Diving Course really mean for the beginner?
---
Think of your first day at school and all the anxieties you had… but you made it through and then think of everything you learned and accomplished!  Here's why taking the Discover Scuba Diving Course will help you: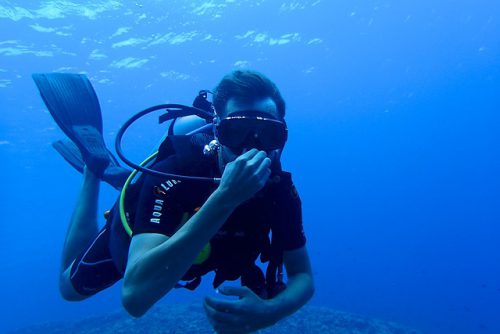 1) No certification (no need to study from manuals)
2) Opportunity to experience scuba diving.
    (Best part! Your instructor NEVER leaves you!)
3) Familiarity with dive safety techniques,  how to use and wear your scuba gear
     (learn to properly overcome ear pain, eliminate running out of air, get rid of claustrophobia, even                      alleviate your fear of sharks).
4) Direct supervision of a qualified instructor
     (you will get the most attention and a great underwater tour)
5) Do this in one day. You can do this with your local PADI dive shop, or resort.
6) Introduces you to the recreational sport of diving – do what it takes to learn underwater
Ok… so you're still holding off for other reasons.
---
Too many times, we deny ourselves the pleasures of adventures, not because of fear but from life roles, and responsibilities… if you find yourself here….
Been on your mind to learn to dive 

You want to know what it feels like to breathe underwater

You don't want to get certified

You're too busy, feel like you have no time

Getting certified costs too much money

Don't want to invest in gear without trying first
Hey, PADI's Discover Scuba Dive Course is perfect even for you!
What will you learn and how will you learn?
---
1) You will need to fill out a medical form relevant for diving. Any YES's will need to be addressed by your family physician in writing. This form can be printed from any of your scuba diver training agencies websites like PADI, their affiliated dive shops or resorts.



You want to do this ahead of time if you're going on vacation. No surprises… right?
2) Before you go in the water, your qualified instructor will spend some time with you in the morning going over the basic safety diving guidelines. Learn for instance, how to
equalize your
ears
to avoid pressure pains underwater.
3) Next, you get to learn the skills required to dive safely either from off a dive boat, off the beach or swimming pool. Your instructor explains and demonstrates each skill and then you repeat until you're comfortable.
During this time, you are given the opportunity to familiarize yourself with your dive equipment and get to know its purposes. Skills like how to maintain good buoyancy, how to breathe through your regulator…
4) Finally, the moment you have dreamed about!  You will get to do 1 dive under the direct supervision of your instructor in open water. 
What's required for PADI's Discover Scuba Diver Course?
---
No experience in scuba diving necessary

Basic swimming skills, comfortable in water

Minimum age is 10+

No need to purchase scuba gear. I highly recommend you don't do any purchases until you have taken PADI's Open Water Diver Certification Course. Accomplishing more dives will help you determine which dive gear works best for you.
What's the cost of PADI's Discover Scuba Diving Course?
---
PADI's Discover Scuba Diving Course is $95.00 US 2017 rate (includes all dive gear rentals and tank fills).
Ready to take the plunge underwater now?
I hope I finally convinced you into taking PADI's Discover Scuba Diver Course! I really would like to hear from you. If you have any questions or comments please put them in the comment box below.
Let me know too all about your experience after you've completed the Course.
Want to know what your next step is going to be after you've completed this introductory course? Check me out on the Open Water Diver Course… your next step to getting certified. Did you know that once you get this certification, you are good forever to dive? You can do this with your friends and they become your buddy!