Learn to scuba dive the easy way!! Fast and easy. No books!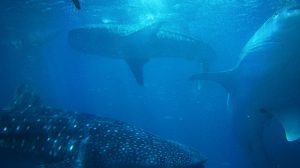 Do you enjoy being in the water? Are you ready to get certified? Maybe you've heard your friends talk excitedly about the wonders of the underwater world and now you want to get the same experience!
Here's what you need to know to become a certified scuba diver!
This is for you!
First, you might have heard of the term Open Water Diver (OWD). If not, an Open Water Diver is someone who has been trained to do recreational diving. This diver has an entry-level certification. There are many other progressive certifications that can take you to even becoming an Open Water Dive Instructor. The certifications awarded regardless of the level of the course is referred to as the C-card.
What is the entry-level dive certification?
---
This is where you want to start.. !  
There are different diver training agencies with different course names, for instance, PADI, SSI, and SAA refer to their entry-level dive certification as Open Water Diver Certification. Other similar or equivalent agencies are NAUI who call their entry-level course as Scuba Diver and BSAC call theirs Ocean Diver.
Dive shops and resorts work together with one of these agencies to represent their products and services.
The level-entry certification course covered by these agencies have pretty much all the same teaching methods with a very limited number of students. For instance, PADI will have a maximum of 8 students in a group.
You just need to decide which dive training agency you want.
The courses from these diver training agencies in regards to the entry-level certification will cover the following:
Academics – Knowledge and theory development related to diving

Actual hands-on training in confined water or shallow water

Open water experience in limited depth
What are the benefits of getting your entry-level dive certification?
---
Some people think they never have to get certified and think they can simply put on a mask and fins, rent scuba gear and get tank fills. Guess what!!  Dive shops will turn you down flat if you are not a certified diver.  Yep and this means, no diving PERIOD because you won't even get a tank filled…
The real reason you want to get certified is SAFETY! Learn from the very best professionally trained instructors.
By the way, your certification is good forever anywhere in the world – imagine having your own global license to dive for as long as you want! And YES, you get tank fills, rent dive gear, and get underwater dive tours, take lots of exciting underwater photos to show your friends and families, make new friends…
Where can you take this entry-level dive certification?
---
There are several places you can take this course.
Local dive shops

Resorts

Connect with a diver training agency (PADI, SSI, NAUI, SAA…)

eLearning online
Not sure which to choose? Here's what I suggest…
Go with eLearning and start anytime you want! If you're a busy person or feel like you might be rushed, eLearning is the best. All you need is a computer and internet, sign up with a dive training agency like PADI, SSI, NAUI, etc, or dive shop or resort. By doing this, you will learn all the required academics (theory) of scuba diving entry-level in your own time. Sit back and relax and learn at your own pace!
Next, you will see a list of all the dive shops and resorts affiliated with the diver training agency. Select the desired dive shop and location and finish your required 4 open dives in the beautiful Caribbean waters.  
I believe your first open water dive experience is the most important… dive where the water is warm with clear visibility and calm water and you're hooked forever!!
What exactly will you learn in your entry-level dive certification?
---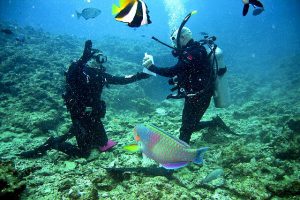 The course consists of three main phases:
1) Academics or Knowledge Development.
This can be a classroom, can study independently, or do online (e-Learning). You get to learn and understand the basic principles of safe scuba diving. There will be quizzes (multiple choice) and a final exam (mostly multiple choice).
2) Confined Water or Shallow Water Diving.

Here, you will become familiar with how to wear and use your scuba gear and learn the basic scuba skills. Your professional dive instructor will also demonstrate each skill and you repeat the skill.
3) You will be required to do 4 Open Water Dives to a limited depth.
For this, you are accompanied by your instructor who will give you the underwater tour, demonstrate the skills you learned in shallow water or confined water and you repeat the skill. Relax, have fun and explore the underwater world… everything you dreamed about!
4) Congrats! You are now a certified entry-level scuba diver!!
How long does it take to do the entry-level dive certification?
---
If you decide to go eLearning online, it's totally up to you as to how long you want to take. Once you finish the eLearning you need to find a dive shop or resort to do your 4 open water dives with or if you already know which dive shop or resort you want, then contact them for the best possible solution. The 4 open water dives can be done in 2 days.
All in all, It usually takes 3-4 days depending on your comfort level to earn your Open Water Diver, Scuba Diver or Ocean Diver certification. If you're in a classroom, it may take longer…
What are the requirements for the entry-level dive certification?
---
You don't need to have prior experience in diving, however, certain conditions must be met:
1) You must be at least 15 years old. The nice part is, there is no maximum age!
2) Kids can learn as young as age 10. There are different courses for kids and so it's best to check with the diver training agency such as PADI, SSI, NAUI, etc or the dive shop.
3) You must be in good physical health. You will be required to fill out a dive medical form and any YES's will require a written medical approval from your family doctor.
4) Before completing the entry-level dive certification course, you must demonstrate to your instructor that you are able to swim 200 metres/yards or 300 metres/yards if you are using mask, snorkel, and fins. You cannot stop in the middle of your swim. There is no time limit (so relax and enjoy your swim). You can swim any stroke you want.
5) You must also demonstrate to your instructor that you are able to tread and float in water using any method you want for 10 mins.
Note: If you have any physical challenges, don't let this stop you. There are many divers who are amputees, paraplegia and have other challenges. All you have to do is get in touch with the dive shop or resort and talk to one of the instructors.
What is the cost to do the entry-level dive certification?
---
Diver training agencies use independently owned and operated dive shops and resorts. Prices vary according to their size of class and location. The best thing to do is to contact the dive shop or resort for prices regarding your entry-level dive certification. I've seen prices vary from $450.00US and up.
Are you ready to take the plunge?

---
Remember I said, your first dive experience is the most important?
I have to admit that once I decided to commit, I did classrooms because, at that time, there was no such thing as eLearning. I booked with a dive shop out in the Caribbean, got on the dive boat and although the boat ride was short.. the water was rough… before I knew it I was hanging over the side of the boat and gave up my breakfast.
Before you take the plunge into the water, decide if you are prone to seasickness and motion… if you are, check out my how to prevent seasickness! If you're not, check out my .. how to equalize your ears when diving! You must be able to equalize your ears underwater…
I hope you enjoyed reading this! If you have any questions, any comments you would like to share with me, please leave them in the comment box below.