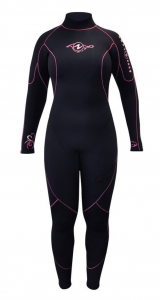 Product: Aqua Lung AquaFlex Women's 3mm Super-Stretch Dive Wetsuit Review
Cheapest Place to Buy: Amazon.com
Sizes: 4, 6, 8, 8Long, 10, 10L, 12, 12Long, 14, 14Long
Colors: Black Twilight, Pink, Twilight
Weight: 4 lbs.
Shipped: U.S.
Warranty: 1 Year
My Rating: 4.5 out of 5
Overview
---
Investing in the best Aqua Lung AquaFlex Super-Stretch Dive Wetsuit is crucial if you want to stay warm and comfortable underwater even in the tropics. Not only does it give you that necessary insulation, it protects you from jellyfish stings and scrapes from coral.
I purchased the Aqua Lung AquaFlex 3mm Super-Stretch Wetsuit about a year ago and decided I would write this review and give you my experiences wearing it so far.
In this Aqua Lung AquaFlex 3mm Super-Stretch Wetsuit Review, I'll tell you what works well, its durability, minor drawbacks and where you can go online to get the best price.
By the time, you finish reading this review, you'll have a pretty good idea if the Aqua Lung AquaFlex 3mm Super-Stretch Wetsuit is your perfect wetsuit!
Features of the Aqua Lung AquaFlex 3mm Super-Stretch Wetsuit
---
Aqua Lung refers to this wetsuit as a 'jump suit' as their brand line. The suit itself comes in different thicknesses ranging from 3mm, 5mm and 7mm.
They claim this wetsuit to have the following main features:
Super stretch material AquaFlex neoprene is used on the entire suit to give you that perfect fit.

Durable to resist abrasions.

Easy to get into the wetsuit and get out of it.

YKK Zipper at the back to resist water seepage.

Wrist and Ankle cuffs are spandex taped edges to keep water out.

Pre-bent arms and legs for free motion.

Flexibility.

Seams are liquid rubber to prevent transfer of water.

Keeps your body core warm.

Neck seam is sealed with glued blind-stitching to keep water out. Supposed to be not tight fitting around the neck.

Computer traction silicone pad at the wrist.
The qualities behind all this seems quite impressive right? The real question, do they have all this and does it work?
The Review
---
The rest of this review is based on my experiences of wearing this wetsuit.
About a year ago, I started searching on Amazon.com for a full length 3mm wetsuit for my dives in the tropics. Some of you might think why not go with a shorty wetsuit or why even bother if you're diving in warm water.
Did you know that a 3mm full length wetsuit is by far the most popular choice for divers diving in tropical warm oceans?
I'm a recreational diver and enjoy diving anywhere from 20 ft to 100 ft. The thing is, the deeper I go the colder I would get because my wetsuit thickness compresses. The other reason is sometimes you can get stung by tiny clear jellyfish or get too distracted watching an octopus trying to catch a grouper and you mistakenly bump into some coral (very rare).
I actually purchased my Aqua Lung AquaFlex 3mm Super-Stretch Wetsuit from Amazon.com because of the customer purchased positive reviews and other reviews online.
It only took 3 business days to arrive. I opened the box, found it was carefully wrapped and had instructions on how to look after the wetsuit. When i took it out of the box and held it up, I could see the curve in the arms and the legs.. I guess that's what they meant by 'pre-bent'.
I tried it on instantly and to my amazement it fitted perfectly. The material is neoprene and stretchy just the way Aqua Lung described it to be. Even the legs and the arms were the right length and it felt soft and very comfortable.
The Water Test
I went on a dive trip to Cozumel. By the way, the full length wetsuit fitted quite well in my suitcase and I still had plenty of room for the rest of my things. It weighs about 4 lbs.
I put my wetsuit on the dive boat and it was easy to put on. I didn't have to struggle trying to get my arms and feet thru it. The YKK zipper at the back was an easy pull up because of the pull cord. I was so used to having a wetsuit with a zipper at the ankles and this suit just didn't need it because of the stretch in the material.
The velcro collar made it simple to adjust to my neck size and prevented that choking feeling I would sometimes experience from renting wetsuits. The odd times, I would end up with a rental wetsuit and everything fitted well so it seemed, but ended up with water seeping in thru the neck.
I didn't feel like I was a cardboard and  had no trouble with putting on the rest of my dive gear.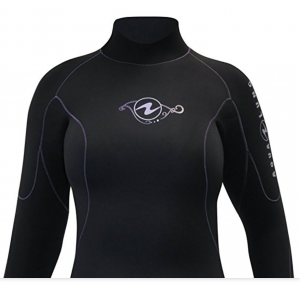 Once I entered into the water, (water temperature was around 74 F). I still felt a little concerned about water coming in thru the neck area but that didn't happen at all.
I brought my dive camera with me and sometimes I'm in some very weird body position just to take a picture of an interesting sea critter or my dive buddy and I will do some dancing underwater. I was thrilled the suit allowed all the motion freedom I wanted. This definitely passed Aqua Lung's 'super stretch material AquaFlex neoprene'.
My first day diving with this suit, I went down to 95 ft. Did I feel cold? Nope… not at all!  My wrist dive computer didn't move around like it did on my old wetsuit. No more fiddling around with it to read my numbers. That traction silicone pad is a pretty cool idea to incorporate into the wrist.
When I completed my dive and back on the dive boat, I noticed the wetsuit stayed in shape, the legs and the arms hadn't stretched. I was easily able to remove my 'wet' wetsuit and make that quick entrance back into the water when nature called. I didn't have to wiggle out of it!
Pros
---
Consistently keeps you feeling comfortable and warm

Fits any body type

Durable

Natural free motion

Environmentally safe

Great variety of sizes

YKK Zipper (with pull cord) prevents water seepage

Easy to get in and out

No more ankle zippers

Adjustable velcro neck collar

Pre-bent arms and legs

No fiddling to monitor wrist computer

Adequate Colors – Black Twilight, Pink, Twilight

Pricing – Customers from Amazon reviews felt the price was very reasonable.
Cons
---
1) Aqua Lung gives you only 1 year Limited Warranty. So, if there are any deficiencies, you need to have your original receipt of purchase and be the original owner. They'll either repair the deficiency or replace the wetsuit with another one.
As much as I would like to see 2 year warranty, due to the fact that sometimes you only get to go on a dive trip once a year. It is what it is.
Aqua Lung has being in operation since the early 1940's and even Jacques-Yves Cousteau had some dealings with this giant corporation.  
The best thing to do is as soon as you open the box, do a thorough inspection.
Tip:
---
The only thing I can say is that after reading the customer purchased reviews on Amazon.com, there was one recommendation that said if you're between sizes to consider a size down. I think that's a good idea!
I'm 5'4" and weigh about 118 lbs and if you look at the Aqua Lung's chart here, I could go with size 4 but chose not to… never know I might put on a few pounds…lol!! I went with the size 6 and it is a perfect fit!  BUT, you need to consider the stretchy material and where you are on the chart. If you're between go a size down, the wetsuit will stretch with you.
Always check your sizing with the manufacturer's!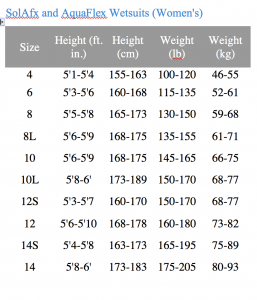 Of course, if it doesn't fit, you just simply return it for a different size or you can contact Aqua Lung directly and give them your measurements and get help before committing to a size.
Conclusion
---
I highly recommend the Aqua Lung AquaFlex 3mm Super-Stretch Wetsuit for women who want that perfect fit, love to be warm, want to have that natural ability to move about underwater without any constrictions and just feel down right comfortable!!  
I've done research for you on places to go for the best deal and I've come up with Amazon.com PLUS they're offering FREE shipping.
If you choose Amazon.com and for whatever reason the wetsuit doesn't work out you can return it to Prime Scuba within 30 days from your purchase date. You only need to retain your original receipt, the original box and packing materials.
CLICK HERE To Take Advantage of The Special Amazon Discount And FREE Shipping on The Best Aqua Lung AquaFlex 3mm Super-Stretch Wetsuits!
Hey, if you already have this wetsuit, I would like to get your thoughts or if you have any questions or comments please put them below!!