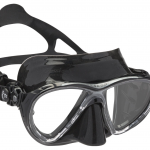 Product: Cressi Big Eyes Evolution Dive Mask Review

Cheapest Place to Buy – USA: amazon.com
Colors: Black, Blue, Blue/White, Pink, Yellow
Weight: 12 ounces
Sizes: None
Warranty: Limited Warranty 24 months (certain types of defects)
My Rating: 4.5 out of 5
The Cressi Big Eyes Evolution Dive Mask Overview
---
Investing in the best dive mask is crucial if you want to see clearly underwater!
Not only does a dive mask give clarity of vision, it also needs to allow you a great range of vision so you don't miss out on anything underwater!
In March 2016, I purchased the Cressi Big Eyes Evolution Mask and I decided now would be a good time to do a review based on my personal experiences of using it.
This review of the Cressi Big Eyes Evolution Dive Mask will cover how well the mask performs, the features, the pros and cons and where the best place to go to purchase it.
By the time you finish reading this review, you should have a pretty good idea of whether the Cressi Big Eyes Evolution Mask is right for you!
The Cressi Big Eyes Evolution Mask Review
---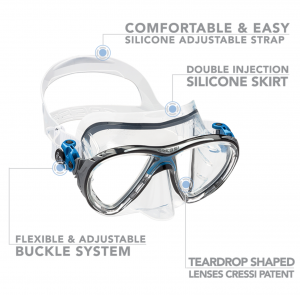 Cressi claims to give you the following features on this mask:
1) More durability and comfort thru their double injection technique.
2) Cressi's special Crystal Silicone  technique to prevent your mask skirt from fogging and discoloring.
3) Tear drop lens that are inverted and raked inward (Cressi patent) to give you an open angle range vision and downward visibility improvement of 25% more.
4) Supposed to be easier and faster to clear your mask because of Cressi's 'low internal volume' feature.  This should work if there isn't much space between the diver's face and the mask lens because there would be less air (low internal volume).
5) Ribbed mask skirt to provide more flexibility and durability.
6) Supposed to be flexible and have easy adjustable strap buckles that are mounted on an 'indestructible' elastic material. They claim it can be turned 180 degrees sideways. This is supposed help you adjust your mask easily!
7) Headband is apparently constructed out of Cressi's patented double injection elastomer material for durability.
8) Claim the mask is designed to take prescription lens.
9) Never experienced before comfort because they say it's made from High Seal material.
10) They claim you will have no outline of the mask on your face even after extended use.
Ok, well… this all sounds like a lot of technical design work went in to make Cressi's Big Eyes Evolution Mask seem so impressive!! The real question is, does the mask really work to what they advertise?
The rest of this review is based on my experiences of using the mask and from the customers who purchased from Amazon!
---
I already have a dive mask that I've been very happy using, but I was curious to see what this Cressi mask would be like…
I made my decision to purchase the Cressi Big Eyes Evolution Mask after reading the positive reviews on Amazon and after doing my research on Cressi. The color I chose was the black skirted mask because I like to take photos underwater…  the black reduces the glare from the inside of the lens.
It took 4 days for the mask to arrive by Purolator. The box came undamaged and the mask itself was nicely stored in a sturdy plastic container… nothing cheap.  I checked the mask carefully looking for any deficiencies ..  it's the first thing I like to do on any product I purchase especially online!
There are 2 things I did to make me decide if I was going to return it or not …
1)  I have wide cheekbones and a small nose and so ensuring I had the right fit was very important. I did the mask fit test to see if I had a good seal and that went well. I could also pinch my nose enclosed in the nose pocket. I also noticed how close the lens seemed to be to my eyes.  Curious to see how this would work underwater…
2) Taking no chances of having my new dive mask fog up on me during my dives, I breathed into the mask and it fogged up a lot. So, I did my usual routine with new masks…  I burned the manufacturer's residue and agents off inside the mask with my BBQ lighter. Cleaned it and tried it again… great no fogging!
Trip to Cozumel, Mexico!
---
I took the mask with me on my dive trip to Cozumel, Mexico. I'm a real stickler when it comes to diving and having to deal with any kind of mask issues is not my 'cup of tea'!
Although I had already gone thru the defogging procedure on my new mask, I have this great habit of always defogging my mask before I enter the water for all my dives. Something I learned from my Open Water Dive Course years ago.
I sprayed a small amount of Johnson's Baby Shampoo mixed with water from my small sprayer, inside each lens and let it swirl around and lightly dunked the mask in a pail of water provided by the dive boat captain.
Put the mask on… ummm now, for some reason it didn't quite seem to fit near as well on my face and so I had to make some quick adjustments. The buckles on the strap made it very easy to make the necessary adjustments…I could actually tilt it 180 degrees.
Once I entered the water, and started descending, I had no problem pinching my nose to perform the Valsalva Maneuver and equalize my ears.
During the dive, I was amazed at how much more clarity and wider range of vision I had. Even looking downward, the scope seemed wider. Wow… power trip!!! I guess that's where Cressi's patented tear drop lens technology comes in play.
The mask I usually use is single lensed  (yes, I did bring it with me just in case this new mask didn't work out) and so diving with a mask with 2 lens was interesting. It's been awhile since I last wore a mask with 2 lens. It's actually no different than wearing eyeglasses… you don't see the nose bridge either.
Either the sea critters wanted to pose for me or I was able to see things more clearly … anyway, I got some great shots and even had an opportunity to sell some of my pictures! I was glad I ordered the mask skirt to be black… it really does help to take the glare away.
Do you exhale thru your nose when you're diving?  I accidentally did this without thinking (a bad habit of mine) and of course my mask started to fog up… so I flooded my mask and did the mask clearing technique. Wow… couldn't believe how fast and easy it was.  Points on Cressi's low internal volume feature!
Note:
The mask fogging issue in my particular case had nothing to do with the design of the Cressi mask. When I was exhaling thru my nose with the mask on underwater, the air in my lungs which is warmer than water, created the condensation. It then fogged my mask and of course brought water into my mask because I broke the seal.
Overall, I am very pleased with my Cressi Big Eyes Evolution Mask. I did 6 dives including a night dive on that trip and never had one issue of water seeping into my Cressi mask… very impressive! The mask did feel very comfortable in the water. The other thing I liked was, the mask didn't leave an impression on my forehead nor on my cheekbones. A very pleasant feeling to have when you go out for dinner at the end of the day… !!
What do Customer Purchasers from Amazon Say?
---
Because I haven't had the mask very long, I decided to take into consideration what other customer purchasers had to say about their Cressi Big Eyes Evolution Mask. You'll see this in the Pros and Cons section below.
Some of the Amazon purchasers also wear eyeglasses so I thought you might be interested to read what they had to say.
Some of their reviews go back a few years so I think this needs to be taken into consideration that this mask has been in existence for awhile and that Cressi does incorporate new technology that is ongoing…
Currently, Amazon.com reviews show 301 customer reviews who purchased this mask:
92% gave 5 stars
4% gave 4 stars
2% gave 1 star
The rest gave 1%.
Pros
---
Low internal volume really works – easy to clear mask
Excellent field of vision because of the large lens
Black skirt cuts the surface glare
User installable optical lenses.

Diver ordered Rx replacement lenses and installed in the mask with no problems. Says there are several videos on Youtube that show how to do it.
Great for divers with mustache – no seepage of water
Diver with 'large' nose says it's a 'great' fit
Fits small faces very well
Very lightweight in comparison to other masks
Thicker quality plastic container for storage
Cons
---
2012 – Diver found cracks in the mask after being stored in the plastic container for a year. Diver felt mask was defective.
Not great for someone with a 'Roman' nose. Nose felt crammed.
Although Cressi's mask is designed to take prescriptioned lens, getting the lens installed took some effort.
Diver returned because it was too big
There are certainly mixed feeling on the nose pocket and facial structures. There were lots of recommendations to use toothpaste or defoggers to defog the mask. Defogging before entry into the water is a normal procedure as you do really learn this early in your Open Water Dive Course.
Conclusion
---
No matter what mask you purchase, remember to do your mask fit test. Remember, your structural face is different from other people.
If that mask fit test passes, make sure to do the defogging procedure. All new masks come with the manufacturer's residues and agents inside the mask and it's important to remove this before you go diving. Not doing this properly can cause you grief during your dives.
Always remember to take some kind of defogger with you. It's not something new… we all learned this in our Open Water Dive Course. When defogging remember to have clean fingers if you're rubbing the ingredient in the mask… your natural oil only defeats the purpose of defogging.
Now… that being said…
I do highly recommend the Cressi Big Eyes Evolution Mask for divers and snorkelers who want to see clearly underwater and have a greater range of vision so you don't miss out on anything!!
I have done some research on where to go to purchase this mask and get the best price and I've come up with Amazon. This is because you can get FREE shipping with Amazon Prime. Plus the seller is offering a special deal.
The seller offers a 24 month limited warranty on certain defects.  If you're going to return it, keep the original box and container. Amazon offers a 30 day return policy.
They also offer the Cressi Neoprene Mask Strap Cover at a reduced rate with a 2 year warranty. These straps come in all sorts of colorful colors and you can check this out here…
CLICK HERE To Take Advantage of Amazon's Special Discount And Free Shipping On Cressi's Big Eyes Evolution Mask!!