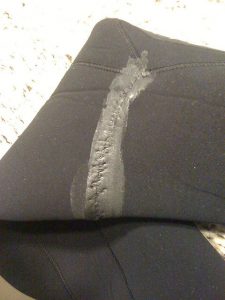 It would be a horrible feeling to suddenly get a rush of cold water coming into your wetsuit that could not only ruin your dive, it would cool your body temperature down and give you chills.
You're looking at your favourite wetsuit and just discovered a small rip on the upper front part of the wetsuit. You haven't even worn it much. How disappointing is that? You spent a lot of money…
But wait, before you start having a raging fit, you can remedy your  damaged wetsuit quickly, and inexpensively. A simple fix to have your wetsuit looking like new.
In this post, I'll tell you how to use the Black Witch Glue for your wetsuit repair along with a video and give you the causes of rips and tears. I will also give you bonus information of how to  prevent these rips and tears with a video.
Causes of Rips and Tears
---
The wetsuit is meant to fit snug but not tight and it's not the easiest thing to don especially when it is already wet. It's also not indestructible and did you know stress tears are not covered by manufacturer warranty?
Stress tears are most often caused by tightly stretching the neoprene material over the finger tips. Even pinching and pulling small amounts of the material can cause stress tears.
Other causes are:
Bumping or rubbing into coral, rocks and other sharp objects

Long fingernails and toenails

Rings and watches
Steps To Repair Your Wetsuit Using Black Witch Repair Glue
---
There are lots of neoprene glues available and it's important to use the right glue that will get the job done the first time. The Black Witch Neoprene Repair glue has been my most favourite glue. I spend a lot of time visiting dive shops during my travels and it seems to be the most popular glue used in their repair area as well as in in their retail stores.
Video of How to Repair Your Neoprene Wetsuit Using McNett Unisex Black Witch Adhesive
Here's what  you need to repair your wetsuit.
Small table or flat surface

Very small thin bristle brush or thin stick

Small piece of paper (optional)
1) Your wetsuit or at least the area should be very clean and dry. This helps the glue to stick better. 
2) Place the wetsuit on the table or on a flat surface and open and expose both sides of the the rip or tear.
If you think the glue will stick to the inside material, place a small piece of paper inside the wetsuit to the location of the rip or tear.
3) Follow the safety instructions on how to apply the glue. 
4) Open the tube and using a thin brush or stick, remove just a very small amount of the glue and place it on a piece of  paper on the table. Make sure the cap is put back in place.
5) Use the brush or stick and apply a sparing amount of the glue from the paper to both surfaces of the damaged area. DO NOT LET THE SIDES TOUCH EACH OTHER.  DO NOT PRESS THE SIDES TOGETHER.
6) Let the applied glue dry for about 1 – 3 minutes or until it turns a dull colour and if you put your finger on it, it should feel somewhat sticky to the touch but not enough to actually stick to your finger.
7) Once the glue has dried, apply a second coat following the same procedure as 5) and 6).
8) Gently bring the 2 sides of the damaged area in closer together to where they match and touch. DO NOT LET THE 2 SIDES OVERLAP.
For best results for a stronger bond, let the seal dry for at least 6 hours.
When Should You Repair Your Wetsuit?
---
At the end of your dives and as soon as your wetsuit has been thoroughly washed and dried, take a few minutes to inspect it looking for rips or tears. It's much easier, faster and cheaper to repair the hole while it's still small in size.
Of course the sooner you fix the rip or tear, the sooner you can go back diving and not have to worry about it ripping open again. Your wetsuit will be like new again and have that same integrity and with proper cleaning it will still last you for many years to come.
Even if you see a little nick in it, chances are it won't be long before it becomes a major repair job if you ignore it and keep diving.  Long rips may require professional help and cost more… major seam work for example.
BONUS: Quick Tips – How To Put On A Wetsuit
---
Most rips and tears occur when donning the wetsuit. You pull and you pull… sometimes, you just want to curse at it! As I previously mentioned, the wetsuit should feel snug but not tight.
Sometimes you're in a rush to get it on because your dive boat has already arrived at the dive site and so you do whatever you can to quickly suit up. Some think it's silly to even have a discussion on this. Have you ever tried getting back into a wet wetsuit??
1) You want to be on a clean surface when putting on or taking off a wetsuit.  Make sure that surface has no sharp rocks, or rough appearance. If you're wearing sandals that helps. If you have an extra towel, a mat or something you can place on the ground will help to be the clean surface. Of course, if you're on a dive boat, your floor surface should already be clean.
2) When suiting and pulling the wetsuit up, grab large folds of the neoprene material. This helps to prevent stress tears.
3) Always use your finger pads to put on a wetsuit. This helps to prevent stress tears.
3) Make sure the zipper is completely down before putting it on.
4) Jewelry and watches. If you need to have it on, be careful as they can put a tear and even slightly nick your neoprene material.
3) What to do with a wet wetsuit? I will either wear thin socks or plastic bags on my feet and hands. Both work quite well and help to quickly get your hands and feet sliding into the wetsuit. I know… seems silly but it works like a charm.
4) Got the zipper at the back? Get your dive buddy to assist you if you're struggling to pull the zipper up.  Help your buddy too! Zipper teeth can break and separate when pulled at excessive angles from its intended path which weakens the zipper.  
If you want to pull the zipper up on your own, place one hand at the back holding the bottom of the zipper to prevent it from stretching and the other hand pulls vertically up on the zipper string.
I hope this post is useful information for you and you can CLICK  HERE for the McNett Unisex Black Witch Neoprene Adhesive if you're interested in it. 
If you have any questions or comments, please put them in the Comment Box below.
Thank you for reading!
Monica