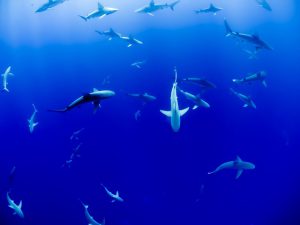 Diving with sharks can be an exhilarating experience for some divers while for others it will be an experience of absolute terror and panic.
When humans get attacked by sharks, it becomes a huge issue. You hear it on the news on TV and on the radio. Even the thought of their massive appearance will make us feed intimidated, cause us to shiver and cringe and never want to make an entrance into the ocean.
The purpose of this post is to provide you with the best tips on how to prevent shark attacks. 
Looking at the shark's point of view!
---
Sharks enjoy having big fatty meal like seals, ocean turtles, sea lions, whales and a variety of other fatty fish. So, as you can see WE ARE NOT ON THEIR MENU!!
You're probably wondering if we're not part of their meal plan, why do they attack humans?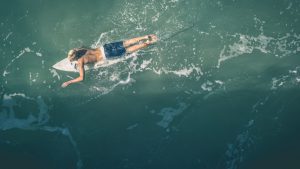 First of all most shark attacks happen to surfers and body board or boogie board riders who ride the waves. To understand this, you need to look at it from the shark's perspective…when sharks look up they see arms and legs and the shape of a seal, a turtle or a seal lion.
Get what I mean? To the shark you look like you're something meaty and fatty…if a shark attacks, they will take a generally take a bite of you and release you because you're too bony.
Divers who are spearfishing have been attacked in the ocean. Sharks are very much in tune when it comes to dying fish. They have a high sense of being able to smell blood in the water and the fish's struggle can send signals to the shark at a very far distance.
Sharks are not only majestic and elegant creatures, they are curious predators!
Shark's Diet
---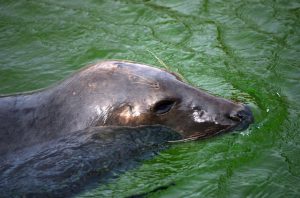 Most sharks are carnivorous with different feeding strategies. Their diet will consist of rays, seals, sea lions, sea birds, sea snakes, sea turtles, mollusks, crustaceans, dolphins, turtles, other sharks and different types of fish.  Invertebrates like shrimp, lobster and starfish are enjoyed as well with some sharks.
In addition to this diet, some sharks will resort to being scavengers feeding on garbage like cans and plastic.
Sharks Habitat
---
While a majority of the sharks are salt water environment, there is a handful of shark species that can live in both freshwater and saltwater. These sharks mainly go into freshwater to deliver their newborns and eventually all go back to the ocean.  
Bull sharks however, are a different breed, they can survive both environment. Some have even been spotted in the Mississippi River.
Shark Safety Tips!
---
Sharks are opportunists!
No matter how magnificent these shark creatures are, you still need to be aware and understand their behaviour in addition to your behaviour.
1) Dress Appropriately!
To avoid shark attention, it would be wise not to wear bright or flashy colours. If you wear a dive watch, conceal it and avoid wearing jewelry. Anything shiny that could appear like fish scales can trigger food to sharks.
2) Swim in a group of divers.
Never dive alone! You also learn this in your Open Water Dive Certification.
You have been told there are no sharks in this location… never assume this!  Sharks are present in salt water and you may not see them because you're too busy taking pictures. Swimming with other divers makes it less attractive for a shark to approach you. If it happens, other divers can assist.
3) Avoid diving at night, dawn and dusk.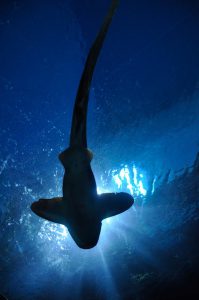 The popular feeding time for sharks is at night, during dawn and dusk. It's hard for the shark to determine if you are a likely meal during these times as they're already hungry. You can potentially provide all sorts of attraction to them by not paying attention to your dive skills. It's also very difficult for you to spot them.
4) If you have an open wound and are bleeding from it, do not go in the water.
Women can dive even if they are experiencing menstrual bleeding as long as they use tampons.
5) Communication
You must understand that once you are at the surface of the water or underwater, you and your dive buddy need to ensure your safety measures are in tact. It's not just sharks you need to be aware of.
You need to discuss a plan with your buddy so you both understand what to do in the event of when either of you have an emergency or see a shark. Find out what kind of diver your buddy is, go over hand signals and each of you must know your limitations.
6) Gather Knowledge on the types of sharks and feeding habits in your dive location BEFORE you dive.
You can gather shark information by having a discussion with the people who work at the dive shop you're about to do your dives with. You will want to get information like:
What types of sharks are in the dive locations

Learn their feeding habits

Best times to dive

Also need to know the type of diving you will be doing, night diving…

Weather conditions, visibility

Are there any areas where people feed sharks
7) Understand the shark's behaviour
Observing the shark's behaviours will give you many clues. You need to know if it's going to swim away or become a threat to you.
Understanding the shark's body language and your behaviour is the key to your survival!
If you observe a shark doing the following:
Starts to come closer to you in a quick and aggressive manner.

Swims in a zigzag pattern.

Arches its back.

Quick up and down movements.

Rubs its belly on the bottom.

Points its pectoral fins down.
Consider the shark to be in it's aggressive behaviour towards you. Prepare to defend and protect yourself!
8) Never feed sharks
Sharks were never meant to be fed by humans. More recreational divers are seeking the thrill opportunities to book shark feeding activities and get their pictures taken with them. Something I've never understood …
If you happen to meet up with a shark(s)
---
DON'T PANIC AND FREAK OUT!
The shark is not in your territory… you are in its territory! How you behave is how the shark will react towards you.
1) Do not thrash your arms about and frantically kick to swim away from it.
Sudden impulsive moves will only attract the shark and may make it think you're a wounded meal creating more curiosity for it to swim closer. Refrain from pushing your panic button and keep breathing.
Trying to shout with the regulator in your mouth still causes noise. You don't want to be detected.  Avoid being a distraction to the shark!
2) Always remain calm and hold your position as best as possible.
You and your buddy should be close together. Sharks are very curious and they will sometimes come close to you, check you out and then they'll swim away.
Enjoy the moment!
3) Never touch or grab their fins for a joy ride.
4) If you are spearfishing and have a catch, gently release the catch, slowly back away and leave the area.
5) Swim gracefully and always keep your eyes on the shark until you're back on the boat or shore.
What to do if the shark doesn't go away!
---
The shark has plenty of time but you can't stay underwater forever because you will eventually run out of air.
If the shark remains, the BEST thing you can do is to slowly descend to the bottom of the ocean floor if possible.  Do not make a bolt to the surface as this could not only cause attraction to the shark plus it could cause you to get decompression sickness.
If you are not able to descend to the bottom of the ocean floor, look behind you for the nearest reef or visible exposure of some sort of structure, a cliff face, anything. As long as you and your buddy can see the shark, slowly swim backwards and gracefully toward the structure. The goal behind this is to minimize the shark's angle of approach to you once you're at the structure.
It's important to face the shark because if they are going to attack, they will attack from behind. Use any object like a dive camera or spearfishing tool to place between you and the shark. Find anything you can to disrupt the shark's feeding pattern.
If you are shore diving, slowly descend and lay low on the bottom of the ocean floor.
If you are out in the open water meaning it's too deep to descend to the ocean floor and you have no structure or object to cut the shark's angle of approach, the best thing to do is to ascend with your buddy back to back. This gives both of you a wider field of vision by doubling it and the ability for you to defend your half. When you surface, swim to your dive boat.
What to do if the shark approaches you in a hostile manner
---
When a shark approaches you in a hostile manner, the best thing to do if possible, is to punch it in the nose, that's the most sensitive spot for the shark. You need to be mindful that if you miss your punch, your hand could end up in the shark's mouth. If you're not in the position to give that punch, use your fins or hit the shark's nose with your camera.
As the shark withdraws, take that opportunity to get yourself out of the water or in a safer position because the technique when repeated may not work.
When the shark's nasal opening gets plugged, research shows  it loses the sense of it's prey and will temporarily be unable to find it.
What to do if the shark has hold of you!
---
In the unlikely event,  a shark has its hold on you, you need to aggressively fight it. Punch it in the nose, the eyes, anywhere you can and kick. Don't 'play dead', it won't work!
Once the shark has released you, find a way to exit the water as quickly as you can. Your dive buddy should be there to assist you! As I mentioned earlier, if the shark attacks, they will find you are too bony and so the attack is usually once… however, you need to also remember, sharks are attracted to blood!
Conclusion!
---
Sharks attacks on divers are extremely rare!
Sharks are beautiful creatures to be admired and respected. They play an amazing role in our eco-system by keeping the population of other fish healthy and in proportion.
Don't let the fear of sharks prevent you from experiencing the other half of our beautiful earth!  
Thanks for reading my post and I hope you enjoyed it. If you have had any experiences with sharks, or have any comments and questions, I really would like to hear from you. Please put them below in the comment box.