The problem with buying dive gear that doesn't cost much is that you can end up getting frustrated because it's not performing the way you want it to which leaves you with bad dive experiences.

I've tried many different dive gears over the years and what I've really realized is that it's based on your dive skills, familiarity with the dive gear and the type of dives you enjoy most. Simplicity over complicated bells and whistles gives much more enjoyable and safer dives.

In this Cressi R1 BCD with the Leonardo Dive Computer Console, AC2 Compact Regulator and Octopus Package Review we will look at how well they can perform for you, their features, its pros and cons, what customers who purchased this had to say and see if this would actually suit your needs. When you finish reading you will have a pretty good idea whether this package suits your needs.
Product: Cressi R1 BCD with Leonardo Dive Computer Console, AC2 Compact Regulator and Octopus Package Review
Package:
Cressi R1Jacket Style Weight Integrated BCD

Cressi AC2 Compact Regulator (Yoke)

Cressi Compact Octopus with Hose

Cressi Air/Nitrox Leonardo Computer Console

Gear Up Guide Regulator Bag



Who is it for: Most recreational divers, beginners and rentals for dive shops 
Regulator Colours: Grey, Pink, White
BCD Colours: Mostly Black with touch of Grey
Weight: Unavailable
Sizes: X-Small, Small, Medium, Large, X-Large
Owner's Manual: Yes
Warranty: 
Cressi Leonardo Dive Computer 2 years Limited Warranty
Cressi R1 BCD 1 year Limited Warranty
Cressi AC2 Regulator and Octopus 2 years Limited Warranty from Purchase Agreement
My Rating: 98% 
The Cressi R1 BCD with Leonardo Dive Computer Console, AC2 Compact Regulator and Octopus Package Overview
---
Who is Cressi?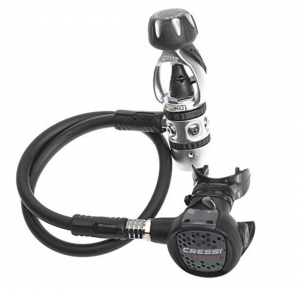 Cressi was founded in 1946 in Genoa, Italy by two brothers, Egidio and Nanni Cressi who had the passion of the sea and the gift for technical designing.  From spearfishing, scuba diving, snorkeling, and swimming, Cressi evolved into one of the largest sports equipment manufacturer in the world delivering products to over 90 countries. Cressi states with confidence that their gear is 'truly innovative' and that their standards are of the highest instead of following commonly known technology.
Features of the Cressi R1 Jacket Style Weight Integrated BCD
---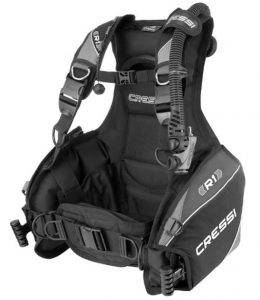 The Cressi R1 BCD is apparently specifically designed for divers looking for the lightweight jacket style, price affordable and streamlined dynamics.  Cressi claims this BCD to have the following features:
1)  Appropriate for most recreational divers. The BCD is based on the traditional jacket style but with a waist length shape that's unique and wings that are larger to create great buoyancy.
2) Supposed to be durable and comfortable. The shoulder pads have cushioning to give added comfort. Their axillary strap system prevents the feeling of being constricted around the diver's chest.
3) Large rounded pockets with gussets to hold dive accessories. The zipper is YKK (extremely strong, durable) on the pockets.
4) Low wings which Cressi says because of that the freedom of movement is guaranteed. The axillary strap system stops the jacket from moving around.
5) Flat Lock Aid System. This is the integrated weight system, meaning the weights are inserted into 2 weight pockets which are then inserted horizontally in its own compartment at each side of the BCD.
To prevent the weight pockets from falling out, they say they are secured and locked by means of their specifically Cressi designed quick release buckles. They claim this system is easy to use and is safe. This system makes the jacket lighter and flatter. The weights are supposed to be easier to manage at the surface in rough water conditions.
In case of emergency purposes, the weight pockets can be quickly released and ditched. 
Each weight pocket is to hold a maximum weight of 4.5kg/10lbs and the total for both pockets is 9kg/20lbs. Cressi recommends putting an equal amount of weights in each pocket to maintain proper balancing.
Cressi also says because of the structure being lighter, it makes it possible to wear the jacket without weights.
6) Semi-rigid backpack is made from material that is semi-flexible and ultra durable to make it compact and light. The backpack has a newly designed handle that is supposed to be easy to access.
The backplate has rubber inserts (thermoplastic rubber damper) which are non-slip and a new strap to anchor the tank valve and keep it centered.
Also included is a safety strap to provide extra securement of the BCD to the tank valve.
7) Independent waistband strap. You can tighten the waistband without supposedly feeling like your body is constricted when you inflate the jacket.  This is from the strap not attached to the cummerbund.
8) 4 stainless 50mm D-rings and 2 D-rings 25mm are located at the opening of the BCD to attach dive accessories. 
9) Elastic chest strap for comfort.
10) Attractive and durable Direct System Inflator. The inflator is a new design incorporating a gradual curve  and supposed to be highly durable. Comes with an integrated hose guide clip to keep the system streamlined.
The speed of inflation has apparently been adjusted to 50% greater.
The inflator is supposed to be easy to take apart and clean it in the event of sand infiltration and apparently no tools are required to do this.
Undesired inflation is prevented when the inflator hose is stretched to release air. This is apparently because of the integration of the inflation button to the BCD. Cressi's 'anti-sand' design is to prevent the device from sand blockage.
The deflator button uses a silicon washer to keep it water-tight.
Features of the Cressi AC2 Compact Regulator (Yoke)
---

1st Stage
Cressi's AC2 piston design – unbalanced

1 high pressure hose outlet 7/16 UNF

4 medium pressure outlets ⅜ UNF

Valve type DIN – 4350 psi or 300 bar or

Valve type Yoke – 3365 psi or 232 bar

Adjustable

Rate of flow is 2100 l/min

Weight of the Yoke valve is 635 gr

Weight of the DIN valve is 495 gr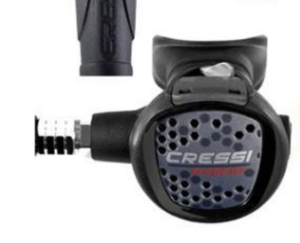 New 2nd Stage XS Compact (Mouthpiece)
Elastomer (solid rubber) cover is supposed to be anti-scratch

Uses Cressi's traditional AC2 piston 1st stage – unbalanced downstream

Supposed to be extremely light – weighs 145 g with hose

Apparently delivers excellent performance

Easy to do maintenance  – the exhaust tee can be removed without tools

Purge button is large – button to clear water that may have leaked into your regulator

Adjustable air flow
Features of Cressi Compact Octopus with Hose
---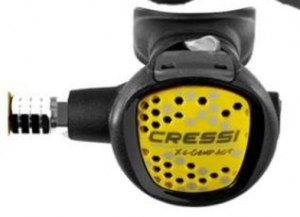 1) Shell is manufactured from hi-tech polymer material.
2) Most of the parts are Cressi patented.
3) Dive/PreDive switch that's adjustable. Extremely high performance, however the calculation is adjusted to make the inhalation effort marginally greater than what is on the XS Compact. This is supposed to stop any free flow of air as a spare regulator.
4) This Octopus XS Compact accommodates all of Cressi's first stages. Intermediate pressure on all of the first stages that fall between 9-10 bar are also accommodated.
5) The surface is anti-scratch with a soft touch cover.
6) Purge button is large.
7) Downstream system
8) No tool required to remove exhaust tee
9) Lightweight – without the hose, weighs 135 gr
10) Cressi patented lever that is anti-friction.
11) Cap holder has security lock.
Features of Cressi's Console
---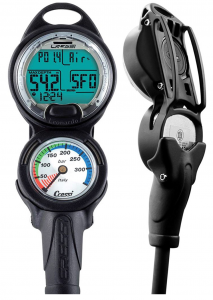 1) Console is made to fit 2 instruments which in this case is Cressi's new Leonardo Dive Computer and their Mini Gauge.
2) Console is angled – claims this makes for easy reading of instruments and comfortable to hold.
3) Console is very light due to materials like Desmopan and polycarbonate which causes less strain on the high pressure hose connection to the 1st stage. Also to create less drag.
4) Mini-Gauge uses a glass valve and is read in 5000 psi or 350 bar and uses colour codes red, green and blue. To protect it from explosion, the gauge is enclosed in a chrome-plate brass case and has a glass valve.
5) The console has attachment points which can be connected to a strap or clip for streamlining.

6) Leonardo Computer User Manual with 2 year Limited Warranty.
Features of Cressi's Leonardo Air/Nitrox Computer (Console)
---
1) Simple and very functional for recreational divers.
2) Easy to read battery indicator and has alarm that you can hear underwater. Battery is replaceable CR2430 3V.
3) Large LCD screen that is high definition
4) Easy push of a single button to program nitrox, air and modes on the gauge.
5) Reveals decompression calculation for multiple days and multiple dives.
6) Shows information like your dive times, how deep you dive, even your rate of ascent and surface interval time between your dives.
7) Keeps track of your desaturation with air and nitrox.
8) Claims you can record your dives and has a calendar and a clock. Apparently the logbook can retain up to 60 dives or 70 hours.
9) Can be set or reset to feet or metric.
10) Supposed to accommodate for altitude diving up to 3700 meters.
11) Night diving or low lighting, there is a light feature.
12) The clock can be set to 12 hours or 24 hours configuration.
13) Depth of operation covers 0' – 393' (0 – 120 meters
Wow…doesn't this all this seem might impressive…?  Lots of technical design went into this dive gear package!
The real question is, does this Cressi R1 BCD with the Package really perform what they advertise it to do?
Summary of What Other Customer Purchasers Had To Say
---
I haven't purchased this package but I am quite anxious to replace my old dive gear with a package to meet my needs. Even though I am an experienced diver, simplicity is what I'm hoping to find here. I do lots of researches and and reviews and enjoy sharing my findings hoping to help you out!
The rest of this review is now devoted to other customer purchasers experiences of using the entire Cressi R! BCD with the Package!
Summary of Amazon Reviews:
Total Customer Purchased Reviews 14
Questions Answered 24
Amazon Rating 4.9 out of 5
93% of Customers who purchased gave 5 Stars
7% gave 4 Stars
The Pros 

---
1) The vast majority of divers who purchased this package and volunteered to submit their comments felt they would definitely recommend this, great quality, also commented  how they love it, felt the package was excellent and amazing.
2) Some divers even went on to say how they were pleasantly surprised. They seemed very impressed by its looks how well everything works and thought the package was a great buy. 

3) Some divers have been diving in both cold and warm water and pleased with their performance.  

4) A couple of the divers have purchased 2 packages. 
5) No issues on delivery of package and no issues on the BCD sizes and setup is real easy with most of the assembly comes already done for you.
6) Some divers liked how light it was and great way for traveling even on a budget.

7) Some divers commented the Leonardo Computer was easy to use, that it tracked everything.
8) New divers like this package and felt it was a great starter for them and how familiar this is to use from their training. 
9) A diver was pleased with the high quality of the regulator and how well everything was put together. 
10) Diver really expressed his feeling of an absolute pleasure to use the package and felt they performed the way it was advertised. 
11) This diver commented about she was nervous ordering online because she wasn't able to touch it or actually see it physically and spending a lot of money on it. The package was actually backordered and the seller offered another set. She said the gauges were all very durable and she used it the following weekend and wishes she was able to give 10 stars instead of the 5 stars. She is impressed with the performance of the set.
The Cons
---
1) Diver received instead an alternate second stage that was branded Aqua Lung but didn't return it assuming it was an oversight during shipping. It worked just fine. 
2) Diver's primary regulator was not balanced and had minor breathing issues when tank was down to 700 psi. 
My Personal Opinion!
---
Starting at the CONS #1,  it is the shipper's responsibility to ensure proper items are shipped not the manufacturer. No points deducted.
CONS #2, diver experienced minor breathing issues when the tank had 700 psi left of compressed air due to the type of primary regulator being 'unbalanced'. Cressi's site does make reference to it's AC2 Compact Regulator Set as being unbalanced.
The best thing to do is to go on Cressi's website to get additional information. 
A balanced first stage means irregardless of how much air is left in the tank, the diver still receives a supply of air at an intermediate pressure that is unchanged. This is an important consideration when choosing a regulator because the regulator's first stage has to deal with a full tank at 3000 psi to under 500 psi as the diver uses his supply of air. If you find you consume a lot of air I recommend going for the balanced regulator even though the cost to purchase is greater!
An unbalance regulator's first stage means there is different pressure at each end of the spring valve assembly and so when the tank is full at 3000 psi and the diver starts depleting that compressed air, there's an unequal effort to overcome the spring's force. This alters the flow of air in the intermediate  pressure therefore making it harder to breathe when you're in deeper water and at low tank pressure. If you don't use a lot of air then the unbalanced regulator is perfectly fine. 
No points were deducted because the regulator still performed as it should have… as an unbalanced regulator.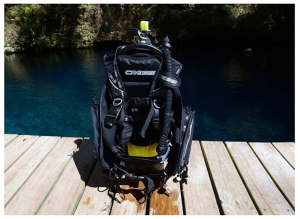 The PROS definitely outweighed the CONS. The CONS were not even valid points in regards to meeting the features as described. I was amazed at how it was considered a pleasure to dive with the package, and how the divers said they would definitely recommend it.
The comment like how the package met the advertiser's ad already tells me the features of the package did everything they were supposed to do.
I also checked to make sure you can download the interface and the answer is yes.
MY SCORE is 98% 
If you're looking for a complete dive package that meets the manufacturer's performance features to your expectations at a great price then look no more. The Cressi R1 BCD with Package might just be the right one for you!
I did a bit of research on where to purchase this package and so far the best place I've come up with is Amazon. 
CLICK HERE To Take Advantage of the great price on the Cressi R1 BCD with the Leonardo Dive Computer Console, Depth Gauge, AC2 Regulator and Octopus Package (includes hoses and assembled)!
I hope this review helped you make a decision. If you have had any experiences using this package, have questions or comments, I really would like to hear from you. You can put them in the comment box below.
Thanks for reading this!