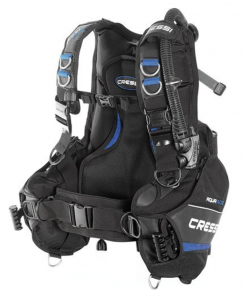 Product: Cressi Aquaride Blue Pro BCD Review
Type: Semi-Classic Structured BCD
Cheapest Place to Buy – USA: amazon.com
Colours: Black with blue material on D-rings
Weight: Depends on the size (7lbs – 8.3lb / 3.2kg – 3.8kg)
Sizes: X-Small, Small, Medium, Large, X-Large
Owner's Manual: Yes
Warranty: Limited 1 Year
My Rating: 4.3 out of 5
The Cressi Aquaride Blue Pro BCD Overview
---
Investing in your best BCD means you made that important decision to trust in it's reliability to keep you safe when diving.
In addition to it being your life support underwater, it needs to do everything you want it to do to maintain your neutral buoyancy underwater and positive buoyancy at the surface of the water.
Have you ever had the experience of doing a face plant just after you ended your dive at the surface? You just discovered the BCD you're wearing is not a jacket style!
This Cressi Aquaride Blue Pro BCD Review will reveal how well it performs, its pros and cons, what customers who purchased this had to say and where to go to get the best price.
After you have finished reading this review, you should have a pretty good idea of whether this Cressi Aquaride Blue Pro BCD actually suits your needs.
The Cressi Aquaride Blue Pro Review
---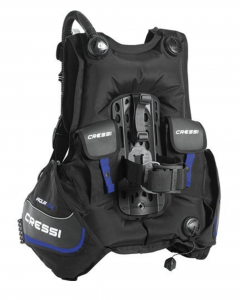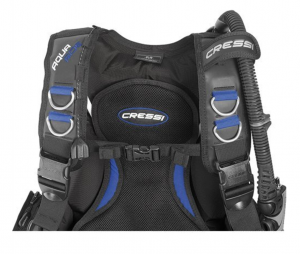 Cressi was founded in 1946 in Genoa, Italy. Known as one of the largest water sports equipment manufacturer in the world, from scuba diving, snorkeling, swimming, freediving and spearfishing, they are technology innovated.
On their Cressi Aquaride Blue Pro BCD, Cressi and their affiliates claim to offer you the following features as described below:
1) Supposed to help you maintain neutral buoyancy underwater and positive buoyancy at the surface.
2) Integrated weights in its own pockets are supposed to be secured by strong and durable zipper.  They're supposed to hold 10 lbs (4.5kg) in each pocket on each side of the BCD. Comes with Cressi's Flat Lock Aid System to prevent these pockets from falling out.
3) Ability to quickly and easily release the pockets with the weights in case of an emergency.
4) Shoulder straps that are adjustable. These straps will not hinder the air cells in the bladder. It's supposed to give you a more comfortable fitting as well as additional tank securement.
5) Anatomical control system to control buoyancy. Inflating and deflating is supposed to be easier for you. Also has low pressure quick disconnect hose. Has low pressure inflator hose.
6) Manufactured out of 420 denier nylon. I researched this out and it's 100% nylon which contains urethane back water resistant fabric. This is supposed to be tough fabric and harder to puncture.  If you're a dive professional, it's supposed to stand up to your daily usage.
7) BCD serves as dual purpose. Supposed to be great for you in warm water (compact and light) as well as handle cold water diving with dry suit and allow you to move around with it on.
8) They claim a diver of any level can use this BCD.
9) Hard backpack that's supposed to be super light wth lots of padding to make it feel comfortable for you.
10) Supposed to easy to put on and take off because of it's side release buckles. Easy to release because you only have to squeeze them to release the buckles. The straps are all located at the sternum, torso and waist are all adjustable.
11) Elastic cummerbund is supposed to make this a more comfortable fit.
12) Air bladder apparently has lift capacity of 18lbs – 42.7lbs (8.2kg – 19.4kg) based on size.
13) 2 Non-releasable weight trim pockets located at the back at bordering both sides of the tank. Weight capacity of 8lbs (3.6kg) to give you better buoyancy.
14) 3 pull dump valves that can be used no matter what position you're in supposedly. There are 2 over-pressure relief values at the shoulder and 1 cable activated pull dump valve located behind the waist.
15) They say it has large pockets on each side that can be zippered for you to store dive accessories.
16) 6 D-rings made from stainless steel to hang whatever item you want. T
17) Oral inflator. In case of inflator malfunction, you can apparently blow in this to put air into the bladder.
18) Cressi's power inflator. At the push of a button, it allegedly pushes air into the bladder.
19) Warranty. 1 Year Limited 
Wow… this certainly looks like a lot of technical design went into this Cressi Aquaride Blue Pro BCD and it sounds really impressive right?
However, the real question is does the Cressi Aquaride Blue Pro BCD actually work the way it's been advertised?
What Other Customer Purchasers Had To Say!
---
 I have not purchased the Cressi Aquaride Blue Pro BCD but I am looking at a newer BCD for myself soon. I started doing various researches on BCDs awhile back and wanted to share with you my findings on this BCD in hopes of helping you too!
The rest of this review is devoted to what other customer purchasers have experienced with wearing this product.
9 Total Reviews on Amazon which include customers who also purchased a Cressi regulator as a set (Out of 5 Stars)
7 people gave 5 Stars
1 person gave 4 Stars
1 person gave 1 Star
14 Total Reviews on Leisure Pro (Out of 5 Stars)
13 people gave 5 Stars
1 person gave 1 Star
The Pros
Verified Customer Purchaser Reviews from Amazon and Leisure Pro. This is what they say.
1) Looks good.
2) Great fit and generous. Felt it was comfortable to extremely comfortable. Love the feel. More comfortable than a back inflate BCD style.
3) Lots of attachment points.
4) Built in weight system is fantastic! Easy to secure the weights.
5) Highly recommend to friends and family.
6) BCD is rugged and very dependable. BCD is well thought out and well made. It's tough. Was out in rocky and held up very well… rugged.
7) Great price for a very nice product, perfect product. Very good BCD. Excellent BCD. Couldn't be happier.
8) Weight pockets are trim.
9) Like the large pockets so they can store dive accessories like dive light and safety sausage.
10) Lots of D-rings.
11) No issues on neutral buoyancy. Easy to stay neutral underwater, buoyancy capability is excellent. At the surface, you float well.
12) Adjustments work well. Extremely easy to get in the BCD.
13) Says BCD really performs well and 'worked as advertised'.
14) Diver says he would definitely purchase this BCD again.
15) Son wanted to get into scuba diving after he tried it while on vacation. He knew dive gear can be very pricey, he did some research and found good reviews on this. He found this product on Amazon for a 'great price' and jumped on it. They inspected and found quality to be 'top notch'.
16) Five Stars. A++++++++
17) It was a great choice for his first BCD.
18) Diver said he purchased as a result of all the good reviews and was not disappointed. This diver also said he recommends to anyone who like this style of BCD.
19) It's a great travel BCD and that it's a keeper.
20) Loves the idea of being able to clip accessories.
21) Diver who was renting BCD before, said this one is a huge step up.
22) The BCD provides total function.
23) Used in cold water and ocean.
24) Great jacket style with full features.
25) Diver likes how he can control his BCD. Says he can lean forward, backward, be vertical and never felt he was forced into one direction or the other.  Said he found the inflator really nice and when pushing on the button it would give bursts of air that were really quick and sharp. He even said he received compliments on the BCD from other divers.
26) 2 thumbs up for the 5 Stars.
27) Diver said after being certified, he was renting dive gear from different dive shops to try out different ones and get a feel for them, he purchased this BCD because it was his favourite one out of the ones he rented. Said it doesn't ride up and looks rugged.
The Cons  
1) Diver says it's advertised as travel BCD and says it's more mid weight compared to other jacket style BCDs but can fold very flat.. He does state however, he was able to reduce his weights by 2 lbs.

Also said the mouthpiece on the oral inflator was very small and hard and had difficulties sealing his lips to blow air into it. Says the procedure may not be possible if your lips are numb. He is looking for a rubber mouthpiece.
2) Daughter said it was dangerous. She purchased for her Mom as a gift and after doing 2 days of diving, the BCD pocket fell apart.
Summary
---
9 Total Reviews on Amazon which includes customers who also purchased regulator as a set   (Out of 5 Stars)
7 people gave 5 Stars
1 person gave 4 Stars
1 person gave 1 Star
14 Total Reviews on Leisure Pro (Out of 5 Stars)
13 people gave 5 Stars
1 person gave 1 Star
My Personal Opinion
I'm giving the Cresssi Aquaride Blue Pro BCD 4.3 out of 5 Stars!
Reasons:
Cons 1) Looking at Cressi's site, they consider this BCD a 'semi-structured BCD'. I look this as falling between jacket style BCD and a travel style BCD.
Jacket style BCDs weigh more than the typical travel BCDs. For example, this BCD weights anywhere from 7 – 8.3 lbs depending on the size, while a travel BCD will weigh usually under 5 lbs. The pockets on this BCD is larger than a travel BCD and yet this BCD will fold up nicely into your suitcase much like a travel BCD.
I'm not deducting any points on this one.
Con 2) The mouthpiece on the oral inflator being too small is definitely a concern and especially if you're diving in cold water and your lips feel numb.
For this, I deduct .3 points. (About the mouthpiece being too hard… well, I've never tried rubber mouthpiece before.)
Con 3) The BCD pocket fell apart. I don't know if this BCD was returned and I also don't know if the purchaser was talking about one of the large pockets that hold dive accessories or whether it was a pocket that holds weight. I'm suspecting this person was talking about a pocket holding weights and in this case, yes, this could be dangerous as the diver could have an uncontrolled ascent to the surfacing which could result in decompression sickness.
Either way, I would have to consider this a manufacturer deficiency and for that I deduct .4 points.
So, my total number of stars I give is 4.3 out of 5 Stars taking into consideration the massive number of positive customer purchasers feedbacks.
If you're looking for a BCD that's like a jacket style and a travel style BCD that's rigid, will give you that desired neutral buoyancy underwater and positive buoyancy at the surface, the Cressi Aquaride Blue Pro BCD can do a lot for you whether you're in warm or cold water.
I've done a bit of research on where to purchase this BCD and so far the best place to buy this is Amazon because of the FREE shipping on eligible orders.
CLICK HERE To Take Advantage of Amazon's FREE Shipping (eligible orders) On The Cressi Aquaride Blue Pro BCD!
I hope this review helped you and if you have any question or comments please put them in the comment box below. If you have this BCD, I really would like to hear your experiences.