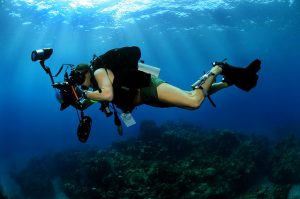 Getting the right type of BCD is extremely important! Even though purchasing your own BCD is not cheap… NEVER buy a BCD for looks! Safety is everything!
I remember years ago, my dive  instructor said your BCD is really your life support system underwater. It helps control your buoyancy underwater and keeps you afloat on the surface of the water.
Wondering how to choose the right BCD (Buoyancy Control Device)?
Whether you're a new diver or a diver who's ready to finally have your own BCD,  I'll tell you about the different BCD styles, what to look for and how to choose the BCD that's right for you!
The purpose of a BCD
---
The BCD is a piece of your diving equipment. It has an inflatable air bladder to help you establish neutral buoyancy underwater and positive buoyancy at the surface of the water.
In addition to how you breathe underwater, the amount of air you adjust in the bladder is what determines your buoyancy.
There are two ways to put air in the BCD's air bladder:
1) The air bladder has a low pressure hose with an air inlet which you connect to the regulator's low pressure hose. The regulator is connected to the air tank by combining its valves to the value located at the top of the tank and tightened by hand.
2) Another way to put air into the bladder is to do it manually from your mouth. In other words, you can manually put air in the bladder by blowing into the oral inflator connected to the bladder.
What you need to have on your BCD! 
---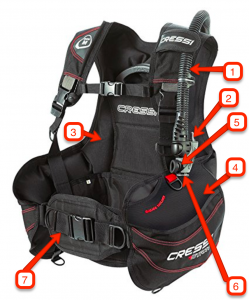 There are certain features to look for on your BCD to make it functional. (The numbers 1-7 showing on the BCD image is in the same order as what you see below).
1) Inflator hose – delivers air from the tank via the regulator to the power inflator.
2) Air inlet – located on the power inflator. This is the connector to the low pressure hose of the regulator.
3) Expandable air bladder – holds air that comes from the tank.
4) Integrated weight pockets located on both sides that can be ditched in emergencies. Some BCDs at dive shops and resorts may not have the integrated weights and so you must wear a belt with weights that go around your waist.
5) Oral inflator – push the button and blow into the mouthpiece to manually inflate the bladder in the event of a malfunction on the power inflator.
6)  Power inflator – this is the power button which you hold up and push down on to put air into the bladder from the tank. Located very close to the air inlet.
7) Cummerbund waistband for more a comfortable fit.
8) Deflator –  push the button to release the air out from the bladder.
9) Adjustable air tank band – located at the back of the BCD to secure the tank.
10) Quick release dump valves – this is to quickly release air from the bladder no matter what position you're in without holding the deflator mechanism upward.
11) Straps and buckles that are adjustable for better fitting.
12) Durable backplate that's adjustable.
How to choose your BCD
---
There are basically two styles to choose from. The jacket style and there's the wing style. Before you go and purchase your own BCD, you should consider the following:
1) What type of diving will you be doing?
If you're a recreational diver, you might want to choose the jacket style because it inflates at the back and the sides. If you're just learning to dive, your dive instructor will most likely suit you in a jacket style BCD because it's much easier to float on the surface of the water.
If you're into technical diving like cave diving, you might be more interested in the wing style that inflates just at the back to allow for more streamlining.
2) What body frame do you have?
There are BCDs designed for women. The torso in these BCDs are shorter.
3) Try it on!
It's always a great idea to go to your local dive shop or resort and try them on before you purchase the BCD.
Put your wetsuit or drysuit on if you happen to own one, or try one at at the dive shop or resort. If you have your own regulator, bring it with you so you can make sure the accessories and hoses are compatible with the BCDs you try on.
The point is to make sure you can adjust that BCD to what makes you feel comfortable and allow for movement with your dive apparel. When you have the BCD on, check these out…
It must be a good fit and fit snug and not restrict your breathing.

When you inflate the BCD, it should not lift away or move away from your body.

It should have a reasonable surface lift (see below).

You should be able to easily and quickly get access to the quick release dump valves, as well to the straps and buckles.

Should have at least 2 quick release dump valves and be able to get to them with no trouble.

Easy access to the power and oral inflators
NOTE:
An all black BCD may make it challenging for the boat captain to locate you especially if you're in rough waters.
You can even go on the internet and look up the manufacturer's BCD sizing chart if you plan on purchasing online.
Surface lift capacity
---
Another factor to consider when choosing your own BCD is surface lift. When you're shopping for BCDs, you'll usually see their lift capacity. This is the amount of negative weight that the BCD can float at.
I want to keep this as simple as possible for you!   First, you still need to have proper weighting. If you're weighted properly and your breathing is controlled, you shouldn't have to use the BCD very much.
BCDs that are designed for recreational divers will only hold one 12 or 15 liter tank.
a) If you're diving in warm waters, say you're wearing a shorty, 18 – 26 lbs (8-12kg) is good for surface lift.
b) If you're a recreational diver diving with a full length wetsuit or drysuit, 22 – 44 lbs (10-20kg) is good for surface lift.
c) If you're a technical diver diving with a drysuit, then consider 44 – 88 lb (20 – 20kg) for surface lift.
BCD Styles
---
1) Jacket vest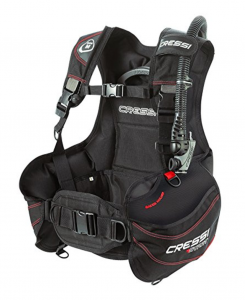 Recreational divers have this as their popular choice because it provides flotation around their body core. You'll see this often at dive shops and resorts.
Integrated weights – weights are carried in the pockets of the BCD and can be ditched in an emergency.

There are jacket styles designed specifically for women to give more stability underwater and at the surface of the water.

Air goes in the back, the front and along the lower part of the rib cage. This give excellent stability especially at the surface… yea, no face plants!

Usually come with large pockets to put accessories in.

Most recreational divers will wear this for warm and cold water diving.

Easy to put on and take off because of its quick release on the shoulder straps and at the front above the pockets.

The cummerbund which goes around the waist with velcro secures the BCD.
2) Wing Style (back plate)
This is popular among the more experienced divers who like to do wreck diving, cave diving and deep diving.
Pros
What's interesting about this is, it offers many combinations on the backplates. You can also choose from different designs in the harness and in the wing span sizes.

They will fit any body type because it's adjustable.

Material is generally thicker and durable. They're better quality and will last much longer than the jacket style.
Cons
Not really the best for new divers.
3) Back Inflation Jackets
This wing style flotation is strictly all in the back.. nothing in the front and sides. When you look at the front, the only thing you see are chest straps. Turn it to the back and you'll see how the flotation bladder expands out on both sides of the tank.
Pros
You can streamline much easier under water. This is because you're not wearing all that bulky stuff like pockets, and jacket and so it creates less drag. It feels more comfortable.
Cons
While it's much easier to be horizontal underwater, the challenge is at the surface. If you're not kicking back, you will end up in a face plant in the water. Practice the technique at the surface and you should be fine to stay afloat.
Because the flotation is strictly in the back of the BCD, deflating the bladder is somewhat challenging underwater.
4) Travelling BCDs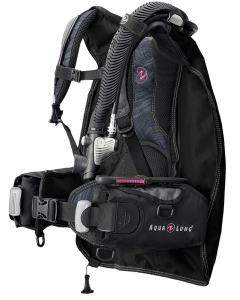 Frustrated you can't pack everything into your suitcase? Your bulky BCD taking too much space? If you like to travel light and dive lightweight too, these are for you!
Pros
Back inflation air bladder

Compact and can easily roll up in your suitcase

Great adjustment attachment points

Quick release valves lay flat – streamlining

Twin tank bands is a plus

Look for stability – harness should snug the waist

Integrated weights that can be easily released during emergency

Less D-rings, smaller pockets and much less padding.

Usually under 5 lbs.

If you go with aluminum back plates instead of the traditional steel plates, you can find this BCD under 2 lbs.
Side Mount BCDs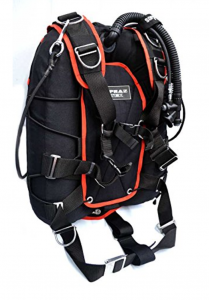 Instead of the traditional diving with the tank on your back, recreational divers are now taking to diving with tanks mounted on the sides.  Not only do divers likes this configuration, they find it easier to streamline because it causes less drag.
The nice part about this is you can easily clip 2 small tanks in the water on your right and left side located at armpit level.
Have you ever been on a dive boat that's rocking back and forth? You've got all your dive gear on, including the tank. You find yourself hanging onto someone for dear life just to walk to the edge of the dive boat to do your entry into the water…  no more!!
Pros
a) Usually come with a wing style air bladder on the back.  It's meant to be worn with a harness system that uses bungee loops or similar to secure the tanks.

b) The attachments to the tank on the BCD are different compared to that of the BCDs that are back mounted.
c) There are other options you can go with. For instance, you can go with a different type of harness with more padding in the crotch.
d) If you're a cave diver, you're going to enjoy this.
e) You can also switch the plate to become a back plate BCD.
f) PADI offers a speciality course on this. Age 15 and up. You must have PADI Open Water Diver Certification first.
I hope this information has been helpful to you and that you were able to make a decision on which BCD style to go with. If you have had any experiences good or bad with your BCD or have any questions or comments, I really would like to hear from you. Please put them in the comment box below!
CLICK HERE and Check out my Review of the Cressi Aquaride Blue Pro BCD and See If It's Any Good!!
Thanks!