Finding the right dive centre is crucial if you want to get good quality air to breathe from your tank. The last thing you want to have happen when diving is to feel dizzy, nauseated, shortness of breath and confusion. Breathing compressed air impurities can come from contaminates in a compressor or it can come from the actual tank itself if it's damaged.
In this article, I'll give you important tips on how to choose the right scuba dive centre for your dive vacation that include questions to ask, and a video of a great dive centre with its activities.
Trusting a dive centre is a must even though you might already have your own dive gear. When you dive in a foreign country for example, it's crucial to hook up with an accredited dive professional to give you the necessary safety familiarization of their dive locations. Whether you look online or walk in a dive centre, here are some tips to help you find the right dive centre:
Expectations
---
Video of the lifestyle at Utila Dive Centre, Honduras!
To get the most out of your dive vacation, it's important to be organized and making a checklist of what you expect your dive vacation to be like is going to give you peace of mind.  For example: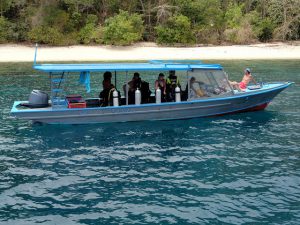 1) Do you want more personal attention? Decide if you want to dive with a small dive centre which means diving with a small dive group or with a large dive centre with large dive boats diving with a large dive group.  
I've had many wonderful experiences of diving with very small dive boats where the boat captain is also your tour guide (professional dive instructor or Dive Master) and so the boat is left unmanned..the boat is securely tied to a buoy. If you're uncomfortable with that make sure you add this to your list here as a DO NOT WANT.
2) What type of diving do you want to do? You might want to:
Snorkel

Do 3 to 4 dives a day

Shore dive

Night dive

Wreck dive, etc.

Whale watch, etc.
3) Determine what gear you need to rent if renting. If you need to rent an XXL BCD, wetsuit and fins size 14", it's important to know the dive centre has this available for you. Not all dive centres will have it.
4) Safe dives. How reliable is the dive centre and can you trust them? What will make you feel safe?
5) Boat service. Some dive centres, weather permitting and depending on locations, will bring their dive boat close to shore to where you're staying and so it's a very short walk. Will they keep your own gear and store it for you during your vacation?
6) What marine life do you hope to see? Perhaps you want to see whale sharks, giant manta rays, etc.
7) Consider your dive experience and if you have any anxieties, like sea sickness, etc. write them here too.
Do Researches and Read Reviews
---
A great place to start for example, is Trip Advisor , a very popular site for divers and snorkelers to submit their rating and experiences in regards to accommodations and dive centres and resorts. Don't be discouraged if you see a couple of negative reviews. As a followup, there should be a good quick response on the negative review back from the merchant then base your good judgement on it.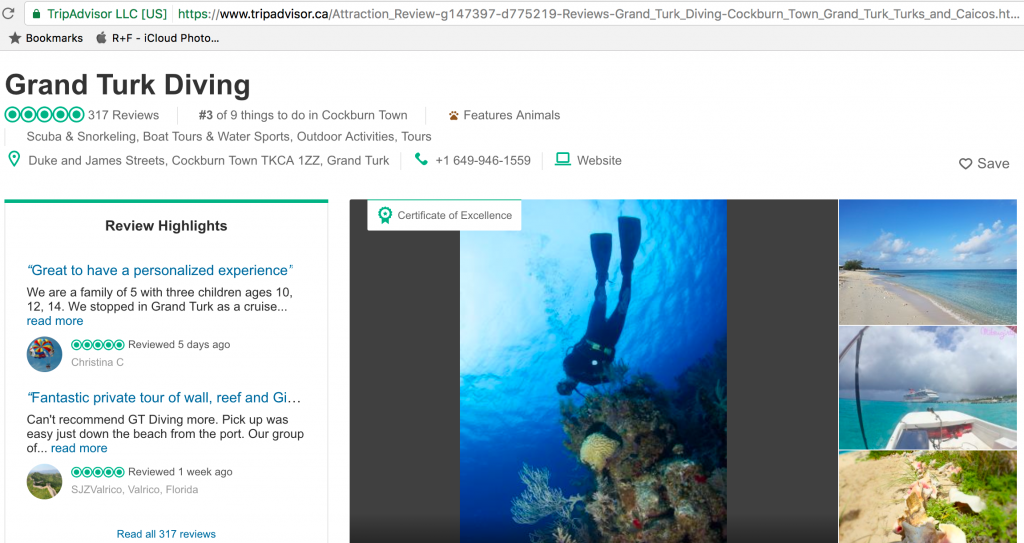 Look for high number of positive reviews over the negative reviews. Look at the rating.  An excellent rating should be 4.5 or a perfect 5.  Ask around in scubaboard.com a place where divers ask questions and basically have dive conversations.  The other thing you want to know is their safety record which you can maybe find information there as well from other divers.
Check Their Website
---
The best way to get to know the dive centre other than a walk in is to look at their website. The website should have an About page so you get to know who the owner(s) is,  see a photo of the owner and tour guides and how long the business has been in operation. You also want their phone number and a business email address. Send them an email and see how fast they respond to you. Is the website proudly displaying their award recognitions for example,  Trip Advisor's Certificate of Excellence, PADI's 5 Star, Green Star, Project Aware commitment to protect the underwater environment or similar. From the website, do you feel like you can trust the dive centre?
Ask the Dive Centre Questions Using Your Checklist
---
Even though you can probably answer a lot of your questions from looking at the dive centre's website, it's always good to hear it from the dive centre representative. You want to make sure this person has time to talk to you. Be honest with yourself, and let them know your anxieties if you have any. This way, you'll get the most enjoyment out of your dives.
If you don't get a quick response, chances are your services won't be that great either and so it's probably a good idea to NOT BOOK! Look for another dive centre…
You can also send the dive centre an email and ask them the following:
What is their Cancellation / Refund Policy?

What is the maximum  # of divers on the boat?

What type of dive boats do they have? Small, large.  

How long are the boat rides to the dive sites?

Will they have bottled water on the boat?

How is the entrance into the water done and how do you get back in the boat?

Does the boat pick you up at your resort?

Are there any strong currents? 

What do the dive boats have in the event of an emergency? Do they have a procedure? Do they have radios, cell phone range, dive flags, recall horn,

specialized oxygen first aid units

in case of decompression illness, and life jackets?

Dive site description and site familiarization pre dives. What type of diving do they offer? Examples:  drift diving, cave diving, night diving, etc.

What marine life are you likely to see?

Do they do gear maintenance?

What gear rentals do they offer? How much are the rentals? How old are the gear rentals in general?

Are the tank valves Din or Yoke?

Do they have a retail store in case you're missing something off your equipment?

Do they have rinse tanks?

Do they have a place to store your valuables?

Do they offer specialty courses?

Do they offer any excursions like whale watching, snorkeling for non-divers, etc.

Are they PADI, NAUI – any courses offered and costs?

Do they book accommodations?

Is there a place to shower or change clothes after diving?

Do they offer special assistance to divers if needed and do they have dive programs for children age 15 years and older?
Social Media
---
Ask your dive friends and family on social media for recommendations and stories of their personal experiences with dive centres in general or on your desired destination.
Upon Arrival at a Dive Centre
---
Take a good look around the dive centre. It should look well organized, and clean. Do you feel welcomed? Are you attended to as soon as you walk in or do you have to wait to get service when they appear to not be busy? The rental shop should look tidy and there should be a wash tank somewhere close by. The gear rentals should be in good condition and hung properly. Check the dive boats and see how clean they look.  Can you spot the green box that stores the oxygen unit for emergencies? Ask to use the washroom and see how clean it is. Check out the maintenance area too if possible.

Have a Backup Plan.
---
When you arrive at that particular dive centre, your first impression may not give you a good feeling. Their website looked great and was done in a very professional manner BUT… your first dive trip didn't work out the way you expected it to go. You can talk to the boat captain and work it out OR walk away and go to plan B, your second dive centre choice.
NOTE:  If you commit to a dive package make sure you understand their Cancellation Policy. 
You want to be with a dive centre that can meet your needs and give you the best dive vacation for you and your family!
I hope you enjoyed reading this article and if you have any stories of your past experiences with dive centres or have any comments or questions, I really would like to hear from you. You can put them in the Comment Box below.
Thanks!