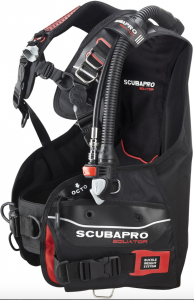 Product: Scubapro Equator 'Lightweight Travel Foldable' BCD Review
Cheapest Place to Buy: Amazon.com
Sizes: XS, S, M, L, XL
Colours: Black with some red
Weight: 7.8 lbs – 8.3 lbs. / 3.5 kg – 3.8 kg
Shipped: U.S.
Warranty: 1 Year
My Rating: 4.5 out of 5
Are you tired of trying to pack your heavy and bulky BCD in your suitcase?  You end up having to take an extra bag which costs you more or perhaps you decide you're just not going to take it with you and pay the extra cost to rent gear. Not only is your BCD bulky, it becomes even heavier after you add on your weights. 
I recently purchased the Scubapro Equator BCD and so I decided it was time to write up a review and share this with you. In the Scubapro Equator 'Travel Light' BCD Review, I'll tell you how well it works, its Pros and Cons, the quality and a great video. I'll also tell you where you can go to purchase it at a good deal. By the time you finish reading the review, you'll have a pretty good idea if this travel BCD is the perfect one for you.
My old BCD was looking pretty worn out and some of the blue was faded. The re-arranging of my bulky BCD in my suitcase was not an exciting task and would sometimes cause me to leave it behind and go with the rental. After doing much research I decided it was time to go with a BCD that would be lighter, something that could fold and not take up a lot of room in my suitcase!
I also never liked how the integrated weight belts would lock in… it never gave me a feeling that it was secure. I've been with divers underwater when they lost a weight pouch either from the BCD weight pocket's poor stitching or the diver just didn't click it in all the way.
The researches were on great brand names like Mares, Cressi, Scubapro, Tusa, Sherwood, and  AquaLung.
The Review of Scubapro Equator BCD
---
Who is Scubapro?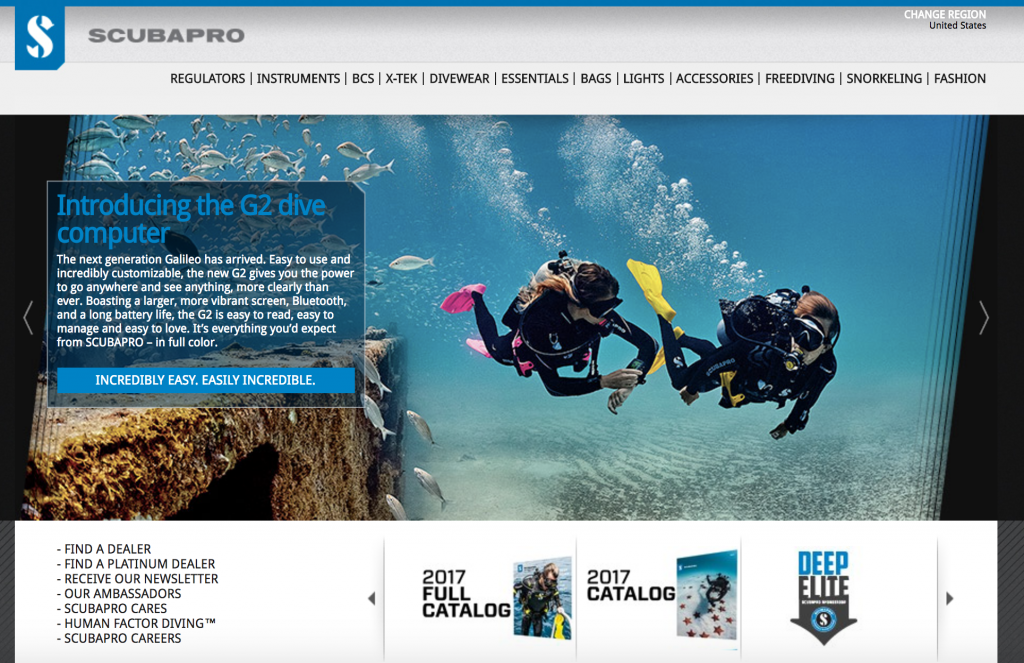 Scubapro was founded in the early 1960's by  Gustav Dalla Valle and Dick Bonin and is one of the most successful leaders in the manufacturing of scuba diving, spearfishing, snorkelling gear and water related accessories.
With the founders creative minds, vast knowledge and dive experience, they brought many innovations to the diving industry which is still being used today. For instance, in 1965, they introduced the jet fins and after 40 years, these fins are still being used by technical and military divers. Not only did they focus on dive gear, they were into recompression chambers and submarines.
From their Scubapro regulators, back mounted BCD's, their Classic style Stab jacket BCDs, travel BCDs, weight integrated systems, fins, etc. they continue with their innovations.
The Technical Features of the Scubapro Equator BCD
Scubapro claims this Equator BCD has the following technical features:
420 denier nylon construction for your active dive style and supposed to be long lasting. 

Air bladder that wraps around and claims this to be comfortable at depth and at the surface. 

Left shoulder valve has a self locking elbow ring to keep it from loosening unintentionally. 

The backpack is new and it's supposed to be even more comfortable on the surface and underwater as well as improved control. 

The double band system is supposed to secure the tank at depth because of their stainless steel Super Cinch tank buckle. 

The octopus can be put in either side of the octopus pockets. 

Their swivel quick-release shoulder buckles are supposed to allow you to adjust the shoulder straps for a maximum fit. 

Claim to have quick-release integrated weight pouches with low profile squeeze buckles to help make the pouches more secure and easy to ditch. 

They say there are 2 large zippered pockets with grommets to attach a knife and hold lots of accessories. 

4 large pre-bent stainless steel D-rings and 2 smaller stainless D-rings to hold additional dive accessories. 

Choice of BPI (Balanced Power Inflator) or AIR2 (compact backup octopus/inflator. 

5 sizes and size dependent on lift capacity ranging from 22.5lbs/10.2kg to 38.2lbs/17.3kg.

Size Chart.
The rest of this review is my actual experience of the Scubapro Equator BCD. I tested the BCD by doing a pre-inspection and also did a dive locally in Sylvan Lake, Alberta, Canada to see how well it would perform.
The shipment arrived in 3 days undamaged. After removing the packing material, I inspected the BCD thoroughly.
PROS
---
1) The material looks solid and very durable. I looked up the 420 denier nylon construction and it was originally designed for military parachute backpacks and is not easily punctured nor easy to wear down.

2) The BC feels extremely comfortable not only on the surface, it was felt great underwater. It doesn't give you that constricted feeling when you inflate the bladder. The air bladder does wrap around you making this a jacket style BC. 
3) At the front of the top right shoulder, there's a pull-cord dump valve and another one at the lower back at the right to release the air from the bladder. Both are easy to quickly access and releasing the air went very well.  (not in Scubapro's feature)
4) The neckline feels very comfortable and soft and when you look at the design inside, there is padding and mesh lining. (not in Scubapro's feature) Have you rented BC's that irritate your neck because of the material rubbing?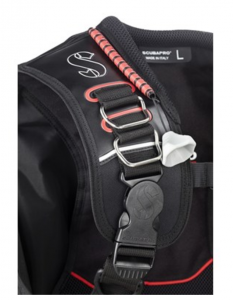 5) There are 4 large pre-bent stainless steel D-Rings, 2 at the front right and 2 on the front left side. It was effortless to put a whistle on a pre-bent D-ring and you don't have to even lift the D-ring.  
6) The chest strap at the front and a quick-release buckle is adjustable with a thumb loop to pull tight. (not in Scubapro's feature)
7) The BC also adds a touch of class with it's shoulder line piping in real red. (not in Scubapro's feature)
8) There are quick-release shoulder buckles which rotates and they do help make the BCD move with you. When you're in the water, it seems to give you lots of movement and sits further back. If you're a larger person, you'll find there is no pinching when you move around. 
9) There are 2 smaller stainless steel D-rings, one on each side located at the top just above the pocket. They're perfect to hang all your dive accessories. 
10) Each side does have an Octopus pocket and you can choose which  side you want to fold and store the octopus. I put the octopus in the left octopus pocket and it is easy to store and to take out. This method is in fact much faster than unclipping.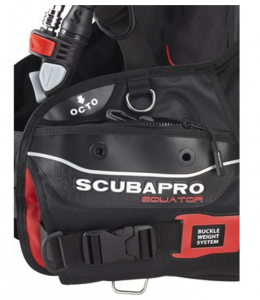 11) There are 2 small zippered pockets on the left and right side, and can hold a small dive light, gloves, or other smaller accessories. I didn't think they were 'large' pockets the way it's described in Scubapro's features but it does keep the BCD lighter in my opinion and so I'm good with that plus I'm not a big fan of stuffing the pockets anyway. 
12) The Equator BCD has an integrated weight pouch system on the left and right side but it's different from the traditional type. Instead of pushing the weight pouch into the pocket until you hear it snap in, you simply slide the pouch with the weights in into the pocket.
It has a low profile squeeze buckle which you clip in and then make the adjustment to further secure the weight pouch itself preventing it from falling out.  I found this very quick and easy to do and should work very well if you need to ditch the weight pouches in an emergency… I didn't try this underwater.  It is a simple squeeze and pull.
The nice part of the weight pocket is it has a female buckle portion on it which makes it adjustable. For instance, I don't use a lot of weights, only 6 lbs and so I put 3 lbs in each weight pouch and tighten the pouch but if you have to put in a lot of weights then you can loosen it. Either way, this system makes the weight pouches more secure in my opinion.
The weight pouches have strong, solid zippers and you can put in up to 11lbs/5kg in each pouch for the XS size which is what I have. The lift depending on the size, ranges from 22.5lbs -38.2lbs / 10.2kg-17.33kg).
Turn it to the other side and you'll see it's a replica except the left side has 2 small grommet holes designed for knife attachment.   In Scubapro's features, it sounds like the grommets are on both sides, it's only on the one side.
13) I found the waist strap is adjustable and the 2 large thumb loops were very handy to stick your thumb in and tighten the strap up. The cummerbund has velcro closure and is also adjustable for a better fitting and is comfortable. (not in Scubapro's features)
14) You will see the inflate system on the left front, the new Scubapro BPI (Balanced Power Inflator) inflator with the corrugated standard threaded ⅜" low pressure quick disconnect hose and it looks more compact in design. It's a balanced inflator so you always get the same inflation rate.
The inflate button is easily identified by red and the deflate button as grey. The manual oral inflator is very close to the buttons and you'll find you can blow air into the bladder without effort.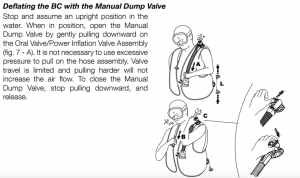 The BPI setup is also a pull down dump device that's cable triggered. This is done by gently pulling down on the corrugated hose. There'a also a safety hand button, a little grey tab at the top of the left shoulder, that you or your buddy can push to release air and control your ascent in the event the manual dump valves fail due to a broken cable, etc. 
15) Looking at the inside part of the BCD, it's nicely padded and soft and I can't see it would damage your wetsuit or drysuit. The lower back lumbar support is cushioned nicely to cover the semi-rigid backplate.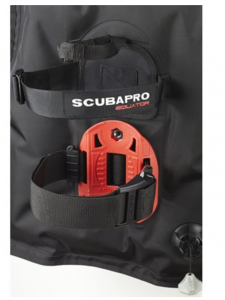 16) Looking at the back, there's a semi-rigid rubberized finished backplate, one at the bottom and a separate smaller one at the top. The top part is flexible to fold up giving you the ability to easily pack in your suitcase. You will definitely like this!!
It comes with 2 BCD cylinder cam straps to hold and keep the tank locked in tightly, keeping it straight and upright. Also, the quick adjustable setup strap works nicely to loop over the tank valve and this keeps the backpack straps assembly from sliding down and keep the tank positioned correctly. (Prior to mounting the BCD onto the tank, I dipped the BCD in the lake water just to get the cam straps wet which help to prevent the tank from slipping).  
I also noticed the tank buckle is stainless steel which is good because all my dives are in ocean water. They call this their Super Cinch buckle… had to look that one up.It locks the tank in solid and keeps it firmly in place. When you tighten the buckle with the tank in it, keep your fingers away so you don't get them pinched.  
17) An added bonus, Scubapro gives you a grey whistle if you are in need of attention. You'll find it on the BCD when you unwrap from the box. 
18) The BCD is extremely easy to fold up and put into your suitcase and lightweight for travel. An XS only weights 7.8 lbs/3.5 kg.
19) Comes with the Owner's Manual. 
18) Warranty – xxx
CONS
---
While I enjoy having the 2 zippered pockets, I don't consider them large the way Scubapro describes in their features and so I thought it appropriate to mention it here in case you are in need of larger pockets.
My Conclusion
---
I deducted .3 points out of 5 because the side pockets are not large in my opinion and as I mentioned before this is not an issue for me but it might be for you.
Investing in your best BCD (Buoyancy Control Device) is vitally important if you want quality and reliable performance. Not only is it one of your most important piece of scuba equipment, its multi-function purposes means it's complex so everything must work underwater and on top of the water.
There are many outstanding features of the Scubapro Equator BCD and the main point I really want to make here and find interesting is there is no mention of it being a travel BC which is light and can be folded. In my opinion, the fact that you can pack it in your suitcase and still have plenty of room to put everything else in is huge.
The other feature I like is how the integrated weight pouches are more secure because of the low profile buckles than just letting it 'snap' in. Also the tank is secured 3 ways, the 2 cam straps and the tank's strap loop.
The Total Points I have awarded is 4.7 out of 5 !!
Hey, if you're looking for a BCD that is lightweight, foldable, can pack well, durable and has outstanding features, I recommend the Scubapro Equator BCD.  I did a bit of research for you and the best price is at Amazon.com. Click here to check it out!