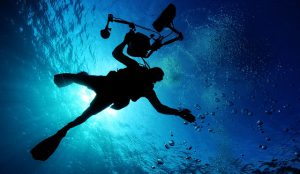 Have you ever been in a dive boat where divers talk about their glorious fun night dives and now you want a piece of that cake too? BUT as much as you want to eat that cake, you feel a little intimidated.
You're afraid of being in that dark water and wonder how you can possibly do this without the fear or perhaps you want to do venture out and do different types of diving like recreational deep diving. Maybe you want to take better pictures underwater. 
In this article, I'll be telling you about PADI's Advanced Open Water Scuba Diver Certification Course, how it will help you gain more confidence to be more adventuresome and learn more skills beyond what you learned in your Open Water Diver Course in addition to a great video. 
It was interesting to see the progression of my dive skills after completing PADI's basic Open Water Dive Certification. I was able to …
Comfortably remove my dive mask and fill it with water and clear it (Yep)

Maintain my neutral buoyancy (Yep)

Not be an air pig (Yep)
I remember having anxieties just to get started on the basic course. There were many more basic skills I learned but what I just mentioned above were my main issues.  
I went from being very awkward, nervous, not a lot of confidence to the point of wanting to learn more. I wanted to learn everything I could about night diving even though the thought of doing them gave me butterflies in my stomach and I wanted the deep dives too.  The challenges of accomplishing more and the desire to learn only meant taking the next logical step which meant the Advanced Open Water Diver Certification.
Who is The PADI Advanced Open Water Diver Certification for?
---
PADI Junior Open Water Divers age 12+ (some restrictions apply) and 

are limited as to what they can choose on their adventure dives. This can be determined by the dive centre's PADI instructor.

PADI Open Water Divers and up.

As soon as you have completed PADI's Open Water Diver Certification you can take the Advanced Open Water Diver Certification. There's no waiting time and no additional minimum number of dives required.
Why would you want the Advanced Open Water Diver Certification?
---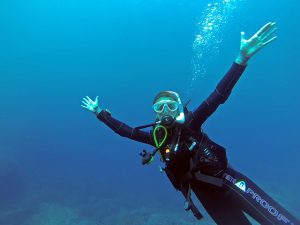 1)  The main reason is to have the opportunity to sample the different types of diving and enhance your dive skills. (See Adventure Dive list)
You don't need to be an 'advanced' diver.
3) You can be part of the conversation that take place with other divers and tell them all about your stories of your adventure dives like night diving or wreck diving
4) You will become more confident diving and be able to handle different dive environment situations competently. The more dive skills you have the better you improve.
5) Not only can you see lots of beautiful coral and interesting marine life at 60'/18m the PADI Open Water Diver Certification depth limitation, you can now dive to 100'/30m and see larger pelagic sea creatures that will take your breath away.
You might think you're content and satisfied with just having the knowledge you gained from your basic Open Water Certification, wouldn't you want to improve your dive skills to do more exciting dives? I was and I did…
How can you do this?
---
You can enroll in PADI's Advanced Open Water Diver Course by going online into PADI's eLearning and start any time you want and learn in your own time at home. They will also have fun educational videos for you to watch. When finished, you can spend time with the instructor  from a dive centre and do the actual dives from the course.
The other way is to connect with a dive centre and get the manual with a DVD included.
What's the difference from PADI Open Water to Advanced Open Water?
---
PADI Open Water Diver Certification:
Learn basic knowledge of dive skills, theory and equipment.

Study manual, quizzes and final exam or do thru eLearning online.

Training in confined water (pool or shallow water).

4 open water dives with a professional instructor.

Must demonstrate competency of basic dive skills learned.

60'/18m recommended dive depth.
PADI Advanced Open Water Diver Certification
Not everyone wants this certification and you don't need to do this. It basically boils down to the type of dives you want to do and if you want to enhance your dive skills and feel more confident.
Teaches you more confidence by doing the adventure diving specialties and learn more dive skills with a PADI professional dive instructor.

Do not have to be an 'advanced' diver.

The cool part is there is no classroom and no exam.

Log more real dives while you learn.

Get to do 5 different Adventures Dives. 2 out of the 5 dives are mandatory,  

the deep and the underwater navigation dives.


You get to choose 3 from the Adventure Dives. (see below)
Underwater Navigation Dive (Mandatory)
---
This course teaches you how to navigate underwater.
Your instructor will get you started using the compass on land first. You'll take a bearing on a landmark as instructed, and walk your way to it. After you're able to do this proficiently, you'll move on to do certain specific tasks underwater using the compass.
Underwater, you'll learn the following:
1) There are various methods to figure out your estimates on your distances underwater. For instance, you'll learn to count your kick cycles and keep track of your time as you swim to a certain distance, let's say it's 100'. This gives you an idea of how far you can swim in 1 cycle. 
2) Have you ever been lost and used your underwater compass but it didn't bring you back to your boat? Learn how to properly use and navigate with a compass underwater swimming in patterns like a triangle and make your way back to where you started from.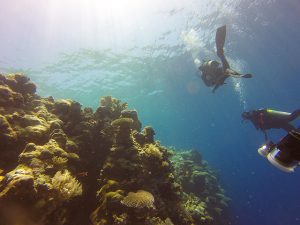 2) You spend a lot of time underwater observing tall pinnacles and different land formations. Why not think of them as your landmarks. You'll learn to look for some outstanding and weird shapes or protuberances, bottom contours, composition and other natural navigational occurrences.
3) You can use maps on land, why not underwater? You'll also learn to make an underwater map and apply everything you learned in this underwater navigation course.
Deep Dive (Mandatory)
---
You also need to know your own personal limits when diving and doing deep dives is even more important.
Your mental state, your health condition, why you want to do deep dives as well as your physiological effect of deep diving as you get the build up of nitrogen in your body is what you need to know. Perhaps you want to get into wreck diving as a reason to do this type of diving.
Your dive buddy also needs to have deep dive experience or can learn with you.
Deep diving in my opinion is no more dangerous or deadly than riding a motorcycle or driving a vehicle. You learn how to drive or ride and so it's the same with any type of diving. You need to think competently with safety in mind.
To enroll in this deep dive course, you must be at least 15 years old and have completed the PADI Junior Open Water Diver Certification or the PADI Open Water Diver Certification or higher, and in addition to acquiring PADI's rating on the Adventure Diver program.
You'll learn the following:
1) You'll find out what equipment you need for the deep dive, like a dive computer, slate, dive light and basic scuba gear.
2) First, before you even do the dive, your instructor will teach you how to prepare and plan the deep dive, procedures and communication with your buddy along with how to maintain control on your buoyancy. You'll learn how to monitor your air, the effects and behaviours of nitrogen narcosis and how to manage it safely.
3) Finally you get to do it!  The Deep Diver Adventure course involves diving deeper than 60', between 60 – 130'/18-30m. Typically on this course,  you will dive down to 100' and your instructor will hand you a small white slate with a mathematical problem to solve which you will be timed on it. You might get it right and you might not or perhaps it takes you a bit longer to get the correct answer.
This exercise is to help you know your physical and mental limitations and prevent incidents like nitrogen narcosis. If you get the feeling of euphoria and lack of concentration, you can eliminate this by slowly ascending.
What did I get from the deep dive?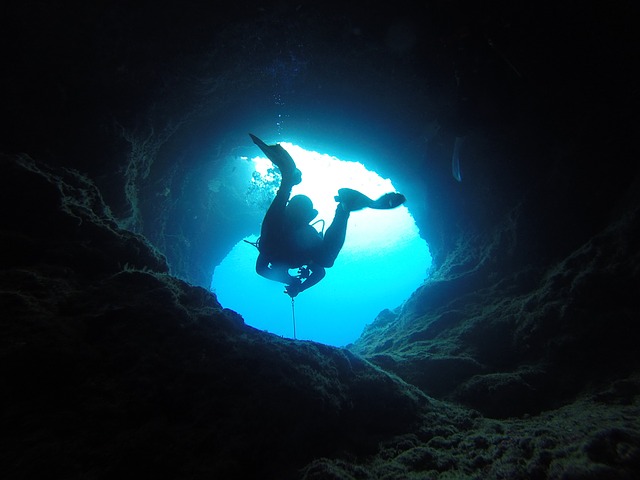 For me, doing the deep dive was more of a thrill and yes, I also wanted to do some wreck and cave diving. What I learned was the water is darker, not much to see because water absorbs the sunlight but it is surprisingly very calming. It was exciting to know I could go down to 100' with no adverse feeling and was able to solve mathematical question within seconds! Most of my best wreck diving has been 80-110′.
Junior Open Water Divers are limited as to what they can choose on their adventure dives and this can be determined by the dive centre's PADI instructor.
List of Adventure Dives
---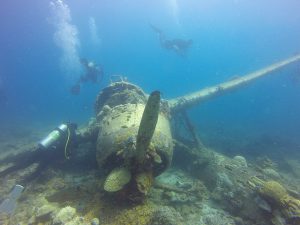 You have 26 type of adventure dives to choose from. Remember you only need to choose 3 out of the 5 because the Underwater Navigation and Deep Diving are mandatory.
Digital underwater photography

AWARE Fish identification

AWARE Coral Reef

Dry suit diving

Peak Performance Buoyancy

Underwater Naturalist

Drift Diving

Wreck Diving

Altitude Diving

Night Diving

Cave Diving

Search and Recovery

Nitrox

Side Mount

Underwater Navigation

Boat Diving

Deep Diving

Ice Diver

Underwater Videographer

Public Safety Diver

Diver Propulsion Vehicle

Equipment Specialist

Distinctive Specialties

Emergency Oxygen Provider

Enriched Air

Multi-Level Diver
Not sure which 3 to choose?
The Peak Performance Buoyancy, Wreck Diving and Night Diving were my 3 and today I still apply all the skills and knowledge I learned. I don't think you ever forget them.
The Peak Performance Buoyancy (Adventure Dive)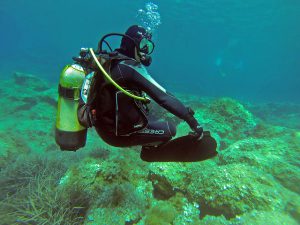 Have you ever seen divers underwater glide effortlessly? When you watch them hover, descend and ascend, it's like their mind seems to control everything. They can maintain their neutral buoyancy in perfect position with their arms folded becoming one with the ocean as they observe a tiny marine animal.
In my opinion, this is one of the best educational tool you really want to focus on if you want to make your diving underwater effortless. Seriously, I cut my total weights from 14 lbs to 6 lbs and return to the dive boat after being underwater for close to an hour with 2200 psi still left in my tank, using only 800 psi. Close to being a mermaid lol!!
Night Dive (Adventure Dive)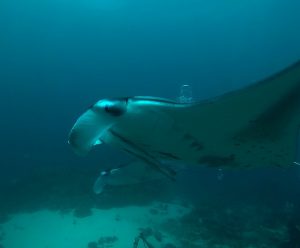 I had already done that same dive site in the morning and already felt comfortable with the terrain, how everything looked and virtually no current. My first night dive with my instructor and my buddy went quite well even though I had anxieties.
I was on a small dive boat and what really helped was getting all my dive gear prepared and mounted on the tank, had time to do the pre-dive inspection with my buddy and go over our communication signals before the sun actually set. My advice… make sure you do all this while you still have some daylight. You'll relax and literally get hooked to the night dives like I did.
My most exciting night dives are with the giant manta rays. I wrote an article on these exotic beautiful rays and I hope you will read it. I swear, you'll want to follow them everywhere they go and do all your dives at night!!
Wreck Dive in Bermuda (Adventure Dive)
After the wreck orientation with my instructor, we did a dive down in semi dark blue water and as I swam closer to the Hermes, a shipwreck lying about 80′ down and still very much intact, I couldn't help but feel for the lives lost to the the ocean and what they must have endured in their last moments. The site felt eerie and yet it was majestic. 
Take that giant leap!
---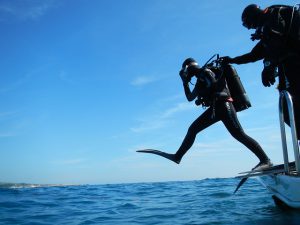 Are you ready to take that giant leap into PADI's Advanced Open Water Diver Certification, do 5 different dive types and learn more fun dive skills? Do you have any stories you would like to share on your Advanced Open Water course? Which 3 Adventure Dives did you do or would like to do in addition to your mandatory dives?
I really would like to hear from you if you have any questions or comments. You can put them in the Comment Box below.
Thanks for reading!
Monica