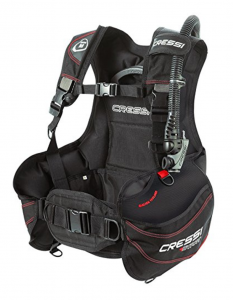 Product: Cressi Start BCD Review
Type: Jacket Style
Cheapest Place to Buy:  amazon.com 

Colours: Black with Red Accent
Weight: Depends on the size (6 – 8 lbs.)
Sizes: X-Small, Small, Medium, Large, X-Large
Owner's Manual: Yes
Warranty: 1 Year Limited
My Rating: 4.5 out of 5
The Cressi Start BCD Overview
---
Investing in the best dive BCD (Buoyancy Control Device) is crucial if you want to have great dive experiences.  Not only does the BCD give you the ability to experience what it's like to be underwater, but it also helps to control your buoyancy.
You can inflate your BCD at the surface giving you positive buoyancy, deflate it to reduce your buoyancy to descend underwater and slightly inflate to achieve neutral buoyancy.
I have an old BCD I would like to retire. It's been a Sherwood Silhoutte jacket style, but I'm ready for a new one. I can't give you any information personally on the Cressi Start BCD but I want to share this with you because it's one of the ones I'm interested in.
In this Cressi Start BCD, I'll tell you their pros and cons, what customer purchasers have said and where you can go online to get the best price on this.
By the end of this review, you should have a pretty clear idea if this Cesssi Start BCD is the right BCD for you!
The Cressi Start BCD Review
---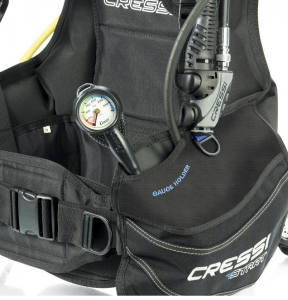 Cressi has been around for a long time… founded in 1946, Genoa, Italy, they are one of the largest manufacturers of all types of water sports equipment. Serving markets ranging from free diving, snorkeling, spearfishing and of course scuba diving.
I went on Cressi's site and everything from this point on is what Cressi claims you get for this BCD.
Cressi describes this BCD as meeting the needs of dive shops and recreational divers because it's supposed to be durable and simple to use. They also claim it's affordable, highly durable and reliable.
In addition, they claim this BCD to have the following features:
1) Air bladder is constructed out of Cordura 1000 Deniers on the shoulder pads, on the outside and pockets. On the inside, it's 500 Deniers. The material is supposed to be durable enough to handle rental usage.
2) Pockets are large to store dive accessories and secured by zippers with large handle.
3) The backpack is semi-rigid, durable, very light and padded to make it comfortable. It's solid and supports tank stability.
4) Chest straps to secure the BCD.
5) Integrated pressure gauge and octopus compartments to help prevent dragging and help the diver be more streamlined.
6) The waist strap and cummerbund is free of the air bladder so when you inflate the bladder it's not constricting.
7) The right shoulder pad show the BCD size, visible enough and handy for dive shop operators
8) The inflator which has 2 air filtration system can be disassembled easily for removal of small particles like sand and cleaning (get this done at dive shop).
9) Torso-shoulder straps with quick release buckles can be adjusted for proper fitting
10) Sternum strap with quick release buckles can be adjusted for proper fitting.
11) Single Cam Tank Band
12) 2 D-rings that are plastic in addition to 2 snap hooks to hold dive accessories.
13) 3 relief dump valves with pull cords for over-pressurization to remove excess air from the bladder. You can find them on the top right and left shoulders. The 3rd is located at the back of the bladder on the lower right.
14) Power inflator mechanism to put air into bladder.
15) Low pressure quick-disconnect hose
16) Easy to put on and take off because the straps all have side release buckles that can be easily squeezed.
17) Lift capacities, depending on the sizes are:
     X-Small = 13.3kg/29.3lbs
     Small = 14.3kg/31.5lbs
     Medium = 15.3kg/33.7lbs
     Large = 17.3kg/38lbs
     X-Large = 20.4kg/45lbs
18) Stability because it's a jacket style
Well there you go… I know this sound pretty impressive and you're probably thinking, wow…they put a lot of technical thought into this BCD!
The real question is, does the Cressi Start BCD actually perform the way they say it's been advertised?
What Other Customer Purchasers Had To Say about their Cressi Start BCD!
---
I went to Amazon,com and this is what I found…
From Amazon
1) Total of 46 Customer Purchaser Reviews
2) 26 Questions were answered by the supplier
4.5 out of 5 Stars
87% gave 5 Stars
7% gave 4 Stars
2% gave 3 Stars
4% gave 1 Star
Then I went into Leisure Pro (an affiliate for Cressi) and this is what I found…
From Leisure Pro
1) Total of 48 Customer Purchaser Reviews
30 people gave 5 Stars
15 people gave 4 Stars
2 people gave 3 Stars
1 person gave 1 Star
96% of the customer purchasers who responded on Leisure Pro said they would recommend the Cressi Start BCD.
The Pros
---
I read all the reviews from Amazon and Leisure Pro and summarized them all here. What divers said…
1) This diver gave 5 stars and commented as saying the BCD is 'amazing for the recreational diver' and also said it was a great price. He goes on to say he purchases everything he reviews. He said that in order to receive five stars, the product needs to meet greater than 90% of the claims stated by the manufacturer.
He purchased the Cressi Start BCD and used it on a dive during which he got entangled in some vegetation. His dive buddy while in the process of helping him, accidently dragged his knife along the side of the BCD.
When they surfaced and checked the BCD, it had no scratch. He calls this a 'beast of a BCD… extremely durable'. Also said it was no wonder dive shops use this to rent.
He went on to say that the lift capacity of 33.7lbs was more than ample for cold water diving. In addition, he said it kept him upright on the surface. He found there was plenty of room in the pockets, and D-rings to store his dive light, safety tube, and camera.
The diver also said while it lacked Integrated Weights, he considered this  a 'BONUS' because he says it much easier to ditch the weight belt than it is to ditch 2 or more integrated weight pouches.
He says 'SIMPLE' is better, the BCD feels comfortable and that the tank stays on securely. Also goes on to say the 3 purge valves are all easy to get access to and that the oral inflator was also easy to use.
Says if you're a tech diver you need to look at other products for that type of diving.
2) Will not go wrong with this one, great BCD for a beginner. Well designed.
3) Very strong material.
4) Light weight.
5) Met all the expectations.
6) Experienced diver realizing the less complexity the better and doesn't like the Integrated Weight system. She purchased this for herself and after doing some dives with this, she purchased one for her husband.
She likes where the deflator button is located at the top of the hose and so it's not confusing with the inflator button. She likes the big pockets and cummerbund.
7) Many divers said they highly recommend.
8) Expect to get quality product not the bells and whistles.
9) Wife is so happy with it she doesn't want another one until it wears out.
10) Very comfortable.
11) Diver said he uses on wreck dives, deep dives, and night dives.
12) Easy to use.
13) Does what it's supposed to do.
14) Pro diver says it's better than most expensive ones and uses it as his primary BCD.
15) Supports the tank and provides flotation.
16) Diver rents these at dive shop and so impressed he had to purchased one.
17) Perfect for diving without a wetsuit, very streamlined.
18) Easy to put on and take off. Instructor uses this BCD because easy to take off and on and make adjustments.
19) Diver is amazed at the quality. Said air dumps and inflator are easy to use and it keeps you upright with air evenly distributed around the unit. Said it holds a lot of air.
20) BCD is quick drying.
21) Plastic D-rings are durable enough to hold a small camera or flashlight. This diver says if this one got damaged would definitely buy another one.
Cons
---
1) Diver says when at the surface with an inflated BC, he found the BCD tended to put him in face down position instead up being upright. The diver gave 3 stars.
2) Diver is a not a fan of this BCD due to not being able to get all the air out of the BCD. He said he tried the release valves.
3) Sizing appears to be an issue. Some divers said the manufacturer's sizing seems to be 1 standard size above. These divers gave ratings of 4 or 5 stars.
4) Rough on the neck. Diver had to return because it chafed his neck 'badly'… still calls it a great first BCD and gave 2 stars.
Another diver said the edges around the shoulder pads seemed quite rough against the tee shirt but felt it would be fine when wearing a wetsuit. This diver gave 5 stars.
5) Diver likes this BCD but his wife didn't like the 'rough' material. He said he would buy it again but go a size smaller. Gave 4 stars.
6) Diver says the hoses and other parts are not strong and sturdy so you need to be careful. This diver rated at 4 stars and said no issues diving and a good BCD.
Conclusion
---
I rated the Cressi Start BCD as 4.4 out of 5 Stars.
Here's how I came up with the score.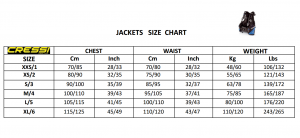 First, I deducted .2 points in regards to the manufacturer's standard sizing. Some divers were finding the size they ordered should have been one size smaller. Here is Cressi's Size Chart …


Second, I deducted .2 points in regards to the material being rough around the neck area. You should never have to experience any kind of chafing on your skin from the material.  You shouldn't be confined to wearing a wetsuit to dive with a BCD.
Third, I have no idea why the diver was not able to be in vertical position at the surface. Jacket style BCD's are designed to keep you upright, vertically at the surface.  One diver experienced this and so I took .1 points off.
Fourth, the diver who had trouble getting all the air out of the bladder.  I'm assuming this diver was either trying to descend or perhaps near the end of his dive which in this case, the tank would have less air and is lighter. This could cause the diver to perhaps find it harder to stay down with the dive group.
If the diver was able to be in a more vertical position at least shoulders upward, it's easier to hold the inflator hose upward and push the deflate button. If he was in horizontal position he could pull on the release valve at the back side.
I usually find divers who are having this problem are just not doing it right and not noticing what body position they're in. I decided not to deduct any points on this.
Fifth, the diver who said the hoses and other parts didn't look sturdy and not strong but had no issues diving. This was coming from one diver and he still gave it 4 stars. No complains from other divers. Other divers all thought the BCD was very durable and strong. No points deducted.
The remaining 4.5 points were rewarded as follows:
1) I was amazed by the number of divers who said they would recommend this product. Some have even said they would purchase another one. The fact they stated this tells me that the manufactures claims have been proven. Majority of divers say it has met their expectations.
The durability, strength of the material, and functionality has passed for dive shops to rent to divers who are new to diving to the very experienced recreational divers. They wouldn't even be renting these BCDs if the servicing and maintenance was not easy. Even dive professionals have purchased this.

If you're looking for a BCD that's a jacket style with no integrated weights and is simple, no 'bells and whistles', very durable and great for new divers, recreational divers and pro divers, the Cressi Start BCD may be the right one for you. 
I did some research on where you can go to purchase this BCD and I've come up Amazon as the best place because of their FREE shipping.  
If you have had any experiences good or bad with the BCD, I really would like to hear from you. Any questions or comments would be great as well… simply put them in the comment box below!
Thanks!