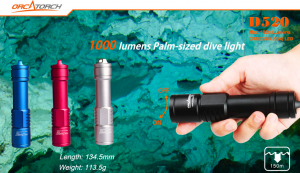 Investing in the best performance dive light is crucial if you want to navigate your way back safely to the dive boat after a night dive. Not only does a dive light provide light so you can monitor your air pressure at night and communicate to your dive buddy, you'll get to see those shy sea creatures you saw hiding in crevices from your day times, fully exposed as they hunt for their prey.
In this OrcaTorch D520 1000 Lumen Dive Light Review, I'll tell you how well it performs,  performance video, the pros, and cons and where you can go to get the best deal. By the time you finish reading to the end of this post, you will have a pretty good idea of whether this dive light is your perfect dive light.
Who is the OrcaTorch D520 for? 
---
The OrcaTorch D520 is great for:
All recreational divers

Professional instructors

Underwater photographers

Technical divers
What Type of Dives Can You Do with the OrcaTorch D520?
---
Daytime dives

Adventure dives like night diving, wreck and cave diving and much more.
Features of the OrcaTorch D520 
---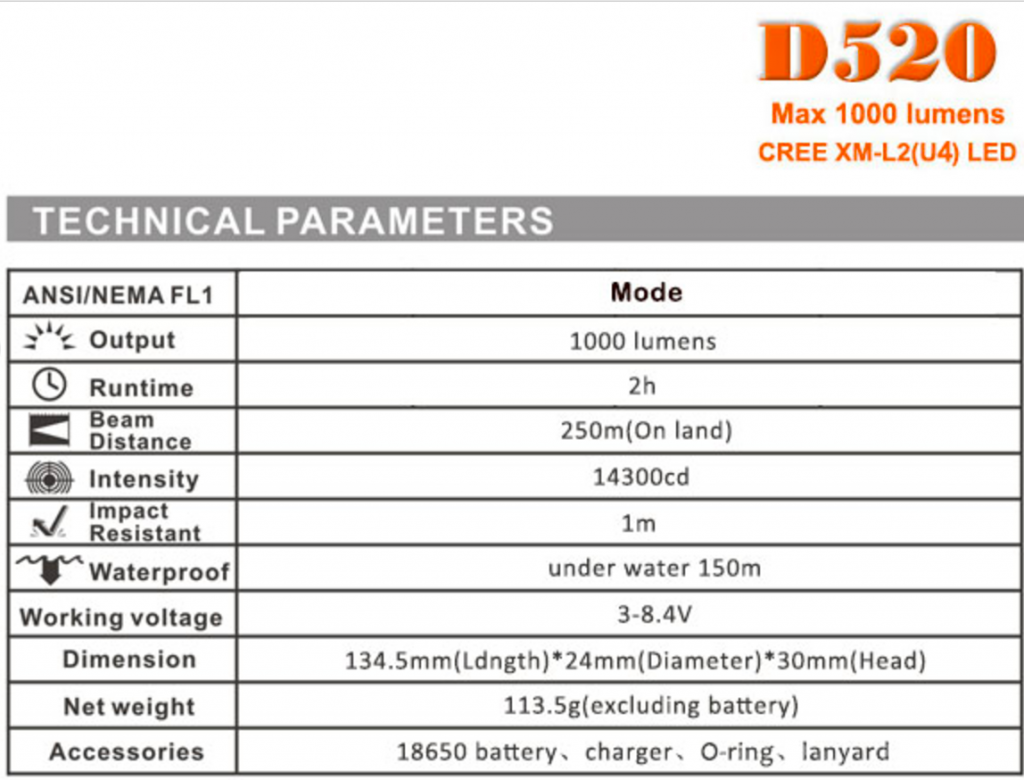 The OrcaTorch D520 claims to have the following features:
The dive light is small enough to fit into the palm of your hand and lightweight. 

The mechanical rotary switch is supposed to be reliable underwater. 

The lanyard is supposed to be sturdy. 

1000 lumens and supposed to have 'super' white neutral brightness

5000k LED temperature color to give you the best color exposure.

One rechargeable 18650 battery is all you need and it's supposed to give you 2 hours maximum runtime.

Battery Charger is supposed to be multifunctional.  

Durable and waterproof to 492 feet /150 meters Underwater Depth 

Supposed to be easy to operate. 

820 feet of light beam ray / 250m on land
So all this sounds great, right? The real question is, does the OrcaTorch D520 really have all these wonderful technical features and does it really perform the way it's described?
First, my reasons to purchase the OrcaTorch D520 
---
I've been on a mission this year of replacing my entire dive gear so my latest purchase is the OrcaTorch D520 dive light to use as my primary light for my night dives. I have a backup light for my night dives which I also use for my day dives to see the cute nocturnal sea critters hiding in corals and crevices and yes, I will be replacing that as soon as I do some research on it. 
Most of my dives, just a little over 800 dives, have ranged from doing day and night dives, wreck, deep diving and some cave diving.
I chose the OrcaTorch D520 because of the type of diving I do which you can see are quite versatile and so it was important for me to have a diving light that would be reliable, durable, have outstanding performance, and simplicity in pushing buttons for example, and the output of light. 
It would look like this:
Night dives – newly purchased OrcaTorch D520 as the primary light with the existing backup light (will be replaced soon). I have 2 dive lights.
Day dives – existing backup light. One dive light.
Deep dives, wreck dives and cave dives – OrcaTorch D520 for primary light with the existing backup light (will be replaced soon). Two dive lights.
The Review of The OrcaTorch D520
---
The rest of this review is based on my experiences of using this OrcaTorch D520.
My Order Arrived!
My package arrived in 7 business days because I ordered it from a company in Eastern Canada. The small box appeared strong and to be a good quality cardboard box which came undamaged and when I opened the box, the OrcaTorch D520 was sealed in a smaller box wrapped with soft material. Everything was neatly arranged and sealed well to prevent damage during its shipment. The package came with the following:
OrcaTorch D520 

A Multi-functional Battery Charger

Focus Light Cup Output of LED 1000 lumens

Lanyard

3 Spare Waterproof Aprons (i.e. 3 o-rings)

Owner's Manual

2 Rechargeable Lithium 18650 3400mAh Batteries

On the package, it states diving depth is rated to 150m underwater
After removing the items from the sealed box, I examined each component of the dive light. Here are my observations of the features of the OrcaTorch D520 before the dive…
Exterior / Appearance 
Size/Shape and Colour: 
The color of the dive light casing I ordered is black and you can also order it in blue, red or silver. When you put it in your hand, it fits quite nicely in your palm, feels comfortable and very compact. The actual size is 5.29 inches/134.5mm in length, .94 inches / 24mm diameter and 1.18 inches / 30mm head.
External Material: 
It's manufactured in China. The external material is very durable and after reading through the owner's manual it says it's constructed out of aircraft grade aluminum so I'd say you definitely don't need to worry about the OrcaTorch D520 falling apart on you during your dives. 
Waterproof:
In addition to the material construction, the dive light comes already installed with 3 o-rings to protect any water leakage. You also get a packet of 3 spare o-rings. On the outside of the box, it indicates this dive light is waterproofed to a depth of 492 feet / 150 meters.
Lanyard: 
The material of the lanyard appears to be like polypropylene webbing and the stitching appears solid and well sewn. It certainly fits around my small hands comfortably and feels secure even with dive gloves on.
Beam Circumference:
When you look at the beam circumference, it's not large, in fact, it's slightly under 30mm and you might feel you won't get enough juice from it. … don't worry, you'll find you will have plenty of light output when you read the rest of this post.
Light Beam Ray:
OrcaTorch D520 indicates you get 820 feet of light beam ray / 250m on land meaning when you're diving underwater and you shine the dive light beam ahead, you have about half of that for distance to see whatever is ahead of you. Call it your lighted underwater pathway!  
So to check this out on land, I waited till close to midnight and went outside and turned the dive light on. Walking to the end of the block, I could easily see the Stop Sign and I know I could have walked a lot further.
My dive buddy and I dive close together and this is reassuring to know that I can still explore and keep my eye out for her.
Keep reading below to see how this goes underwater!
Lens:
The glass feels tough and according to the User's Manual, both sides are coated to toughen the glass and resist the high water pressure. The transmittance of light is as high as 91%.
Weight: 
The dive light is incredibility light weighing only .25lbs / 113.5g without the battery. This won't even affect you having to adjust your buoyancy.
LED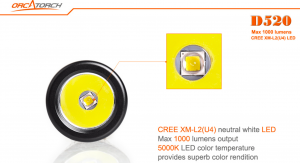 The color temperature is 5000k (Kelvin measurement). A bit of an explanation on what a Kelvin is, it's a unit of measurement of the light output color. In other words, if the Kelvin value has a high number like 5000, the closer the output color will be to actual sunlight so in this case, the output color will be close to neutral white.
My older dive lights use 5000k and it's very popular among divers. When you use this flashlight underwater, I think you will be amazed to see how brilliant the clarification of the actual colors that come out.
LED 1000 Lumens:
First, let me tell you what lumens means, it simply means brightness, according to lumens.com. Why is this so important! Well… It's all about the output of light.
More divers are using dive lights with LEDs because it's energy efficient.
So with the maximum output of 1000 lumens which is what the OrcaTorch D520 has, it's almost 75 watts (you will not want to look at this directly) and if you think of it in incandescent, you will realize how extremely powerful the brightness is even with the small beam circumference. Looks can be deceiving!
When night diving for example out in Kona, Hawaii, you might want to see the giant Manta Rays feeding on zooplankton attracted by your dive light and be able to clearly see their features. During that same dive, you can focus on hard corals that you thought were lifeless in the daytime and are now looking lively with its full coral polyps daintily extending out of its skeleton reaching out to feed on the tiny zooplankton floating by it.
Also with this much brightness, you can easily spot your dive buddy, communicate, check how much air you have left in your tank and navigate safely back to the boat when you've finished the dive.
Read more on the lumens from the actual dive experience below…
Multi-Functional Battery Charger:
I like the Multi-Functional Battery Charger because it gives you the flexibility to choose from a variety of battery voltages you can change to.  This can come in handy if you can't find one type of battery, you can purchase one that is available. They can be powered with:
1) 2 CR123A but these batteries are not rechargeable, however, they can be used immediately and they also have a long shelf life.
2) 2 16340 batteries which are rechargeable CR123A batteries.
3) 18650 are rechargeable lithium batteries and you only need to use 1 and it will give you 2 hours of runtime underwater. The 18650 battery is commonly used in dive lights.
So I guess it depends on how available the batteries are to purchase and how you want to use it.
Rechargeable Batteries: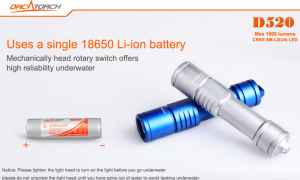 Which should you choose? Rechargeable or disposable batteries? It's up to you!
I didn't want disposable batteries on my dives anymore. Although they have been convenient and reliable to use, the downside was it was costing me more to purchase new batteries all the time because of the frequency of my dives plus they're not environmentally friendly to dispose of.
Going with the rechargeable batteries will give you a long shelf life, save you money, and will lessen the environmental impact of disposing of your batteries.
2 Hours Runtime:
It's important for me as a diver to know how long my battery in my dive light would last and for me, it's peace of mind just to know this. To test this out, I put the dive light with a fully charged 18650 lithium battery in a bucket of water and it took not quite 3 hours before the light finally faded out. This is more than plenty for battery life for recreational diving. I felt much better knowing the battery should last for my entire dive which is very close to 1 hour.
Warranty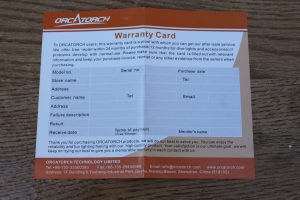 What's also impressive is their Warranty Card. This is their proof to let you know you get their after-sale service which is free repair within 24 months of purchase. They say if problems occur on normal usage for the dive light and accessories they 'will do their best to serve you'. They say their ultimate goal is your satisfaction. Hang onto your receipt and any other evidence like perhaps the orange and white small box the OrcaTorch D520 was packaged in.
Ok… so this is it for the testing of the OrcaTorch D520 on land, now the rest will be underwater.
Prepare for the dive
---
Now that I concluded my observation of each component of the OrcaTorch D520 on land, it was time to check it out on a dive and see how well it performs underwater.
The first thing I did was to recharge the 18650 lithium battery, the one that came with the shipment on their multi-functional battery charger. It only took about 2 hours to fully charge.
My main dive is scheduled for January 2018 out in Kona, Hawaii but I've been anxious to reveal to you my findings so far.
This dive was a morning shore dive at a local lake which I did with my dive buddy. The lake at its best does not offer great visibility because of its sandy bottom. This review is also based on my criteria of how to select your dive light.
Before making the entrance into the lake, the instruction says you need to turn the dive light on first so I put the charged battery inside the dive light and tightened the light head which immediately turned on the flashlight. Apparently, this is the procedure to turn the light on before you get into the water and the manual will remind you to do this. I definitely had instant light before I walked into the water.
I also had put the lanyard around my wrist with the dive gloves on.
During the dive, the Mechanical Rotary Head Switch worked unbelievably well and I was amazed at how easy it was to twist it on and off at the head to make the adjustment to the amount of brightness I wanted. It definitely takes no effort to use even with my dive gloves on.
I didn't have to push or mentally figure out buttons to regulate my output of light underwater. Perfect.. I like this!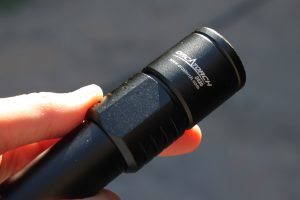 Have you used the pistol trigger dive lights that some rental dive shops hand out to you? Did you find it tiresome on your wrist just to hold that dive light underwater? Seriously, this OrcaTorch D520 is so light and painless to hold, it feels like you don't even have it in your hand… so it's a good thing you have the lanyard attaching the dive light around your wrist in case you release it accidentally.
I was able to get a good concentrated beam giving me a better focus of what I was looking at which happened to be a tiny perch fish… lol !! Plus, the lake has some intentionally sunken objects for divers to peer into and look around for some freshwater creatures hiding and so I got to see a walleye and a pike too. Lake diving is definitely different from diving in the Caribbean!
Anyway… moving on, the next thing I wanted to try out was the amount of brightness, the lumens.
Unfortunately, I was not able to see the colorful Caribbean fish and ocean sea critters because of this lake dive for the OrcaTorch D520 test, but it was pretty easy to spot my dive buddy and we did practice some of our communication skills. For instance,  the 'Look At This' which I would circle my light beam around my buddy's beam and 'lasso' it and 'drag it' to where I wanted him to look. That worked quite well! I was able to get him to look at a sunken toilet.
In order for me to test the OrcaTorch D520's 820 feet of light beam ray / 250m claim, my buddy and I estimated about 50′ of visibility due to lake water with stirred sand and there was definitely nothing colorful to see. If I did this as a night dive in the Caribbean I could easily spot an object that's 100' away depending on water condition with this OrcaTorch D520.
If you can even get 410' of light beam ray underwater or even cut that into half again, you have plenty of light beam ray, in fact, it's more than what you need.
At the end of our dive and back to shore, I towel dried the exterior part of the dive light and unscrewed the light head to turn it off according to the instructions.
The OrcaTorch D250 is definitely waterproof, we only went down to about 50' and in my opinion, it performed well over to my expectations underwater in local lake water.
Touching on the 492 feet /150 meters Underwater Depth
---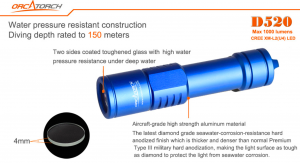 Irregardless of what type of diver you are, I hope you never go down that deep underwater! The dive light is designed and pressure tested to the maximum depth of 150 meters which lets you know the great quality of the OrcaTorch D250.
It's also good to know that should you accidentally go down deeper than your safety limitations, your OrcaTorch D520 dive light will still work for you so you can slowly ascend back to safe depths and do decompression safety stops while monitoring your air pressure and depth gauge.
TIP:
Don't forget to replace damaged or worn out o-rings and lubricate them to prevent rubber erosion.
How To Operate the OrcaTorch D520
---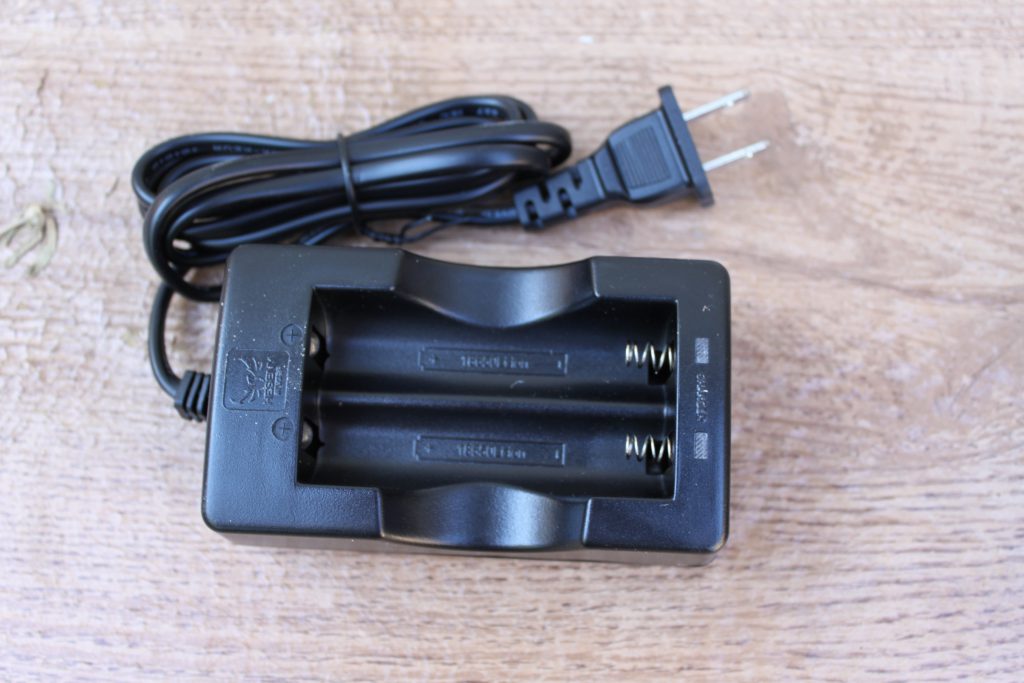 1) Charge the 2 18650 lithium batteries. Red light means batteries are charging and the green light means fully charged.
2) Install the lithium batteries by unscrewing the head, open and place with the anode + sign facing the light head. Tighten the head.
3) For the On/Off. You must put the battery inside the flashlight, tighten the light head which turns on the flashlight. To turn it off, you must unscrew the light head.
VERY IMPORTANT: Before you make the entrance into the water, you must make sure to turn on the light by tightening the light head.
Once you have completed your dive and back onto the dive boat, only then should you unscrew the light head. This prevents water leakage underwater.
Conclusion
---
CONS
According to the instructions, the D520 light must be turned on before you enter the water and this I didn't like. If you do day dives using this dive light, you're forced to keep the light on and you cannot turn it off until you are completely out of the water. What did I do?  I did another dive a couple of days after and turned the light on about 20 minutes into the dive and it worked fine. I turned it off and on and it still worked.  In addition, I heard from another diver, read the comment below and it's a good testament this light is reliable to turn on during your dive.
I'll contact the manufacturer on this…
PROS
The concentrated beam gives you excellent focus on those cute tiny nocturnal sea creatures who came out of hiding seeking their prey and the distance of the light beam ray will easily help you spot a shark from afar. 
No more fidgeting around on settings to get the brightness of 1000 lumens… easy adjustment by rotating the mechanical rotary switch.
If you're looking for a dive light that's light to hold in your hand, small and compact that will fit in your BCD pocket and give you the natural colors of those beautiful nocturnal creatures you've been dying to see, you will be pleased with the performance of the OrcaTorch D520. I also like their Warranty. I checked to see where you can go to get the best deal and Amazon.com is still the one.  Click here to get your FREE shipping.