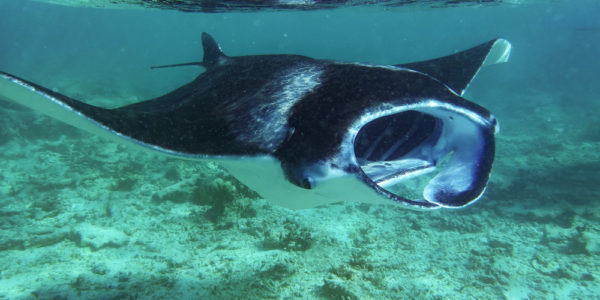 So you're a new or novice diver, are you? You're not sure what to expect when you go on a manta ray night dive. BUT don't worry, I have 4 top places to dive with these giants, perfect for you.
I also have some great educational information and some entertaining videos for you to watch.
These giant oceanic Manta Rays are very gentle sea animals and have no poisonous sting like the stingrays. Curious and attracted to humans, they'll repeatedly come back and swim around you almost as if they're studying you.

With their graceful swimming, they're like underwater seabirds but characterized as fish like trout and salmon because they don't breathe air. They're similar to the shark structure due to their cartilage skeleton.
These giant manta rays weigh as much as 5,000lbs/2,268kg and are the largest of the ray family carrying a width span as much as 23'/7m.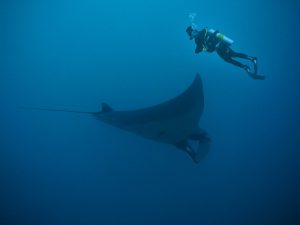 Divers and snorkelers can see them swimming around coral reefs in tropical waters.

You might think that because of their 'giant' size, they must have a pretty hefty appetite and want to munch on large sea creatures.
The fact is, they do have a large appetite but they're similar to the large whale sharks and the blue whales.
It's pretty amazing that these giant mantas swim and feed with their mouths wide open for the tiniest, almost undetectable organisms like zooplankton and top it off by finishing on the smaller fish.





When you look at their physical appearance, you'll see 2 protuberances from its head called cephalic lobes which they can stretch out and push in a fuller catch of rich plankton food.





Researchers, biologists, and scientists have been doing studies on these marvelous giant manta rays. They have the largest brain of the fish family (i.e. cartilaginous fish like sharks, rays, skates). Turns out they're not only curious about human beings, but tests using mirrors also seem to show they can recognize themselves.





Researchers would put a visible mark on one side and the mantas would frequently swim up to the mirror, and incredibly make bubbles like dolphins and expose the marked side to the mirror.  They would also expose their belly to the mirror as they swim by it.



Protecting The Giant Manta Rays

---
These giant Manta Rays not only have ocean predators like orcas and sharks, but they're also sought after by humans for food and for medicinal purposes.
Mantas can't swim backward, they never sleep, they need to keep moving and quite often they get caught in fishing nets which become a death trap for them.
A Great Way To Dive With The Giant Manta Rays
Working with the Manta Trust, a non-profit charity organization, PADI ECO Travel will not only allow you to swim with the Giant Manta Rays, but you can also help them.
Why not dive or snorkel AND work together with researchers, scientists, and biologists on your vacation studying them. The pictures you take are shared with them and you get to name any unidentified sea creatures.
Best Places to Dive With The Manta Rays For New Divers



1) Komodo National Park, Indonesia (some liveaboards dive with a Manta Trust rep)




2) Thailand




3) Maldives (some liveaboards dive with a Manta Trust rep)




4) Kona, Hawaii



1) Komodo National Park




Komodo National Park, Indonesia is part of the UNESCO World Heritage Site (United Nations Educational, Scientific and Cultural Organization) and is made up of 3 larger islands (Komodo, Rinca, Padar) and 26 smaller islands.
Dragons may rule the land but the giant manta rays rule underwater! 





Not only is the Park's marine environments rich with mangroves, seagrass beds, coral reefs, and semi-enclosed bays, here live the manta rays, dugongs (related to manatees), a variety of whales, sharks, sea turtles, dolphins, and lots of other weird and wonderful sea creatures.





Komodo is located in the middle of the Indonesian Archipelago. It's situated between the Flores Islands and Sumbawa. The closest city is Labuan (Labuan Bajo Airport) and getting to the best dive locations in the Park require some distance of water travel. The best way to do this is with a liveaboard boat.



PADI Travel offers you 45 liveaboards to choose from on this Komodo excursion!
You also need to decide if you want to spend your vacation diving and snorkeling from a steel-hulled yacht or a large sailboat.





For instance, this Indo Siren (Sail Boat) is absolutely gorgeous and I hope you check this out.



Recommended Liveaboard Boat: 

Indo Siren (Sail Boat)
Love diving out into the blue? This exotic sailboat was designed by divers with you in mind. They offer you lots of room on your dive deck. Check out your photos inside the boat or outside on the deck, classy 8 ensuite cabins and much more.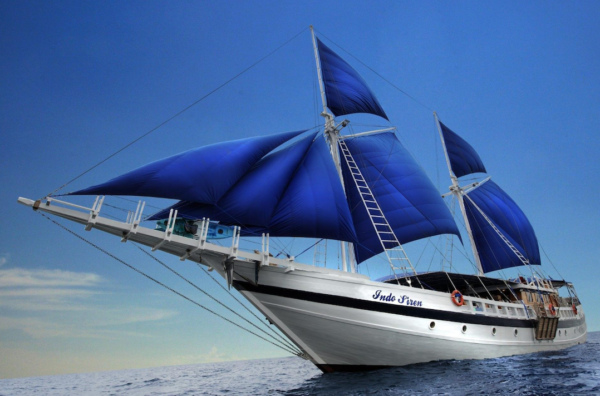 Best Time: December – February is the best time for Manta Rays, although year round. For Mola mola their best time is August.  April – August is high tourist season
Recommended Typical Night Stay: 7-10 nights
Number of Dives: 25-35

Type of Divers: Minimum Open Water Dive Certification and recommended 20+ dives.

Type of Dives

:

Caves, swim-throughs, wall diving, reef diving, night diving, snorkel in mangroves.

Visibility:

5 – 30m


Currents

:

Mild to medium



Featured Creatures:

G

iant Manta Rays, whale sharks, large gorgonian fans, colourful soft corals, pygmy seahorses, epaulette sharks, wobbegong sharks, over 1000 variety of fish species, over 500 different corals, variety of reef sharks, turtles, pods of dolphins, hammerhead sharks, Mola mola, pygmy seahorses, variety of different nudibranchs



2) Thailand



Ever wonder why Thailand is known as the Land of Smiles? I think it's because of their beautiful weather and where people live a very simple life thankful for what they have.





Diving is done year-round along the southeast side of Thailand in the Gulf of Thailand.
But the most exemplary dive sites are around the Andaman Sea along the west coast of Thailand. The only way to get to these remote island sites are by liveaboards. Protected as a marine park since 1982, it's no wonder the reefs along these islands are so productive and rich in marine life.

Some Dive Location Highlights:

The Similan Islands is located northwest of Phuket and made of 9 granite islands. It's one of the most breathtaking dive sites and is in fact among the best top rated dive destinations in the world.
Large healthy gorgonian fans, the delightful view of colourful classy corals, not to mention the wonders of the rock formations and some weird and exotic sea creatures, make these islands the most talked about among divers.

You'll want to check out Koh Bon. It's protected and is part of the mesmerizing beauty of the Similan Islands. 
Koh Bon is definitely the best place to dive to see the giant Manta Rays. You'll definitely want to get your Advanced Certification done because the dive site goes along a ridge covered with colourful soft coral as deep as 115'/35m – 131'/40m. You'll also want to check the phenomenal night diving here too.

Richelieu Rock is located north of Koh Bon and is famously known as the best dives in all of Asia. It really is the prime dive location if you want to see and experience diving with whale sharks.
Liveaboards usually hang out here for a few dives because of the vast variety of underwater life and pinnacles that curiously stick out.
Again, if you're a newly certified or a novice diver and want to do this dive at Richelieu Rock, I highly recommend doing more dives with your local dive shop while you wait for your excursion to begin. Consider the Advanced Dive course to dive a little deeper and get more dive experience.
There are 24 liveaboards to choose from in Thailand and so I have taken the liberty to recommend the following:

Recommended Liveaboard Boat:  The Junk

Used to film the Swiss Family Robinson and a James Bond movie, this classy sailing yacht, The Junk,  offers you their excellent meals and top-notch services. Your tour guides are dive professionals and are very good at giving you great dive briefings on each dive.

Best Time
: November – April ideal dive condition to get optimum dives

Recommended Typical Night Stay:
4 – 6 nights
Number of dives:
14-19

Type of Divers:
Beginners – Advanced (Recommend the newly certified and novice divers to take the Advanced Dive Course if you haven't done it yet to dive deeper and get more dive experience which you can do with your local dive shop)
Type of dives
: swim-throughs, overhangs and granite boulders and exciting rock formations, holes, canyons, some drift diving. pinnacles
Visibility:

10-30+m


Currents

: mild to strong



Featured Creatures: Giant manta rays, whale sharks, 

batfish, rays, jacks, tropical, sharks, coral gardens, dynamically, lush reefs,

eagle rays,

 leopard sharks, magnificent fauna of hard and soft corals, pinnacles, and the difficult to find purple fire goby, frogfish, barracudas, ghost pipefish, jacks, seahorses, pinnacles, etc.



3) Maldives



The Maldives is a tropical country of South Asia and is situated in the Indian Ocean.
It has over 1000 coral islands along with 26 atolls that are mostly ring-shaped. These atolls and islands spread as far as 90,000 sq.miles.  Having no hills, some of the islands consist of dunes which rise as high as 7ft or more. Some atolls have a lone island surrounded and covered with steep coral beaches.
Famously known for its blue lagoons, white sandy beaches, massive reefs, and huge marine size creatures, it's no wonder the Maldives is one of the most sought-after places by divers.

The Maldives is also the place where biologists, marine scientists, vacation divers, and snorkelers dive from liveaboards to work together and study large marine life like whale sharks and giant manta rays.

One of the Stunning Highlights of the Maldives

Ari Atoll is one of the largest atolls in the Maldives. Located on the western side, it does not offer the far-reaching barrier reefs like Australia, instead, it offers divers a more unique beauty of awe.
The vast selection of a variety of scenic dives ranging from pinnacles submerged inside and outside the atoll is where whale sharks and the manta rays often frequent because of the rich supply of plankton soup.
There are 38 liveaboards offered in the Maldives.

Recommended Liveaboard Boat: Scubaspa Ying

The Scubaspa Ying is also perfect for non-divers. You are pampered with 5-star spa packages, champagne, free wifi, land excursions and much more.
Divers can even get their free nitrox here.

Best Time

: December – May. Sharks including whale sharks and hammerheads are seen year round. The best time to see the giant manta rays is in it peak time from August to November.


Recommended Typical Night Stay:

7 nights


Number of dives:

17



Type of Divers: Scubaspa Ying is great for Non-divers. Open Water Dive Certification Course is offered and you will be asked to fill out a medical form. My advice is to bring a medical report from your family physician.
Type of Divers: Beginners – Advanced.
Type of dives: Lagoons, along with the canyon, beautiful and shallow coral gardens

Visibility:

20 – 40'


Currents

:

Perfect for beginners. No strong current in these atolls because they are centrally located.

Featured Creatures:

Giant manta rays, whale sharks, napoleon wrasse, moray eels, hammerhead sharks, a variety of other sharks, eagle rays, batfish, big eye trevally, scorpionfish, green turtles, colourful soft coral, pinnacles, etc.



4) Kona, Hawaii



Kona, meaning leeward or the dry side of the island in the Hawaiian language, is a part of 'the Big Island' of Hawaii. With its volcanic underwater terrain, it's like an underwater Garden of Eden for divers and snorkelers.
Diving among humongous craters and boomies which are large outcrops of corals covering a range of 30-70', you'll be amazed here to see handsome agile Chromis flashing off its flashy pink colour.
You'll also want to check out the submerged volcanic crater.





Indigenous fish native to the island like the Potter's Angelfish, Female Masked Angelfish, etc and the wonders of lava tubes are not what you will experience anywhere else but in Hawaii waters.   
Amazing experiences for the non-divers who enjoy snorkeling.





Kona is famous for its Manta Ray Night Diving and both the divers and snorkelers get this amazing opportunity – you absolutely don't want to miss this!



One of the highlights:

Keahole Point-Manta Theatre Dive Site



Large quantities of zooplankton (microscopic sea animal drifters) are attracted to light so you might want to try a couple of night dives with a night light and experience diving with the manta rays.
Mantas feed on these microscopic organisms who come out of hiding. You might want to even remove your snorkel because that's how close the mantas will come and you don't want to risk losing your mask!
There is only 1 liveaboard here.

Recommended Liveaboard Boat:  Kona Aggressor II

Non-divers will definitely want to be on this boat because you get to see the giant Manta Rays too.  Why not get pampered with Hawaiian and American food with drinks included?  Enjoy your hot tub too!

Best Time
: November – February Humpback Whales. Manta Rays are here year round.
Recommended
Typical Night Stay:
7 nights
Number of dives:
27

Type of Divers:
Open Water Dive Certification or equivalent. Recommend at least 20 logged dives.

Type of dives
: Black coral forest wall, lava tube diving, cave diving, lava ridge wall diving, boomie reef diving, tunnel diving, night diving

Visibility:
100'+ depending on weather
Currents
: Mild-medium


Featured Creatures: –   
Giant manta rays, whale sharks, puffer fish, cleaner shrimp stations, turkey fish, Thompson butterfly fish,  nudibranchs, hammerhead sharks, white tip sharks, black coral forest,viper eels, possible sightings of mole lobsters and ghost shrimps, gently swaying and colourful tubastrea coral polyps, frogfish, eels, octopus, milkfish, bi-coloured anthias, schools of surgeons, different types of scorpion fish, turtles, wire coral with gobies, eagle rays, peacock groupers, frogfish, spinner dolphins, barracudas, Spanish dancers, turtle cleaning station
So, which place interested you the most and why? If you've been on any of these liveaboards, I really would like to hear your thought and I hope you will share your experiences diving and snorkeling with Manta Rays.
If you have any comments or questions, please put them in the Comment Box below.
Thank you for reading,
Monica