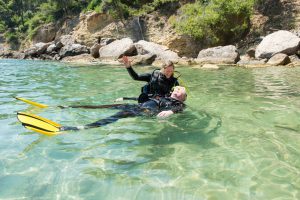 Divers are saying the most rewarding scuba dive course is the Rescue Diver because not only is it mentally and physically challenging, it gives you the courage, inspiration, awareness, self-control and the confidence to become the best safe diver you possibly can be.
This article will tell you everything you need to know about PADI's Rescue Diver Course. Information such as what the course is all about, the requirements or prerequisites like who is qualified and what you need to do to get qualified, the benefits, what you will learn and how you can enroll in the course are all discussed here. Oh ya… and a great video for you to watch!
You might be wondering if you should take this course. You've already done your beginner course, the Open Water Diver, and just completed your Advanced Open Water Diver Certification. You know you love being in the water … will you take the challenge?
'If you are facing a new challenge or being asked to do something that you have never done before don't be afraid to step out. You have more capability than you think you do but you will never see it unless you place a demand on yourself for more.' -Joyce Meyer
My Rescue Diver Course Story
---
I took the course in 2010 in Utila, Honduras, a requirement I had a take in order to become a PADI Open Water Diver Instructor. I had heard from other divers on the island that it was the most amazing and excellent course they had ever taken. The dive students in my group were diverse ranging from new divers who had just completed their Open Water Diver and the Advanced Open Water Diver Certification to the novice and more frequent divers, all looking to more challenge and to become better divers.
Sure it was challenging and serious but I also found the Rescue Course (Padi's) to be fun and inspirational even though I was clumsy and awkward doing different things. The water stage was a mock emergency setup designed by the professional instructors. Divers would take turns simulating to be stressed, panicked or unresponsive while the other divers performed the rescue techniques we had been learning. Some of the dive problems that require rescue techniques and stress management are:
Unresponsive diver at the surface

Panicked diver at the surface

Distress and out of air diver
As my lessons continued, I noticed the improvements in my dive skills and became more aware of my own stresses as well as that of the other students.  I think my biggest challenge was when my dive buddy pretended to be unresponsive underwater and so I had to do the assessment and give rescue breaths at the surface while towing my buddy back to the boat. Hey… I did it on my first attempt and it was an awesome feeling just knowing I could do it!
Stop, Breathe (breathe slowly, deeply and continuously), Think and Act! This is what you're taught to remember…  As long as you know you can breathe, you have time to assess the situation and act on the solution.
Faced with many other different diver emergency scenarios lead by my professional instructors, my rewards of completing each different rescues were very gratifying when I received my certification. In fact, my inner secret thought revealed here… when I enrolled to do this course, I doubted myself and knew I had nothing to lose and much to gain.
What Is The Rescue Diver Course?
---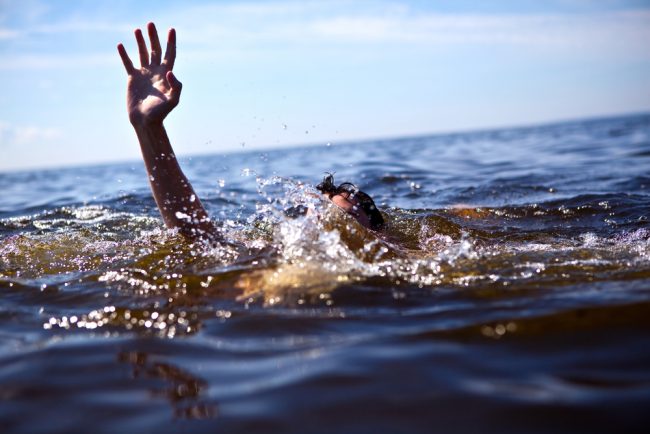 The Rescue Diver course is a certification course offered by scuba diver training organizations such as PADI, SSI, NAUI, and SDI and focuses on diver rescue techniques and diver emergency response management.
The course is designed to expand diver safety awareness at the surface of the water and underwater not only for yourself but also of other divers by learning and improving on your dive skills, rescue techniques, and rescue knowledge.
Diver training agencies thru parental consent allow children age 15 and older to qualify for the Rescue Course, but PADI offers their Junior Rescue Diver Course to children as young as age 12.
PADI's Rescue Diver Course
---

Divers who have taken PADI's Rescue Diver Course say it is the most rewarding and challenging course they have ever taken.
The course which usually takes 3 days to complete, has 5 sections and is made up of 10 different rescue training exercises.
The training includes the rescue scenarios which are simulated typical dive emergencies performed by you and your dive buddy in open water and gives you the opportunity to apply your Emergency First Response knowledge. Their rescue knowledge development sessions teach you how to be aware of your own stresses as well as your dive buddy's and how to management them.
The Prerequisites Of PADI's Rescue Diver Course
---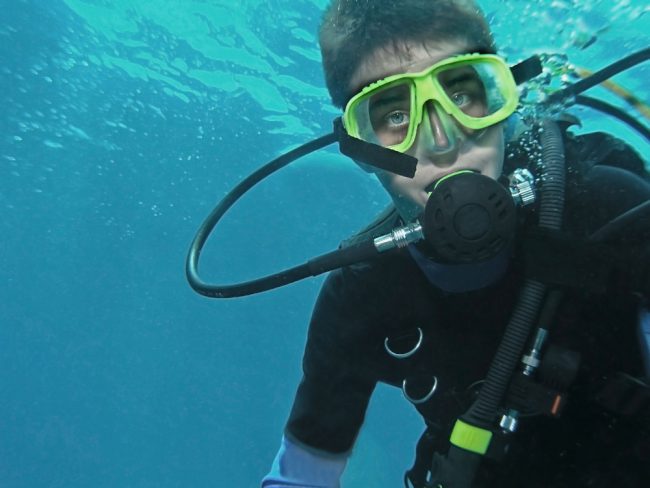 Nice, so you're interested in the Rescue Dive Course!  There are just a few courses you need to have first, such as the Emergency First Response Primary and Secondary Course (CPR and First Aid) which you must have taken within the past 2 years or you can do this during your Rescue Diver course.
You must already have the Open Water Diver and Advanced Open Water Diver Certification.
NOTE: New, novice and experienced divers can do this. Although you don't need to be a fitness guru or have a ton of dives under your belt, you should be in good health and physically fit as you will be required to perform certain rescue skills such as towing your tired dive buddy.
Children as young as age 12 must have completed the following PADI courses:
PADI Junior Open Water Certification first.

PADI Junior Adventure Divers and PADI Underwater Navigation Adventure Dive
The Benefits Of The PADI Rescue Diver Course
---
Whether you're a new, novice or very experienced diver, it's important to keep learning to improve your dive skills. You have earned all the prerequisites so far, and now you're ready for more challenges… here's why the PADI Rescue Diver Course is the next step up to safety success:
You learn the skills to help other divers who need assistance.

Your dive buddy will be happy to have you as a buddy.

You become a better dive buddy because you are more prepared to recognize stress above and underwater and learn how to manage them before they become a real dive emergency.

You become more confident in your dive skills and in your ability to assist and rescue the diver who is in an emergency situation.

Once you receive your PADI Rescue Diver Certification, you get a feeling of success knowing you are a stronger, safer and more confident diver.
What You Will Learn
---
Stress is one of the major causes of diver accidents.
The PADI Rescue Course helps you to prepare for minor and major dive emergencies by applying dive rescue techniques. You will learn certain rescue skills and gain valuable rescue knowledge such as:
Self-rescues.

Helping divers with their dive problems.

Recognizing and managing diver stresses such as helping a panicked diver to calm down.

Rescuing divers who are unresponsive.

Managing emergencies and equipment. You do search patterns for a missing diver, learn how to provide assistance and control accident scene.

Assisting and administering first aid in the event of diver emergencies.
How To Take The PADI Rescue Diver Course
---
There are a couple of ways you can do this:
1) If you want to start right away. Go online to register on PADI's website to do the knowledge session on eLearning.  You can learn the knowledge development sections in your own time, wherever you want and have direct access to PADI's Rescue Diver Manual online, always available before and after the course. You also get to watch videos.
2) Learn from the manual. You can go to your local dive shop and register for the course. Your professional dive instructor will hand you the PADI Rescue Diver Manual, a video for you to watch and set up meetings to go over the knowledge sections, rescue scenarios, and exercises.

3) Learn during vacation. You can learn the course during your vacation by going online, search and book online with the destination resort or dive shop.
So… are you ready to do PADI's Rescue Diver Course and get that confidence in all your dives going forward. Are you looking for some adventure, check out my 5 liveaboard dive destinations outside the Caribbean for beginner divers!
If you have any rescue dive stories you would like to share or have any comments or questions, I really would like to hear from you. Please put them in the Comment Box below.
Thanks for reading!
Monica