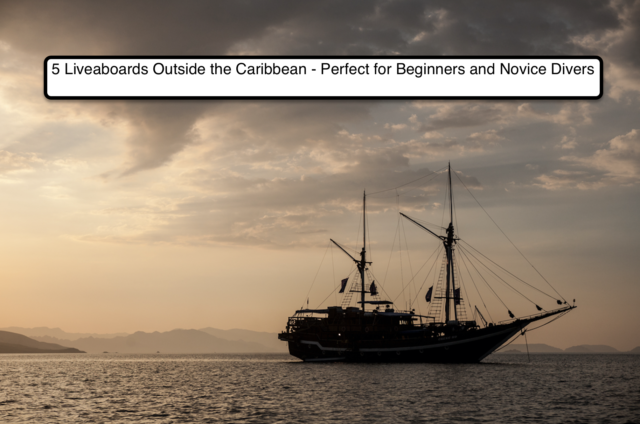 Are you a beginner diver? I have 5 great liveaboard scuba diving vacations outside the Caribbean. You will absolutely want to read this!
Often times, you hear experienced divers talk about their exciting dive experiences with liveaboards. How they travel to remote dive destinations raises your curiosity. You want that enjoyment too!
You wonder how to do this as a beginner or novice diver. How do you find a diving liveaboard suited for your level of dive skills and not feel intimidated?
This article will talk about why these 5 destinations are great places to go scuba diving and snorkeling for beginners and novice divers. Perfect for your family and friends too. I have also included some fun videos for you to watch.
Let's get started! 
1. Thailand
---
Thailand, geographically located in Southeast Asia, south of China and north of Australia has 2000 miles/3219 km of coastline.
They have some of the finest and most beautiful beaches in the world.
With 1323 miles/2130 km of the amazing coral reef, Thailand offers lots of exciting exploration opportunities for beginner and novice divers and even for the advanced and technical divers to enjoy. There are tons of things to see in this underwater world of tropical paradise.
Also known as the 'Land of a Thousand Smiles', Thailand peoples are proud and are known for their generous hospitality of ensuring you are well looked after. Even their cuisine is spread internationally around the world.
Why dive in Thailand?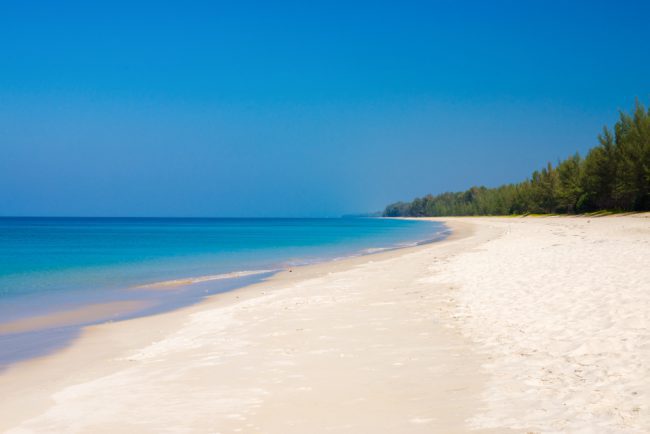 I think the hardest part of Thailand is trying to decide which coastline you want to hang out at. Thailand has 2 coastlines. The Andaman Sea is on the west side and on the east side is the Gulf of Thailand. Here's why Thailand is such a great place to dive for beginners:
1) The Andaman Sea (west coast) has lots of small islands in the world famous Similan Marine National Park.  
Koh Bon island is part it and is sighted as a true beauty and prime favorite for divers from all over the world. This island has no beaches and instead, it's all limestone.  
Giant manta rays and other large sea creatures like to congregate and spend time here to get cleaned by the cleaner fish who wait patiently for their arrival so they can eat their dead skin.
2) The Gulf of Thailand (east coast) offers lots of different diving from canyons, caverns, shipwrecks, pinnacles, swim-throughs and much more.  
One of the divers' highlight is Koh Tao, which means 'Turtle Island' and if you were to see this aerially, it looks like a turtle and historically had swarms of turtles.
This is one of the largest islands and is the perfect place for you to dive and is also great for snorkelers. You'll get to enjoy the shallow reefs, laid back diving, see lots of marine life including the white tip reef sharks and even swim with the friendly giants, the manta rays, and the whale sharks.
2) 2125 different fish species.
3) Home to whale sharks and giant manta rays.
4) Lots of liveaboards to choose from.
5) You can dive year-round, even with the 3 seasons, the average temperature yearly may range around 83 F/28 C.
6) Perfect for new and novice divers because it's protected from currents and is also a great place to learn to dive.
Main Diving Highlights: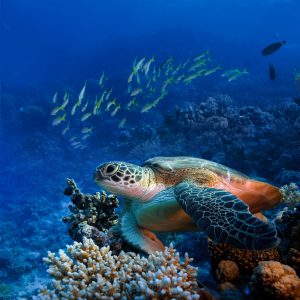 Thailand is an exciting and exotically adventuresome place to dive because of its great diverse type of dives.
You can do wreck diving, coral reef diving, gently sloped reefs, and swim-throughs.
Elephant Head Rock is stunningly beautiful. It is the largest pinnacle on this west coast and is visible at the surface. You'll see lots of breath-taking coral gardens and dive with the turtles, gentle whale sharks and the friendly giant manta rays.
Featured Sea Creatures:
In addition to the large sea creatures like the whale sharks and the manta rays, the Similan islands offer lots of fish activity like leopard sharks, sea turtles, shrimps, eels, schools of snappers, etc.
Best time to go: November – May
Best whale shark sightings: February thru May (Koh Tao)
Best giant manta ray sightings: February thru April (Koh Bon and Similan Islands)
Recommended Liveaboard Boat: The Junk 
Recommended Beginner Program Itinerary: Similan and Surin Islands 
Port Departure: Phuket (Phuket International Airport (HKT))

2. The Maldives
---
The

Maldives

, geographically located in the Indian Ocean, is a country in South Asia and is positioned southwest of India.
With no neighboring countries bordering it, this amazing wonder is considered one of the safest holiday destinations in the world because of its isolation.
The Maldives is spread over 90,000 sq.km. and is made up of 1192 impressive islands with seas and lagoons in between them, each with their own lifestyles, different bird species and fish native to the island.
Why dive in the Maldives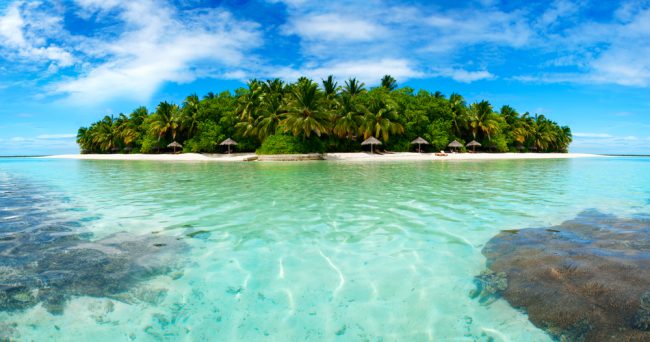 Imagine yourself walking on long stretches of beautiful white sandy beaches and wading out into warm, crystal clear water.
The coconut palm and the yellowfin tuna, Maldives symbol, is already telling you the islands have much to offer. There are hundreds of unique and isolated islands just waiting for you to explore! Here are some reasons why divers come to dive in the Maldives:
1) The channels and the 26 coral atoll lagoons between the islands bring in consistent loads of rich plankton soup, plenty for the entertaining giant manta rays and the gentle whale sharks.  They are year-round residents in the Maldives.  
Diving can be done year round which will get you into the rainy season.
2) With the Indian Monsoon current coming along the lagoons, you can easily drift dive together with the plankton and nutrients which feed the exquisitely rich and beautifully colored soft and hard corals, sponges and fish.
These lagoons are perfect places for beginner and novice divers because there are no heavy currents and you don't need to dive deep to see the diverse marine life and large pinnacles that interestingly skim the water surface.
3) Snorkelers are welcome to join in the fun.
4) Giant manta rays love to get serviced by the cleaning stations where shrimp and wrasse wait hungrily to feed on their dead skin.
Main Highlights: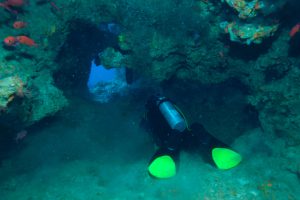 Diving wrecks, exotic caverns, swim-throughs and overhangs attached with flashy colorful sponges and gorgonians, are just some of the highlights.
In addition, if you want to learn and study more about how you can save whale sharks, why not dive and snorkel while participating in the Whale shark Research.
In between your days of diving from liveaboards, those long walks on sandy beaches and Maldivian dinner outings at restaurants will tie into your perfect definition of what real vacations are all about.
Featured Sea Creatures:
Giant manta rays, eagle rays, whale sharks, a variety of sharks including hammerheads, nurse sharks, tuna, snappers, groupers, eels, turtles, exotic and colorful corals.
Best Time To Go: December – April
Recommended Liveaboard Boat:  Scubaspa Ying 
Recommended Beginner Program Itinerary: Best of Maldives  
Port Departure: Male (Male International Airport (MLE))

3. Australia
---
Australia's home is in the world's largest ocean, the Pacific Ocean and the third largest ocean in the world, the Indian Ocean.
Not only is Australia an island continent, but it's also recognized as the 6th largest country in the world.
This country is unique in so many different ways, in that it has many alluring diverse cultures, heart-beating geological landforms ranging from the rainforests to deserts and mountains and massive fascinating flora and fauna.
Honestly?? You can't find all this enlightenment anywhere in the world.
Why dive in Australia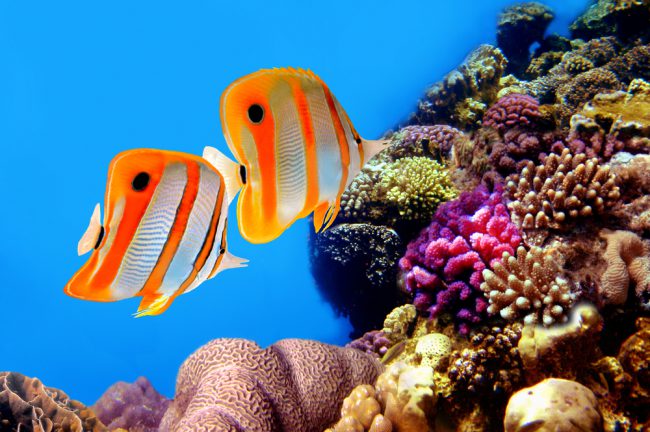 While there are many exciting and great places to scuba dive in Australia, the best popular dive haven is the world famous Great Barrier Reef.
When divers say they want to dive in Australia, they're actually saying they want to dive at the Great Barrier Reef.
Here are some reasons why divers want a close encounter diving in Australia's Great Barrier Reef:
1) The largest coral reef entity in the world is Australia's magnificent Great Barrier Reef in Queensland.  It has 2900 reefs and 900 islets and islands which extend well over 1600 miles/2600 km over northern Queensland coastline.
The entire barrier stretches over an area of approximately 133,000 sq. miles/344,400 km2.
With over 350 different coral species and over 1500 tropical fish species, it's no wonder the Great Barrier Reef is part of the UNESCO World Heritage Site (United Nations Educational, Scientific and Cultural Organization) as a special physical meaning.
Did you know the Great Barrier Reef is even visible from space?
2) What's really impressive is the visibility is often over 197'/60m.  
3) The Barrier offers many dive sites, perfect for the beginner and novice divers to enjoy a caravan of dive adventures as well as fun times for snorkelers.
Main Highlights: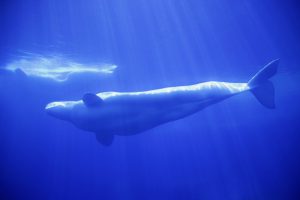 Night dives, caves, wrecks, wall diving, swim throughs, tunnels, snorkel with minke whales, shark feed, spectacular underwater topography.
Remember to bring your underwater camera.
Featured Sea Creatures:
Dolphins, giant groupers, whale sharks, minke whales, manta rays, a variety of different sharks like silky sharks, tiger sharks, gray reef sharks, pinnacles, bountiful coral gardens, pinnacles, and massive outcrop of coral reef columns that are sometimes exposed during low tide.
Best time to go: June – November
Best time to see Minke Whales:  June and July
Recommended Beginner Program Itinerary:  Cairns – Cairns (all divers and snorkelers are welcome)
Recommended Liveaboard: Ocean Quest
Port Departure: Cairns (Cairns International Airport (CNS))

4. Egypt and The Red Sea
---
Egypt, an awe-inspiring transcontinental country in North Africa, has the stunning Mediterranean Sea bordering on the North, Libya on the west, the captivating Red Sea on the east coast, and Sudan on the South.
The pyramids of Egypt's Cairo is one of the 7 Wonders of the World and stories of the oldest ancient histories sit in this country
The Museum of Egyptian Antiquities is opened to the public and contains all the discovered Pharaonic antiquities. A wonderful place to learn history for your family.
Egypt however,  is much more than the ancient historical monuments of pharaoh's pyramids, it offers romantic cruises on the Nile River, exhilaratingly hot deserts, and they have the interesting Red Sea for divers and snorkelers.
Why dive in Egypt?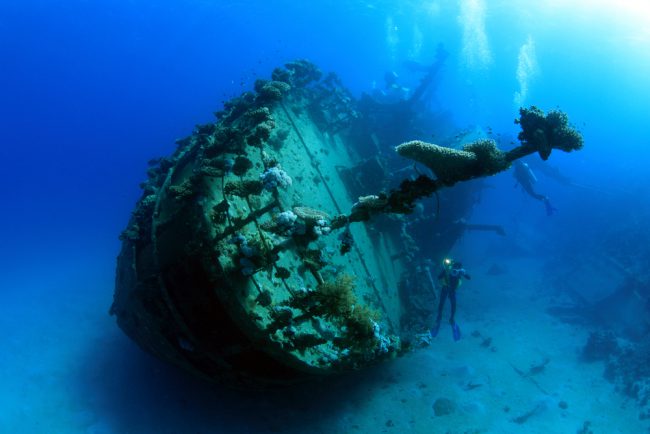 If you're looking for some unforgettable first-class adventure diving in Egypt, the Red Sea sounds the alarm to divers of all experiences and the red carpet is laid out for you. Reasons like:
1) The Red Sea is located on the eastern coast of Egypt and is a seawater inlet belonging to the Indian Ocean. Here, you also get to see the incredible wonders of the underwater world with great visibility in glassy waters.  
The maximum depth is 9970'/3040m and ranges to an average depth of 1608'/490m to extremely shallow partitions where the divers call this their paradise due to the intense marine life and lush corals.
There are over 1000 different species that are invertebrates, and around 200 different combinations of hard and soft corals.
2) The Red Sea can be divided as the North Red Sea and is perfect for the beginner and novice recreational divers because it's not very deep and has very little current. The South Red Sea is for the more experienced divers.
*Be sure to check out the itinerary for the recommended level of diver experience.
3) You can snorkel and dive year round as it has one of the world's warmest seawater temperatures.
4) Liveaboards here are considered to be excellent prices and are much cheaper than other liveaboards in the world.
5) What's interesting about the Red Sea is the water actually appears red seasonally from an algae bloom.
6) Diving at the Gulf of Suez and Straits of Gubal are also superb places for beginner and novice divers to see some very cool wrecks.
The SS Thistlegorm became captive to the seas when it was struck by the German Luftwaffe bomb and sunk in 1941. It was carrying a load of ammunition for the British army in North Africa and now waits for your exploration.
It is now home to some of the healthiest and colorful coral reefs in the surrounding area with sharks and scores of fish life swimming through the openings.
7) Other wreck diving for you are the wrecks of the Giannis D which split in half, Lentil, Carnatic and the Tile wreck, Ulysses, and Rosalie Moller.
Main Highlights: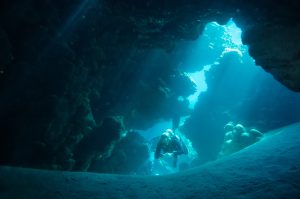 Reef diving, wall diving, famous wrecks, tunnels, exotic coral gardens, night dives, swim-throughs.
Featured Creatures:

Occasional whale sharks, dolphins, sharks, blue spotted rays, coral groupers, beautiful lush coral garden walls, lionfish, moray eels, pinnacles.
Best time to go:  March-May, September – November

Recommended Liveaboard Boat:  MY Amelia 

Recommended Beginner Program Itinerary: Rocky, Zabargad, St. Johns (Port Ghalib – Port Ghalib) (Open Water Divers)
Port Departure: Port Ghalib (Marsa Alam International Airport (RMF))

5. Philippines
---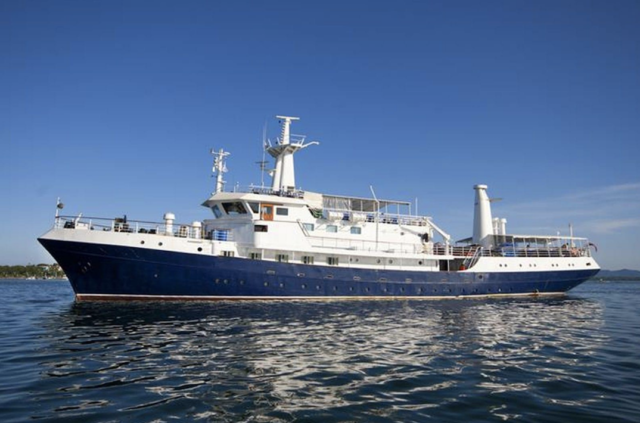 The exotic Philippines is an island country in Southeast Asia and interestingly sits in the western Pacific Ocean on the Ring of Fire.
The country is an archipelago of 7641 islands and also has the South China Sea on its west side, the Philippine Sea on the east side, and the Celebes Sea on the southwest.
The pristine sandy white beaches and the turquoise clear waters together with the best diverse flora and fauna in the world attract divers of all skills.
What else is there? Together the rice terraces and the spectacular beauty of the Archipelago of El Nido, along with 37 volcanos, lakes, caverns, and waterfalls wait patiently to be explored.
Try the karaoke evenings of fun times with smiling Filippino faces.
Why dive in the Philippines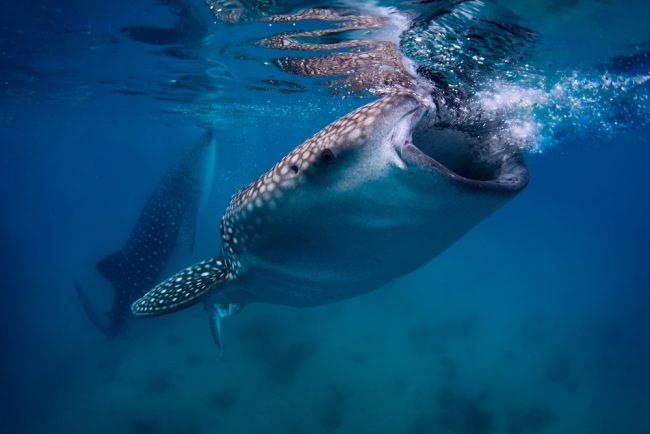 Diving with liveaboards in the Philippines gives the exciting feeling of adventure when going to these remote dive sites to dive near atolls and breathtaking reef walls.
The good news is the dive sites are most suitable for beginner divers.
The experienced divers go to Tubbataha and Malapascua. So why go to the Philippines to dive?
1) Many new and repeat divers come from all over the world to enjoy a piece of this paradise of islands and invitingly warm waters.
2) Offers you some of the richest and bountiful diverse marine life in the world.
3) Liveaboards will take you to shore so you can enjoy your long walks along the beautiful sandy white beaches. Your family will love this…
Be sure to make a pit stop at the famous Chocolate Hill which are giant grass-covered molehills that turn chocolate brown in the dry season.
A stop at a butterfly farm Tarsiers, part of the Bohol Habitat Conservation Center, is an exciting venture to learn about butterflies and see how magnificently colored they are.
4) Marine sanctuary at Apo Island is another perfect place for recreational divers, where over 650 different species of fish and over 400 different types of coral are recorded.
5) Dive The Island of Fire (Isla Del Fuego ) at Siquijor, considered by the Filipinos to be eerie, mystical and witch haunted.
Enjoy your shallow water wreck diving.
Main Highlights: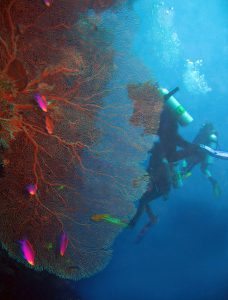 Wall diving and hang out into the abyss, wreck diving, coral reef diving, swim-throughs, and snorkel with whale sharks.
Featured Sea Creatures:
Sardine runs, stonefish, whale sharks, whitetip reef sharks, thresher sharks, hammerhead sharks, colorful lush coral gardens, snappers, batfish, scorpion fish, squid, octopus, manta rays, and seahorses.
Best time to go: November – April
Recommended Liveaboard Boat: MV Discovery Palawan 

Recommended Beginners Program Itinerary: Cebu – Malapascua & Visayas (Cebu Yacht Club – Cebu Yacht Club)

Port Departure:  Cebu Yacht Club (Mactan Cebu International Airport (CEB))

Are you ready to take the liveaboard plunge?
I hope after reading this article you know now there are liveaboards here for you. Beginners and novice divers, snorkelers, families, and friends are welcome to live and dive from liveaboards all over the world.
Get the best of both worlds for you and your family on land and underwater, check out PADI Travel here!
Liveaboards also offer PADI's Advanced Open Water Dive Certification if you want to dive a little deeper and develop your dive skills even more. 
Which is your favorite dive destination here and why did you choose it?
I hope I was able to help you decide on a liveaboard vacation destination and if you have any comments or questions, it would be awesome to hear from you. Please put them in the comment box below. Do you have any liveaboard stories you would like to share?
Thanks for reading!
Monica