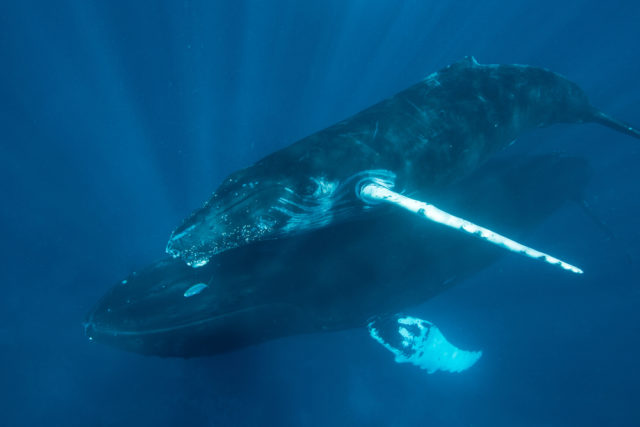 How can you dive and snorkel with humpback whales in Turks & Caicos?  Find out how in this best guide to liveaboard scuba diving in the islands.
Turks & Caicos is a special island country to visit. Did you know divers, snorkelers and non-divers from all over the world book months in advance to spend 7 nights on a liveaboard here? 
It's estimated that 3,000 to 5,000 humpback whales migrate annually from the north to warm tropical waters and Turks & Caicos Islands happens to be in the middle of their route. 
Not only can you see these majestic humpback whales breaching, but there is also much more about them you need to observe.
There are also areas of the islands that have some of the best wall dives and snorkeling in the world. 
Referred to as 'Beautiful By Nature', you definitely will not find anything less spectacular underwater and nor will you find anything less on its islands. 
This guide is to give helpful information on how you can make a memorable vacation with your family by living, diving and snorkeling on one of two liveaboards in the Turks & Caicos Islands.
I talk about their islands, dive locations, give reasons to dive and snorkel on the islands and have some great videos for you to enjoy watching.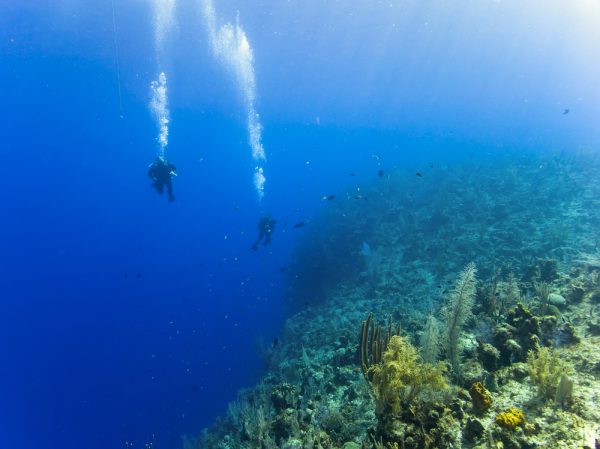 What's In A Name
Interestingly the name 'Turks & Caicos Islands' brings a feeling of exotica, romance, and adventure. The islands have been blessed as having the third largest coral reef ecosystem in the world along with its clean, white soft sandy beaches. You will truly be enchanted by the beautifully clear and warm turquoise Caribbean water.
Even before Christopher Columbus's arrival on Grand Turk in 1492, the islands were already inhabited by the Lucayan and Taino Indians. The name Turks & Caicos Islands (abbreviated TCI) was derived from the inhabitants.
The word Caicos comes from the Lucayan 'caya hico' which means a string of islands.  
Throughout the islands, you will see 4 indigenous kinds of cactuses of which the most widely recognized and unusual appearance is the Turk's head cactus. Keep your eye open for this reddish cap-like top that looks like a Turkish fez hat.
What Turks & Caicos Islands Means To Me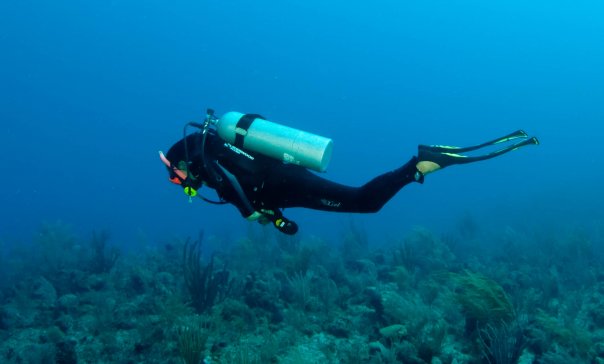 Clearly, the name 'Turks & Caicos Islands' is what spurred me to make the sole trip in early 2005 in an attempt to finally let my loving husband go (died in a vehicle accident as a passenger). After 18 years of missing him, I found my peace on the islands, made friends with the 'Belongers', and other residents from other countries including many tourists.
I had never done wall diving before and now having accomplished over 700 breath-taking wall dives at Turks and Caicos Islands (TCI), it was time to make these islands my home. I lived on the little Grand Turk Island (the capital) for 4 1/2 years and currently own a beautiful historical house (built in 1870) with ocean view.
Making friends was easy and I still keep in touch (living in Canada) with them. It seems when I wake up each morning, my heart is still on the islands. I can still see vivid images of diving with hammerhead sharks, manta rays, humpback whales, dolphins, and eagle rays.
The underwater is not silent! Sometimes I would hear the whales songs for the entire duration of my morning dives. Because of these memories, I am constantly called back to be reunited with the giants underwater and with my friends on the islands.

About Turks & Caicos Islands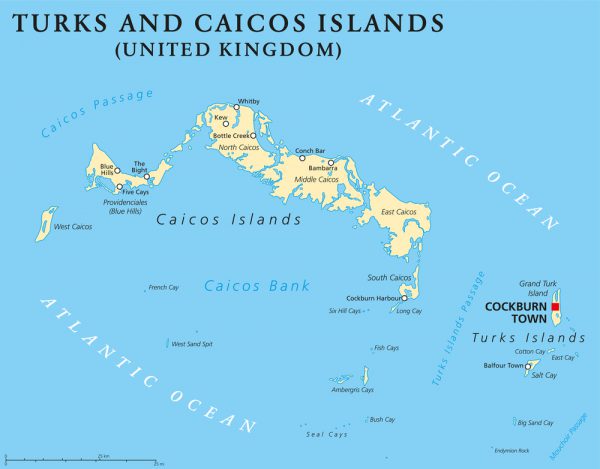 The Turks & Caicos Islands is a group of over 40 near sea-level, closely scattered small islands and cays (Archipelago) located in the Atlantic Ocean, southeast of the Bahamas.
As part of the British Overseas Territories in the Caribbean, there are only 8 inhabited islands:
Providenciales (Provo)

Grand Turk

Salt Cay

Middle Caicos

South Caicos

North Caicos

Parrot Cay

Pine Cay
These 8 inhabited islands are broken into 2 island groups.
In addition to the famous wall diving, there is this spectacular 22-mile wide deep channel/35 km called the Columbus Passage.  It divides the Turks islands and Caicos Islands. To the west is South Caicos, North Caicos, Middle Caicos, Providenciales, Parrot and Pine Cay and to the east are the Turks Islands, Grand Turk, and Salt Cay.
This amazing passage is like a massive underwater highway where humpback whales swim through in January thru March along with other seasonal migrating marine life like the giant manta rays, whale sharks, and dolphins.
TCI is mainly known for tourism services in scuba diving, snorkeling, and offshore financial services. The current population is over 35,000 for the entire country of which approximately 24,000 people reside in Providenciales, the largest island with 14 miles of barrier reef along its north side.
The capital of TCI is Grand Turk Island and has a population of approximately 5,000 and is only 7 miles long and about 1 ½ miles wide.
Currency: US dollars
Official language: English. Creole and Spanish are spoken by some local inhabitants.
Information on Diving And Snorkeling In The TCI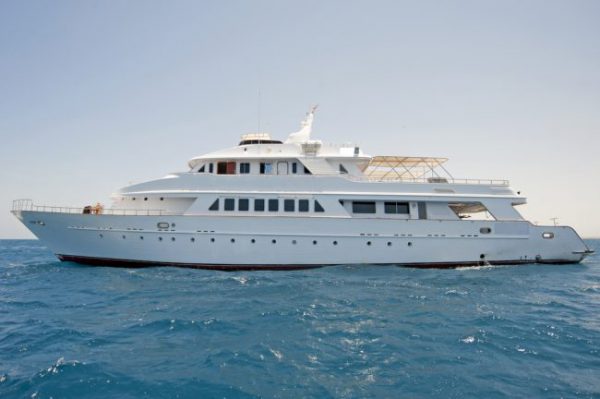 1. Geology is the best. If you have never been to TCI, picture this, the islands sit on an underwater plateau that rises to about 10,000 feet/3048 meters up.
This plateau is split into some areas by more than 6000′ wall drop and a 22-mile wide passage (Columbus Passage) separating Grand Turk and Salt Cay from the other islands and cays as previously mentioned. 
Most of the coral reef walls remain untouched and the best wall dive locations are located at remote uninhabited cays accessible by liveaboards with the exception of Grand Turk and Salt Cay which currently do not have scheduled liveaboard trips.  
2. Location. Located just south of the Bahamas, east of Dominican Republic and Haiti and Cuba and only 575 miles southeast of Miami, Florida, TCI is easily accessible in regards to diving and snorkeling from liveaboards. For instance:
Airlines flying into Providenciales (Provo):
Air Canada

WestJet

American Airlines

United

Delta

British Airways
3. Multiple dives a day. Most liveaboards offer you the opportunity to do 27  dives for a 7-night stay. Snorkeling is offered as well. Families are welcomed.
4. Extraordinary soft white beaches. TCI is known to have some of the best beaches in the world.
Provo's world famous Grace Bay Beach is absolutely spectacular and Grand Turk's Governor's Beach, Cruise Center Beach, and Cockburn Town Beach are just a few places to go for long beautiful walks. (Up to the Liveaboard Captain for beach stops.)
TIP: Some Liveaboard divers and snorkelers will extend their vacation by making a quick fly over with a local airline and book with a dive shop on Grand Turk to do more wall dives from small dive boats.
5. Some of the Caicos islands have underwater caves and sinkholes.
6. Islands are surrounded by beautiful and warm turquoise waters.
7. Living robust coral reef ecosystem extending over 1000 sq. miles, one of the healthiest in my opinion because they are well protected.
8. Shore excursions. Get the best of both worlds on land and underwater. Go for long walks along the majestic white sandy beaches.

9. Warm Tropical Water Temperatures:

Summer – Average 28 degrees C/82 F

Winter – Average 23-26 degrees C/74-78 F
10. Excellent Weather Conditions:
You can definitely dive year round.

Annual sunshine averages 350 days. The breathtaking trade winds will keep you feeling comfortable and not overbearingly sweaty.

Hurricane season – June thru November 30th
11. Pristine Underwater Visibility:

Usually very clear – 25-40 m/80-130 ft.
12. Featured Sea Creatures:

This is a video of divers off the West Caicos from Providenciales. The dive starts at around 50' and then it has a vertical drop to 7000'. Lots of impressive healthy coral and abundant reef fish.
From January thru March. You can often see humpback whales and hear them underwater during your dives.
Hawksbill turtles, lionfish, eels, dolphins, reef sharks, nurse sharks, spotted drums, groupers, manta rays, spotted eagle rays, batfish, lobsters, crabs, angelfish, giant gorgonian fans, black coral, hard and soft corals, sponges and seasonal manta rays, pilot whales, whale sharks and the occasional hammerhead sharks
13. Nice and Easy Diving Types:

Turks and Caicos is one of the easiest places to learn how to scuba dive because it has very little to no current. 
In addition to the famous wall diving, there are tunnels, deep diving, night diving, caves, wreck diving, and canyons.
What You Can Expect From Turks and Caicos Liveaboards
There are 2 liveaboards in Providenciales, Turks & Caicos Islands. 
Turks and Caicos Aggressor II

Turks and Caicos Explorer II
Turks and Caicos Aggressor II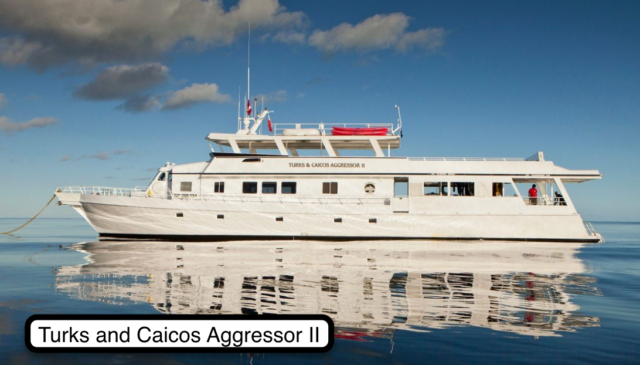 This liveaboard has 2 itineraries called:
1) Providenciales, West Caicos and French Cay (Providenciales – Providenciales) 7 Nights
This is a scuba dive vacation.

Best for certified divers of all levels (advised to have at least 20 logged dives).

April to Mid-January – Diving excursions after the humpback whales migration. 
The nearest airport is Providenciales (PLS)
Departure is Turtle Cove Marina
2) Silver  Banks Humpback Whales Snorkeling (Ocean World Marina – Ocean World Marina) 7 Nights
This is a snorkel vacation.

Best for everyone.

Seasonal from January thru March.
The closest airport is Gregorio Luperon International (POP).
Departure is from the Ocean World Marina.
The entertaining Northern humpback whales migrate thru TCI from January to March. If you want the best lifetime experience with these whales, the only way to do this is to book with a liveaboard.
The whales travel long distances from the north to get to a protected remote marine sanctuary called Silver Banks (often referred to as a 'nursery'). It's actually part of the Dominican Republic and is 20 sq.miles, just north of the Dominican Republic. Distance wise, It's about the same distance from TCI. 
The whales like it here because there are humungous amounts of coral heads that protect them from huge ocean swells. For years they have been traveling to Silver Banks to give birth, nurse their young and teach them how to survive.

Turks and Caicos Explorer II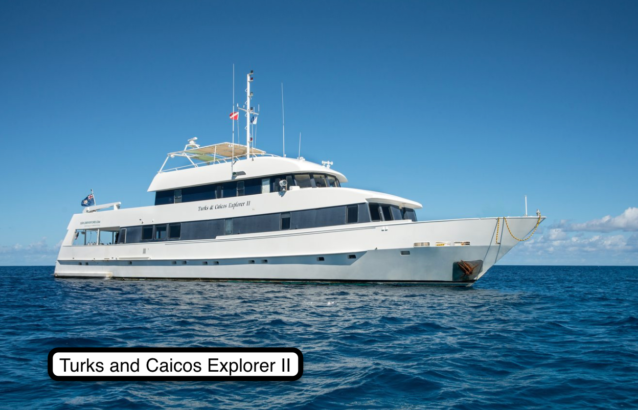 1) Turks and Caicos Itinerary (Turks and Caicos, Providenciales – Turks and Caicos, Providenciales) 7 Nights
Scuba dive vacation.

Best for divers of all levels (should have at least 1 logged dive within 12 months before boarding.
The closest airport is Providenciales (PLS).
Departure is Turks and Caicos (Providenciales).

Turks and Caicos Dive Destinations From Liveaboards

 
Provo's North West Point:

Exciting dive sites are waiting for you here!
The wall diving starts around 35 feet/11 meters and then plunges into an amazing abyss into the deep blue to over 3000 feet/900 meters. What's really cool is you can hang out at shallower depths or on the wall where you'll see interesting crevasses, and cute nocturnal creatures like eels, crabs, and lobsters in hiding.
Night dives are spectacular too when the night creatures slowly come out of hiding in search of their food. The sites are like gardens, full of lush colorful corals. 
There are lots of black coral, tube sponges, and interesting elephant ear sponges. You will definitely want to be taking pictures of the graceful sharks, and much more.
West Caicos: 
This little island is unique because you will see on the west coast the awesome low iron shore cliffs and hopefully you will have the opportunity to go for walks on the white sandy beaches on the rest of the sides. You'll also see interesting ruins that go past centuries.
West Caicos, currently uninhabited, is approximately 11 sq. miles/28 km2 and is known as one of TCIs best remote dive locations.
A good portion of the Caicos is a protected marine national park which is why this is one of my favorite areas to dive. Most of the diving is on the west side of the island because of the pristine wall that has some of TCIs sheerest drop from 40 feet straight down to 6000 ft.
The walls are covered with interesting giant orange elephant ear sponges, barrel sponges, and staghorn corals. You will be entertained by large schools of blue tangs, groupers, grunts, etc.
The boat is moored at around 35' and you can remain at a shallow depth and observe sea anemones in only 5-10' of water or you can hang out on the wall.
If you want shallower dives, the north and east side is perfect where you can see lots of rays and different kinds of sponges.
Swim thru canyons, see beautiful underwater rock gardens, a 17th Century anchor are just some of the cool features diving at West Caicos.
Did you know there is actually a lake in West Caicos?
Yep… and Lake Catherine is also a protected lake. It's home to many different bird species like the largest population of the West Indian Flamingos and wildlife fish. It's situated right smack in the middle of this tiny island. The lake has an actual connection to the ocean through underground passages.
You will definitely want to do some night diving at West Caicos!
French Cay:
This tiny little French Cay of 22 acres, has a bit of history and is rumored as once been a pirate retreat for the notorious buccaneer Captain Francoise L'Olonnois.
It's now completely protected as a sanctuary for wildlife with landing restrictions.  Location wise, it's 18 miles/29km at the furthest southern point of Providenciales, and 18 miles/29km south-east of West Caicos.
What I like is, it's the only island in TCI where you cannot see other islands. The dive trip to French Cay is a long boat ride and is best done from liveaboards.  
The impressive dive sites here offer you some of the world's finest wall diving with exciting vertical drops to 6000 feet/2000m all around with large eagle rays, lots of sea turtles and moray eels.
If the moment is right, you might even have the adrenaline going when you see a friendly giant manta ray and or humpback whales cruise by you.
Snorkeling is also very popular because of the massive abundance of healthy and colorful corals.
If you're looking for some thrills, French Cay is well-known for schools of reef shark sightings. Hammerheads, bulls, tigers and lemon sharks can sometimes be seen and in June and July, nurse sharks congregate here to mate.
Providenciales ('Provo'), Grace Bay: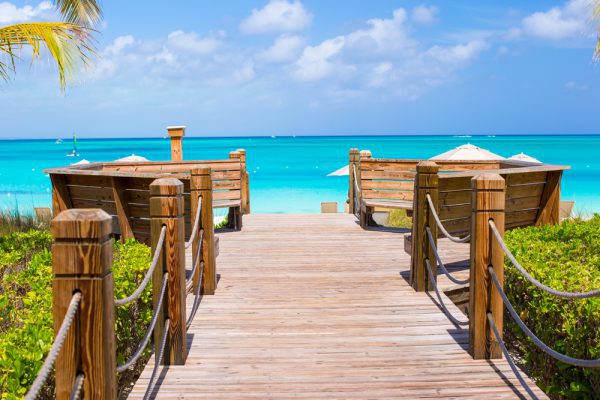 The largest island of TCI is Providenciales and is approximately 70 miles long/112 km with the only international airport.
The so much talked about Grace Bay is located in the northern part of Provo. The long mystifying barrier reefs give the bay much protection against the wraths of Mother Nature and are perfect for snorkelers and divers.
Divers enjoy the small walls and deep coral canyons ranging from 30 ft/9 meters and going down to 100 ft/30 meters. You'll see lots of groove reef formations with different levels of ledges and lots of turtles, dolphins, snappers, and much more.
Summary
Best time to go: Year-Round Diving and Snorkeling
Best humpback whale sightings: January thru March
Best giant manta ray sightings: Mid-May to July
Best whale shark sightings: January 15th – February 15th, June 15th – July 15th
Recommended Beginner/Novice Program Itinerary: Everyone is welcome!
When booking your liveaboard vacation online, it's important to have 24/7 support and trust with your liveaboard service. Do you want free dive insurance and best price guarantee? 
<< CLICK HERE to Read About PADI Travel >>
I hope you enjoyed reading my article and if you have any stories you would like to share on diving with liveaboards or have dived in Turks & Caicos Islands, I really would like to hear from you. If you have any questions, that would be awesome too. Please put them in the Comment Box below.
Thank you for reading!
Monica