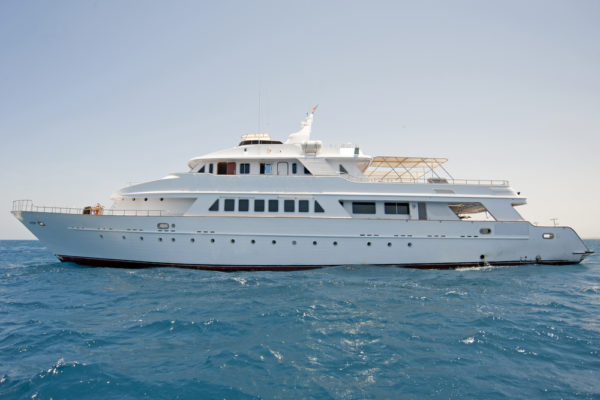 There are many reasons to do scuba diving on a liveaboard. Want to dive, eat, dive, eat, dive, eat, sleep and repeat? Divers and snorkelers love this life!
Are you tired of doing the same old routine of staying at a hotel or resort and carrying your dive bag full of all your heavy dive gear to the dive boat? Each time you have to unpack and assemble on the tank. 
Remember the long boat ride to the dive site?  When you're done the first dive, you sit on the small dive boat doing a surface interval feeling chilly and hungry.
Hey… don't get me wrong! I STILL enjoy my dives no matter what type of boat I take. 
But sometimes a change is good too and trying something different is always exciting and adventuresome! You wouldn't be here if you weren't looking around!
If you want the opportunity to dive and snorkel with larger pelagic sea creatures at a remote destination where small dive boats don't go to, you might want to consider vacationing on a liveaboard.
In this post, I'll explain to you what a Liveaboard is. I'll also show you a great video of what you'll see underwater from remote dive sites and tell you why divers and snorkelers love liveaboards.
What is a Liveaboard? 
Instead of staying at a hotel or resort on land or doing a day dive from a small dive boat you actually live on a very big boat and go to some out-of-the-way dive sites!
A diving liveaboard, sometimes referred to as a dive charter and dive safari, is a boat that's built or remodeled for scuba dive operations. It specifically suits the diver's and non-divers needs by providing accommodation, tank storage, air compressor, gear rentals, crew service, bars, restaurants, and additional amenities.
Some liveaboards depending on the size of the boat, have hot tubs, spas, and dingies or dhonis (specially designed dive boats that tag along with the liveaboard.
Even dive courses like PADI's Advanced Open Water Diver Certification and Nitrox are offered to give divers a greater experience underwater.
Dive operations require a minimum number of people to book and the duration of the stay is typically over-nite or longer. Prices vary depending on location.
11 Reasons to scuba dive from a liveaboard!
Watch this amazing video taken from the Scubapsa Yang Liveaboard in the Maldives… here you will see what the dhoni (specially built dive boat) and the Yang liveaboard looks like. 
1) No more hauling your dive gear back and forth every day.
Talk about getting spoiled! There's no more hauling your dive gear back and forth from the land-based dive shop to your liveaboard every day.
On the liveaboard, once you're on board, the crew looks after your dive equipment for you and usually have it all set up and mounted on the tank… all you have to do is to put it on. They even assist you with that too! 
2) Just one unpacking!
Just think, on a liveaboard, if you bring your own dive gear, you go to a variety of dive sites and no matter how many days you dive you never have to load up your heavy dive gear and unpack. You unpack just once and that's when you first board the liveaboard.  
3) Remote exotic dive locations.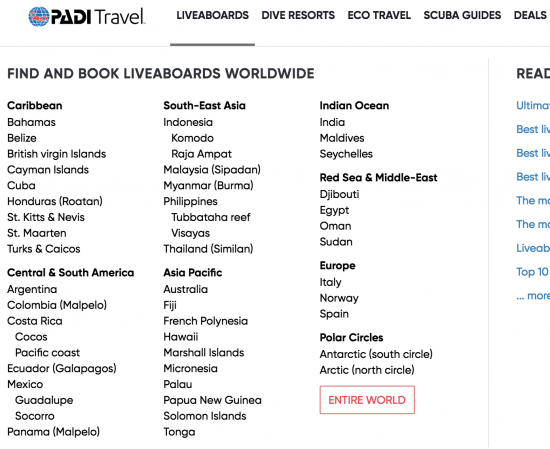 How would you like to go diving to the Caribbean, Central and South America, South-East Asia, Asia Pacific, Indian Ocean, the Red Sea, and the Middle East, Europe and the Arctic and the Antarctic?
Liveaboards can take you to different places in the world where land-based dive operation that have small dive boats cannot.
With liveaboards, you'll be the first to arrive at a popular dive site before any of the resort divers arrive.
Remote dive sites often have current bringing in fresh plankton soup for the friendly whale sharks and giant manta rays. This is a great opportunity to experience some of the wildest and unique creatures underwater.
4) Multiple dives – more dives in a day!
Instead of the daily traditional land-based resort of 2 dives and a possible night dive, most liveaboards offer you 4 -5 dives a day which includes a night dive every evening.
If you are looking to get more dives logged in a faster time, then liveaboards are the best way to accomplish this.
Even if you had a dive package from a land-based dive operation, you will often find the liveaboard is much more economical when it comes to the number of dives offered.
You decide the number of dives based on your dive profile. Some liveaboards even supply you with nitrox if you want to stay down a little longer and deeper. They even offer nitrox course $.
5) Spend more time out on the ocean.
Imagine sitting on a liveaboard, enjoying the sunsets and sunrises with a beverage or a cup of coffee in your hand and yes, you may get this on shore, but there are other natural ocean occurrences you just don't get from the shore.
Honestly, there is nothing more peaceful than being out in the open and feeling and smelling the ocean breeze!
6) Like-minded companionship.
Being on a liveaboard is one of the best ways to meet and develop long-lasting relationships with your fellow divers from various parts of the world and who have the same dive interests as you. You can discuss other great dive locations you haven't been to yet and even better, you get to share your dive experiences.
If you travel alone like I often do, you can find a dive buddy to share the accommodation and avoid paying the additional cost of occupying a room for one person. Chances are you and your buddy will make future dive trips together.

7) Wake up to your dive site – no more waiting.
Do you remember sitting on a small dive boat that takes 30 minutes or longer just to get to a dive site? Sometimes it's a long automotive ride. 
After you've had a good night sleep and when you wake up, your liveaboard is already at your next dive site. Your boat captain already knows what the weather is going to be like so you're ushered to the perfect dive spot with perfect weather conditions.
Even your breakfast is already prepared for you.

8) Enjoy your surface intervals.
Do you remember just after you finished your first dive sitting on your small dive boat feeling crowded with other divers who are trying to stay warm? You wished you could just have something warm to drink and a bite to eat.
With liveaboards, after your dive, there will be plenty of snacks waiting for you, and anything you want to drink, hot and cold. You can even 'chill' out on a lounger and enjoy the warmth from the sun. Perhaps you took some great photos and you want to check them on a laptop.
9) Enhance your photography skills.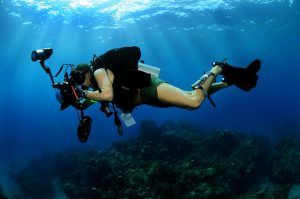 Because you have the opportunity to dive to remote places, chances are you're going to see some big or small exotic creatures you've never seen before.
Remember to bring your underwater camera!
Most liveaboards will not only have professional photographers who can assist you to better improve your photography skills, but they also offer you services to see your images instantly at the end of your dive.

10) Other crew services.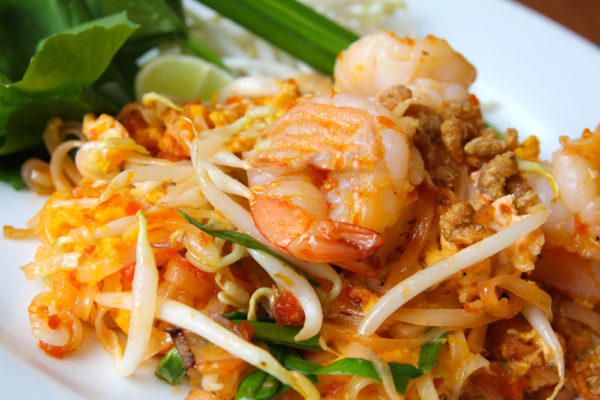 Liveaboards have their own skilled and entertaining chefs who will feed you with their freshly cooked exotic meals and seafood flavoring, pampering you in the most delightful way.
Breakfast, lunch, supper, snacks, desserts and yes, of course, beverages…just for you! Divers and non-divers say they never go hungry!
Enjoy the music too or watch a movie, even a massage, are some of the activities you get…

Your dive guides are professionally trained Dive Masters and Instructors who always present pre-dive orientations prior to the start of your dive. Underwater, they will give you an unforgettable tour.
11) A more unique experience!
You might think you're stuck on a liveaboard and missing out on some land excursions. This is not the case! You get the best of both worlds!
There are many liveaboards that have land excursions so you can walk on remote sandy crystalized beaches of uninhabited islands and maybe even have an evening exotic meal prepared for you right there. 
Some liveaboards will take you to a land-based restaurant for an evening outing or perhaps a historical tour depending on your itinerary.
Did you know liveaboards welcome families and non-divers? You can even book an entire liveaboard for a wedding.
When I book a liveaboard, it's because I want to go to diving with some of the world's largest sea monsters… the whale sharks, manta rays, humpback whales and hammerhead sharks are just some of my favorites at remote destinations. 
I also get to do more drift diving which is a lot of fun and requires little effort although I do recommend you taking the Advanced Open Water Diver course if you don't have this yet. If you want to do night diving and wrecks, you will definitely want to do this for an even better dive experience.
NOTE: Check the itineraries of your destination to see which liveaboard suits your dive skills. They also have information on accommodation types, activities, prices, dive skills required, how to book, etc. If you're allergic to certain types of food or a vegan, just let the booking agent know.
How You Can Book Your Liveaboard
The best way to book your liveaboard AND dive resort vacation is with my #1 Recommended Underwater Travel Agency and that is PADI Travel. 
<<CLICK HERE to Read More About PADI Travel>>
They have 24/7 Live Chat with professionally trained representatives who happen to be divers. They offer you the best price guarantee as well as FREE dive insurance on bookings that are over $1,000 per person. 
Do you want to see what a liveaboard itinerary looks like?

So, what do you think? Are you interested in doing something different for your next dive vacation?
Do you want the freedom of having the luxury and diversity of remote dive locations and the excitement of photo shooting in a pristine underwater paradise of all the exotic sea creatures that swim in your path?
What are your reasons to want to live and dive from liveaboards? What faraway place would you like to go to?
If you have any stories you would like to share with diving from liveaboards or have any questions or comments, I really would like to hear from you. You can put them in the Comment Box below.
Thanks and I hope you enjoyed reading this!
Monica