Diviac and its team joined forces with PADI in January 2018, to become PADI Travel, as your 'ultimate online underwater travel agency'. It's what divers all over the world have been wanting.
Finally, we have a divers network.
In case you're new to diving or don't know who PADI and Diviac are, let me briefly explain what this all means for you.
PADI (Professional Association of Diving Instructors) – Since 1966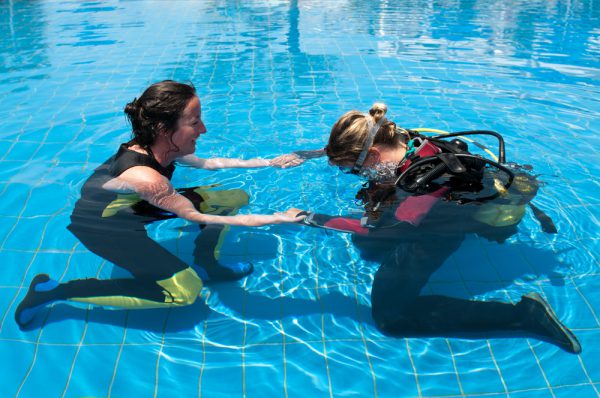 PADI is the world's respected #1 leader in the recreational diver training industry and diving membership. Here are some reasons why:
1) Superb Teaching Materials and Educational Values.  PADI is recognized for its superb teaching materials and educational values.
Even independent educational and vocational training facilities acknowledge PADI by rewarding their students with college credits towards some of the courses.
2) Professional Dive Instructors.  Your professional dive instructors are trained to the highest approved diving standards in the world. This gives you as a dive student, all the confidence you need to enjoy and explore your underwater universe.
3) Fun Courses.  Your PADI courses are designed to make it fun while learning at your own pace.
4) eLearning.  If you're interested in learning how to scuba dive and feel pressed on time or don't want to spend your holiday studying from a manual, don't worry.
You can simply go online to PADI's eLearning to complete the part 1 of PADI's Open Water Diver Course which is the theoretical knowledge and a  final exam.
When you're finished part 1 online, you can select a dive center anywhere in the world to plan your scuba vacation and complete the rest of the entry-level Open Water Diver Certification training.
This second part is on gear familiarization, mastery and demonstration of your scuba skills in confined and open water with your professional dive instructor.
What happens when you become a PADI diver?
Once you're a certified PADI diver, your certification card is accepted by dive shops/resorts and liveaboards all over the world.
The best part is you can now get more diver education. Because practice makes perfect, you can log more dives as you learn more skills.  Some of the courses are:
Advanced Open Water Diver

Rescue Diver

Master Scuba Diver – 5 Specialty Certifications

Wreck diving

Divemaster

Professional scuba instructor
Why The Connection between Diviac Travel and PADI Travel?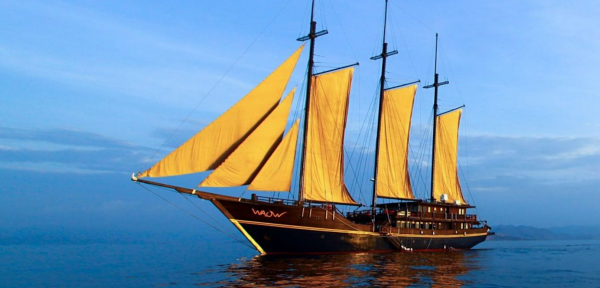 Founded in 2012, Diviac is one of the largest online scuba diving holiday booking websites. Divers can do all their research here and book liveaboards or dive centers/resorts all over the world thru Diviac Travel.
Can you see how Diviac Travel and PADI complement each other?
PADI has all the connections for people worldwide, who want to learn how to scuba dive.  Snorkelers and all certified divers of any dive skills can connect with PADI dive centers/resorts.
Diviac is the authority for providing information on the best places to live and dive from liveaboards. They also have the expertise to answer all your questions for liveaboard vacations and the ability to book your vacations. 
The PADI Travel Benefits – Unique in so many ways!
Are you tired of researching online for hours just to find the right dive destination? What about the weather conditions? What if the dive type is all current?
The truth is, PADI Travel will do all this for you and much more. Here are just a few of their benefits:
1) 24/7 Live Chat. PADI Travel's dive travel consultants can be accessed within minutes.
They are professionally trained and seasoned scuba divers who work with you one-on-one and with large groups.  This is why they really understand your needs and help eliminate the frustration of inaccurate or lack of information. 
Because they are a dive travel agency, they can help plan and book your dive vacation worldwide.  When you have finished your discussion with them, your entire conversation can be emailed to you so you don't have to take notes.
PADI Travel customers rate the support they get as 9 out of 10.
2) Best Price Guarantee.  The exciting part is you are guaranteed to get the best price deal. If you happen to find a price that is cheaper within 24 hours when you book with PADI Travel, they will match it.  They will also give you a voucher for $50 USD. 
3) No Surprise Fees. There are no hidden fees. When you go on PADI Travel's website, all the cost information is transparent.  There are no credit card or booking service charge fees. 
You pay your national park surcharges on the ground or in advance. 
4) Liveaboards and Dive Resorts. What I really enjoy about liveaboards is they take you to majestic and remote places where small dive boats and day boats don't go to.
With 278 liveaboards, you can find dive destinations in the Caribbean, Central America, Southeast Asia, Asia Pacific, Indian Ocean, the Red Sea and the Middle East, Europe, and in the Polar Circles.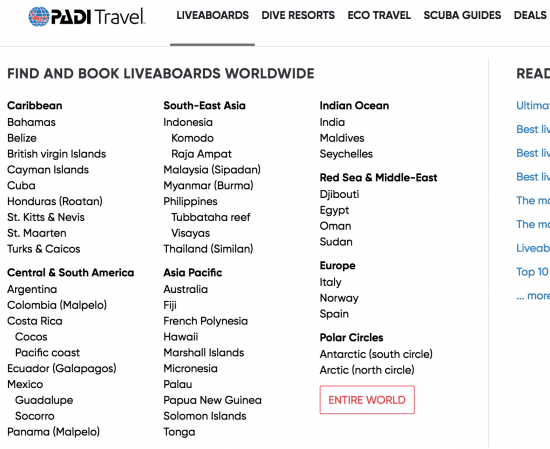 Liveaboards are one of the best ways to explore the underwater flora and fauna, dive wrecks, caves and still enjoy the awesome long walks on sandy beaches and enjoy the tasty local cuisine.
The best of both worlds!
This is what I do, I usually travel alone and liveaboards are my favorite all-inclusive dive excursions because it's where I get the best prices and have the most fun. By living and diving from the boat, all my meals and certain beverages, and my dives with a tour guide are all included. 
 If you're thinking of bringing a non-diver, there are many liveaboards for family members and friends who just want to snorkel.
There are also dive resorts you can book worldwide right here, with PADI Travel.  All you have to do is pick the destination, a date, the number of nights you want to stay and the number of people and boom!
All the information is there for you. Even the dive resort's rating, their reviews and what you can expect are displayed.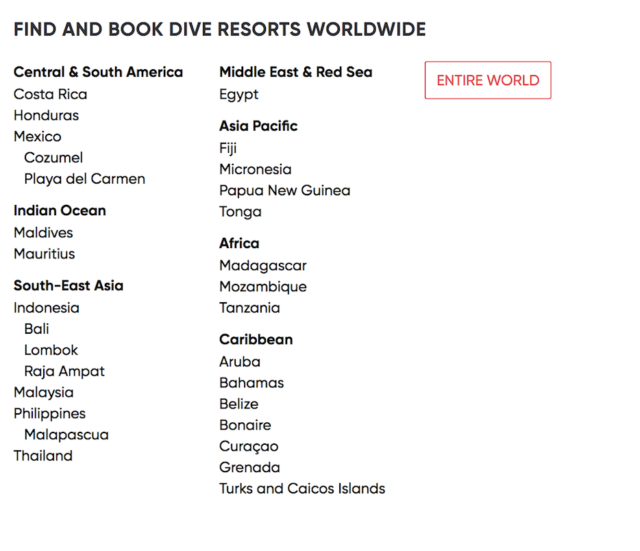 5) Prices Are Quoted In Your Desired Currency.  You might have already heard about this! It's true, there are 52 different currencies here. How convenient is that?
It automatically knows the country I live in which is Canada and so I can see how much the liveaboards and dive resorts are in CAD $. 
I can also easily choose a different country and get the rates in that currency.
6) Confirmed Booking Availability. Sometimes, small dive resorts and liveaboard operations are not easily accessible leaving doubt in your mind on your booking.
The good news is PADI Travel has direct access to all their listed liveaboards and dive resorts and so they will double-check the availability AND your booking
7) FREE Dive Accident Insurance. I know we don't plan for a diving accident to happen, BUT it only takes that one time to be in a chamber and before you know it, you are thousands of dollars in debt. Don't take chances… 
For bookings over $1000 USD per person, PADI Travel will cover for free, all your emergency medical coverage on transportation, hyperbaric chamber, and other relevant costs. 
NOTE: Some liveaboards will make this coverage mandatory and in that case, you must have Dive Accident Liability Coverage.
8) Emergency Contacts and Procedure.  The best advice I have for you here is to give your family and close friends, your travel itinerary. 
You will also want to make sure you give them PADI Travel's website and instruct them to use LIVE CHAT. They also have a phone number and email address. 
NOTE: PADI Travel has direct contact with your liveaboard and dive resort.
9) PADI ECO Travel. Want to give back to the sea creatures and get involved with the ocean life by being part of the water wildlife conservation?

Participate, and I promise this will be the best dive experience you will ever have.
Dive and snorkel from liveaboards with researchers. Here, you get to observe the habits of some of your favorite large sea creatures such as sea turtles and dolphins while wreck diving or diving along coral reefs.  
You can have a whale of a time with the largest fish in the world, studying the gentle whale sharks, listening to mystical whales songs and swimming with giant manta rays.
10) Special Deals for Members. You will definitely want to keep your eye open for PADI Travel's Special 'Unbeatable' Offers. Just remember to change your desired currency by clicking up at the top right.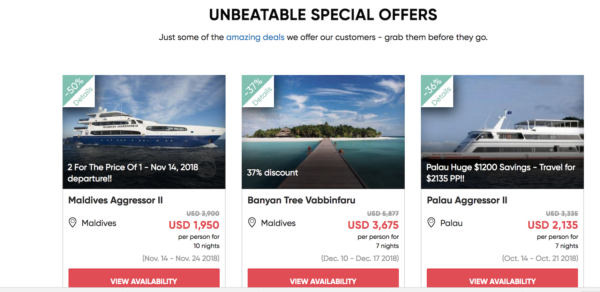 The Way PADI Travel Gives Back To The Ocean 
This is where PADI Travel shines!
If you love the ocean and all the true beauty and magnificence of the underwater world, participating in any one or all of these dives are the best way of giving back to the ocean.
Manta Trust (Charity organization) – Join forces with marine biologists on liveaboard expeditions and learn and study magnificent manta rays at the exotica Komodo, Indonesia or in the Maldives.

HEPCA – This is a team of industry experts and scientists who study the Red Sea. Liveaboard expeditions are available if you're interested in studying turtles and dolphins or perhaps you might want to do the Shark Week in the Red Sea.

Marine Wildlife – This is another exciting dive adventure from liveaboards where you learn and study whale sharks.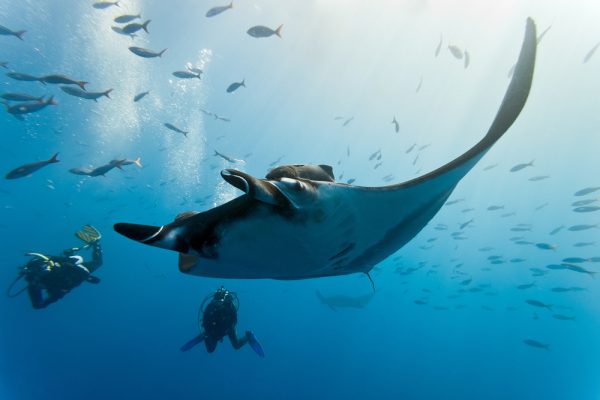 How To Change or Cancel Your Booking with PADI Travel
Your credit card information is required when you book with PADI Travel. They will not charge your card for 48 hours giving you plenty of time to book your flight or do other things. If you need to change or cancel your booked reservation, then this is the time to do it.
NOTE:  At the time of your booking, you get a form to fill out. On this form, you can also note your specific requirements, put in your travel times, room selection for a number of people and so on.
The form will remind you when your free cancellation will expire.  
In the meantime, PADI Travel will send you an email within 24 hours to confirm your space or deny your booking meaning there is no space available for your booking.
Once you receive your booked confirmation, PADI Travel will wait another 24 hours before processing your credit card. 
There are three ways to reach PADI Travel… 24/7 Live Chat, email, and their website.
When your free cancellation expires, you are under the payment terms and cancellation conditions of your booked liveaboard or dive resort.  PADI Travel's site conveniently displays this information for you in addition to the balance payment terms.
PADI Travel looks after all the payments so you don't have to deal with the owner.
What Customers Say About PADI Travel?
PADI Travel uses Trustpilot to monitor its customers' feedback. 

Trustpilot's mission is to ensure you get 'better online shopping experiences' and reviews cannot be deleted.

Are you ready for your dive and snorkel adventure? Are you a new or novice certified diver? 
Have you heard of the Turks & Caicos Islands and their magnificent Humpback Whales? Listen to their calming whale songs here…

How about diving in Australia, the Maldives, the Philippines or Egypt and the Red Sea, perfect for new and novice certified divers…
CLICK HERE if you want to find out more about PADI Travel or if you're ready to book your dive vacation. If you have any questions or comments, please put them in the Comment Box below.
If you have any stories you would like to share about your experiences with PADI Travel it would be AWESOME to hear from you.
I hope you enjoyed reading all about the PADI Travel network!
Monica