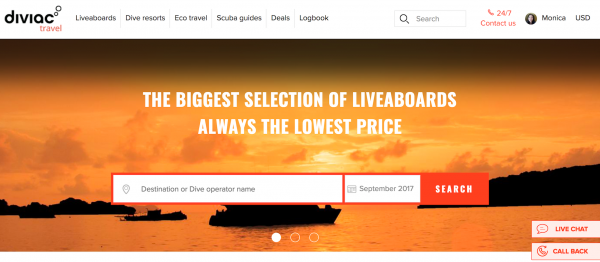 The Review Of Diviac – Scuba Diving Travel Agency
Have you had challenges trying to find the right dive destinations based on your dive skills? Read The Review Of Diviac – Scuba Diving Travel Agency!
In this review, I'll tell you who Divac is, how it works and their pros and cons. When you finish reading, you will know whether or not Diviac can help you plan your next scuba vacation. I also have an amazing video on giant Manta Rays.
I've been scuba diving and snorkeling for years. When I plan and book my dive vacation I want to make sure there are no surprises. For instance, I have my family who dives with me. Some of them are not comfortable doing a straight negative descent. 
First, The latest News!!
On January 18, 2018, an exciting announcement was made by Diviac. They have been purchased by PADI (Professional Association of Diving Instructors) and is now PADI Travel. This was confirmed by PADI on the 23rd.
What does this mean to you as divers and snorkelers? Well, everything you read here is pretty much the same, except for Diviac's Logbook. The digital Logbook is still owned by Diviac. 
<<CLICK HERE To Read More About PADI Travel>>
Who is Diviac?
Diviac, a privately held company, located in Zurich, Switzerland is the #1 online travel website for scuba divers.
Its main goal is to provide a one-stop service for divers with family and friends who want help to plan and book their scuba and snorkel adventures on liveaboards and dive resorts.
Diviac is the agent for liveaboard owners internationally. Their website gives you the ability to make comparisons on the liveaboard services, read reviews and check out prices,
Back in April 2013, Diviac was officially formed in Zumikon, Switzerland by two very real and passionate divers, Joel Perrenoud and Thomas Achhorner. Perhaps referring to themselves, the name Diviac derived from the words dive maniac.
In November of 2013, the Diviac Logbook emerged as an internet multi-based service attracting thousands of divers to become members from virtually all over the world.
Because of their sophisticated software, divers have been able to document and maintain their dive records, download their dive profiles, dive photos and socially them share on social media.
As their technology advanced, divers could get access to the Logbook thru their phones and tablets.
From 2015 to 2016, Diviac made the following announcements:
1) Introduction of Diviac Travel.
2) Acquisition of Scubadvisor.com. This site accumulates reviews from diver experiences on liveaboards and dive centers.
3) Partnership with Trekksoft, a software organization who provide support to the tourism industry, working with dive centers and offering one-stop solutions to look after their online bookings.
4) Introduction of Diviac Eco Travel. This brings vacationing divers, snorkelers, and families to learn and work with researchers, marine biologists, and other organizations to help protect and give back to our beautiful underwater world.
In my opinion, the growth of Diviac while still young is energetic and inspiring. It has an interesting evolution of activities that have taken place ending in the ultimate one-stop solution for divers, snorkelers, and families.
To date, they work with 900 dive destinations,  10,000 dive centers, and 300 liveaboards.
Who owns Diviac?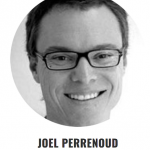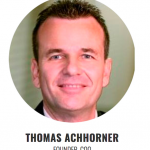 It's really important to know who's behind the organization you want to do business with.
You'll be surprised when it comes to doing researches, how many online businesses don't tell you who the owners are. 
Some sites don't even tell you how to contact them. The last thing you don't want is to get scammed and lose your money!
Diviac is for real and the people behind it are real people made of board members from CEOs, sales, and marketing.
Joel Perrenoud is one of the CEO and Founder. Joe is a passionate diver who traveled to 15 countries and 5 continents to dive. He was President for the EMEA division of Korn/Ferry International and has an MA in Economics from the University of Neuchatel, Switzerland and achieved honors with an MBA from Harvard Business School.
Thomas Achhorner COO and Founder, also a passionate diver, has extensive knowledge in IT and founded the Boston Consulting Group's IT division in South East Asia and Great China. He received the highest honor and received his Masters in Computer Sciences.
How does Diviac work?
Planning and booking your liveaboard online is easy with Diviac. 
All of the travel agents are divers too and so they understand what you are looking for. They can help you plan and book your dive and snorkel vacation with liveaboards and dive resorts.
There are 3 ways to reach them:
24/7 Live Chat
Email
Phone
And only 4 easy steps to book:
Step 1: Go to Diviac's website.
Step 2: Select your desired itinerary based on dive types, best times to go.
Step 3: Pick your cabin.
Step 4: Fill out the simple form.
They also show you the payment and cancellation terms. 
Feel free to look around and browse on their website. Everything can be accessed and booked without an account. It's that easy!!
What kind of services do you get from Diviac?
This part is long but it deserves to be told! 
1) Live Chat
Live Chat and call back area is immediately available if you need to ask questions. Having booked a liveaboard vacation years ago, I can tell you Diviac's Live Chat is where you want to be for instant information.
2) Liveaboards Services
Live on the boat, dive from the boat and go to remote places. It's like being a turtle, your house goes with you wherever you go!

Diviac offers around 300 liveaboard services to choose from. You can scuba dive to remote places in the Caribbean, Central and South America, South-East Asia, Asia Pacific, Indian Ocean, Red Sea, Middle East, and Europe.
Many of these liveaboards also offer you and your family snorkeling too.
NOTE: Liveaboards offer you PADI scuba diving courses too!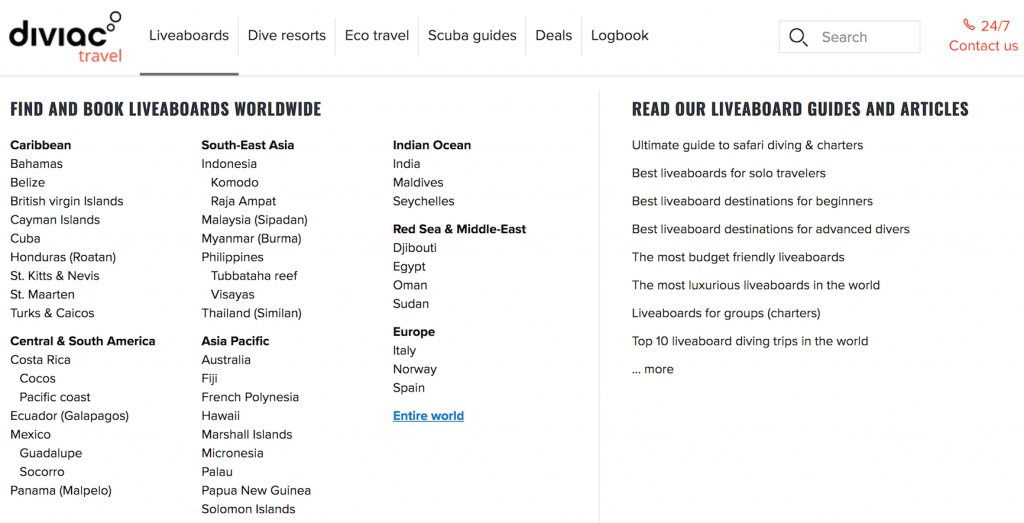 Some offer free WiFi. In addition to air conditioning, other services are available such as camera stations and chargers, great food, beverages, gear rentals, full itineraries, spas, tour guides, and land excursions.
3) Dive Resort Services
From the Caribbean, Central and South America, South-East Asia, Asia Pacific, Indian Ocean, Africa, and Europe, Diviac offers dive centers for you to choose from.
After you have chosen your dive and snorkel destination, you can make your comparison of the dive resorts and dive centers in that location and put them into your Wish List.
4) Eco Travel Services
Video – Diving with Giant Manta Rays in South Komodo, Indonesia
This is the service that quite impressed me and in my opinion, this is where you can see how much the founders are dedicated to giving you the best dive experience ever! They're giving you as well as them, the opportunity to give back what we all love.
You and your family get to dive or snorkel on your vacation AND help organizations in the eco-system by participating in research, observation, the gathering of data on rays, whales, turtles, sharks, and reef life.
All you have to do is take pictures and hand them over to the conservationists and any sea creatures not identified, you get to pick out a name for them. Of course, you get to keep your copy of pictures too!
Types of Diviac Eco Travel Plans

Marine Megafauna Foundation – Partnership with the Manta Trust
2 expeditions are offered to you. The liveaboard trip to the Komodo National Park, Indonesia, gets you diving with a Manta Trust representative who provides all sorts of education on the mantas. The cool part is you get to decide whether you want to do this from the liveaboard experience or from the sailboat experience.
The 2nd expedition is the vacation in the Maldives where you board the Carpe Vita Explorer liveaboard and dive with a Manta Trust representative.
The Manta Trust, with their prime goal of protecting, researching and studying manta rays in addition to providing education worldwide, is a non-profit registered UK charity organization formed in 2011. A  portion of what you pay goes to the trust fund.
HEPCA (Hurghada Environmental Protection and Conservation Association)
This is where you get to dive from a liveaboard with sea turtles and dolphins, sharks, whale sharks, and other interesting sea creatures. 
You can take photos, study them and discuss with the association's experts and find out why these creatures are so vital to the Red Sea.
If you love these sea creatures, whether you're family or student, you're welcome to dive and snorkel with them.
Marine Wildlife Watch
This is a fun vacation to dive and snorkel with large pelagic sea creatures. You will be studying whales sharks, manta rays, and other delightful marine life.
Now, having said all of the above of what you will be studying, there is no 100% guarantee you will see these large creatures because it's all about being there at the right moment…BUT you're chances are pretty good you will see them weather permitting!
5) Scuba Guide Service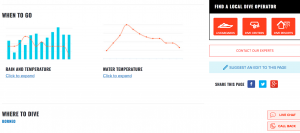 Want information on the best time to go on your dive vacations? This guide is going to give you everything you need to know to help you have an enjoyable time and be safe. You will get information on the following:
Diving type –

drift diving

, shark diving,

wreck diving

, etc.

Weather pattern

Water temperature

Dive locations are described so this will help you if you're a newly certified or novice diver. The location will tell you what sea creatures you'll most likely see.

Calendar of when you're most likely to see

whales,

sharks, etc.

Information on how to get to your destination
6) Best deals Service
This is where you want to be if you're looking for best deals on dive packages, dive resorts, and liveaboards. You can find great excursions for teens and kids that are for free depending on their age.
You will find amazing prices here from 5-25% off.
7) Diviac Logbook (FREE) Service
Video of Diviac's Digital Logbook.
Do you remember taking your logbook with you on all your dive trips? They would get wet or crinkly… Well, those days are gone! Pretty much everyone now has a computer, phone or tablet… it's much easier to analyze your collection documented on Diviac's Digital Logbook.
The Logbook is an online logbook software specifically designed for scuba divers. It caters to 3 types of users, the Divers, the Dive Instructors, and the Dive Centres. When you sign up as a member of Diviac, you automatically get the FREE Basic Logbook Plan.
For the Dive Instructors, and Dive Centres you can document all the required student information such as the type of certification, dive site, instructor name, etc.
PROS & CONS
I also looked into the customer reviews powered by Trust Pilot and their rating is pretty good 9.2/10. 

PROS
Work together with over 10,000 dive centers.

Almost 300 liveaboards.

Over 900 destinations for you to dive at.

One Stop Shop to book your scuba vacation.

Can easily make comparisons on dive operations, liveaboards, and prices.

Reviews are readily available.

Questions are quickly answered in Chat and helpful ideas.

Bookings can be for an individual or for groups.

Great for divers, and non-divers.

Very diverse in services.

FAQ

24/7 Live Chat / Leave call back number.

Their best prices are guaranteed.

Booking fees are nil.

FREE dive insurance for bookings over $1000 USD per person. 

Special deals for members.

Offer gear rentals and Nitrox $

Credit card fees are nil.

You are 100% safe when paying by credit cards because the information is encrypted.

Officially recognized as ASTA Travel Agent (American Society of Travel Agents) who are the prime advocates for travel agents.

No fees are hidden.

Support underwater eco-system.
CONS
I couldn't find any Cons here for myself as a user but checking out the Trust Pilot Reviews, a customer felt his contact person was not knowledgeable enough on the services.

No airline bookings.
(A representative from Diviac quickly responded with an apology and said a member from the team would get back and help answer any outstanding questions.)
Payment Terms and Cancellations
Booking payment is made to Diviac with payment and cancellation terms so it's important to make sure you read and understand it.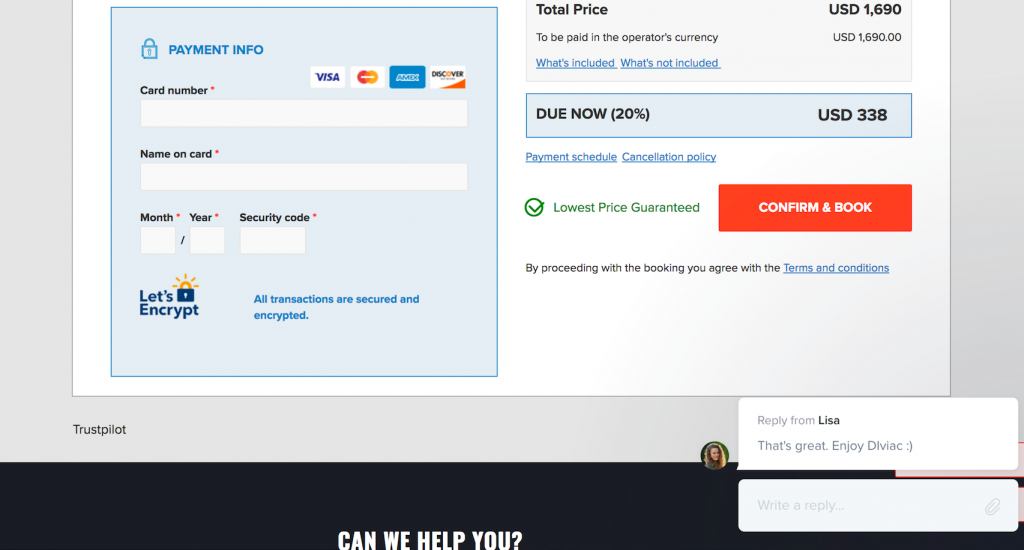 My Conclusion
Should you book your dive and snorkel vacations with Diviac (PADI Travel)? Yes, absolutely! 
Their representative answered all my questions in a professional manner and actually helped me choose my first liveaboard dive vacation to Thailand which happened to 'The Junk'. They also helped me determine the best time to go. 
Their prices are quite affordable and you can always look for special offers from liveaboards and dive resorts too.  
The only thing I would like to see them provide as an all-inclusive vacation is the flights. 
In addition to all the PROS, the one most outstanding benefit is the FREE dive insurance. As divers, we all know accidents can happen, it can be as a result of a medical reason, dive gear failure, etc.  
Decompression illness, air embolism, etc. …. MEDICAL TREATMENTS ARE EXPENSIVE!!
If you don't want to be spending a lot of your time browsing around on the internet and getting confused on trying to find the right dive vacation suitable for your dive skills, my recommendation is to go inside and have a look in Diviac (PADI Travel) for FREE!
You have nothing to lose and lots to gain like getting a great scuba and snorkel vacation experience that's right for you and your family. 
Do you want to take a sneak peek and see what a liveaboard itinerary is like?

If you have any questions or comments or want to share your dive experiences using Divac's services, I really would like to hear from you.
Thanks so much for taking the time to read my review of Diviac!
Monica