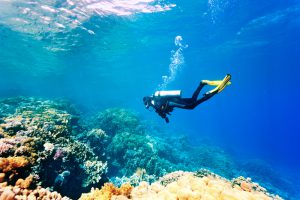 Have you ever had the feeling the ocean is calling you? When you dive, you are surrounded by water and there is so much peace there that you need to return. My non-diving friends and family members often ask why is scuba diving so much fun. Divers feel this all the time.
17 Reasons to Love Diving
---
1) Breathe Underwater
Unlike snorkelling and free-diving, you can stay down longer for a certain period of time and be part of the ocean.
2) Peaceful
The moment you take that giant leap into the water and slowly descend, releasing pressure from your ears, all the craziness of land life is gone.
The stresses of life are gone and everything feels ok. Instead of being in a crowd of people, you are now surrounded by lots of space and amazing freedom. There are no emails or cell phones when you look at your gauges. No traffic sounds and no one is talking to you as your only means of communication with your dive buddy is through hand signals.
All you can hear is the sound of your bubbles while exhaling. Oh sure, you might hear the odd squawks and squeals from nearby whales or clicks from dolphins but this is why divers are underwater.
3) The Sounds of Sea Animals
Oh, did I say it was peaceful underwater? There are sounds you will hear and it's why divers dive. Squeaks and whistles might mean the songs of humpback whales or killer whales are close by. You'll instantly get the desire to do a 360-degree turn hoping to see one nearby.
You might even hear crackling sounds from parrotfish scraping algae and polyps as they break off chunks of coral to eat them.
4) Unjammed World
There is lots of room to move around underwater. You see, it's not crowded and jammed like on land where billions and billions of people live. In fact, only about 30% of the earth's surface is land. There is also no crime underwater.
5) Freedom
You have so much freedom to move about underwater, for instance, you can go up and hover, and go down and hover but from where you stand on land, you can't do that.
6) No Competition
The great thing about scuba diving, even though it's considered a sport, is there is no competition. In fact, you're encouraged to not swim fast to conserve on your energy and not use up all the air in your tank too fast.
7) Make Friends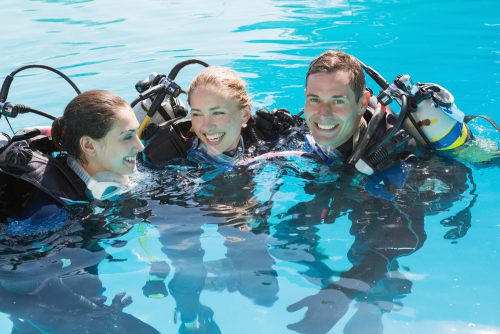 Just like on land where you have a friend you can really trust, you have a dive buddy who is always faithfully by your side watching out for you. You get to help each other out or show interesting sea creatures that maybe your buddy is missing out on.  
You get to make friends from all over the world and the best part is when your paths cross again on your next dive vacation. Divers seem to have this camaraderie of connecting and staying in touch.
The part I enjoy the most is when I get back on the dive boat and everyone shares their stories of what they saw.
8) Travel The World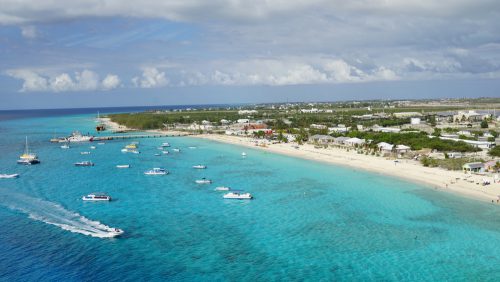 The cool thing about diving is, that you don't want to keep diving at the same place. After all, this is pretty much the main reason divers choose to learn scuba diving. They want to travel to different places like Australia, Thailand, Turks and Caicos Islands and even do some cold water diving.  Divers are fortunate because they get the best of both worlds. They can experience different land cultures and dive with unique exotic fish.
In the wintertime, most divers go to warm places so they can enjoy the warm Caribbean clear waters where the visibility underwater can be like glass.
It's easy to get all the vital information with PADI Travel. You can go online and find the best dive seasons and destinations to see pelagic sea creatures like the giant manta rays, humpback whales, and whale sharks. They can get you information on dive centers and book thru them. If you want to go live and dive from liveaboards, they have that too.
9) Zero Gravity
Once you get your weights and buoyancy all worked out and perfected your neutral buoyancy, the feelings of weightlessness are about as close to being in space. You don't feel the weight of your own body or the weight of your tank.
10) Liveaboards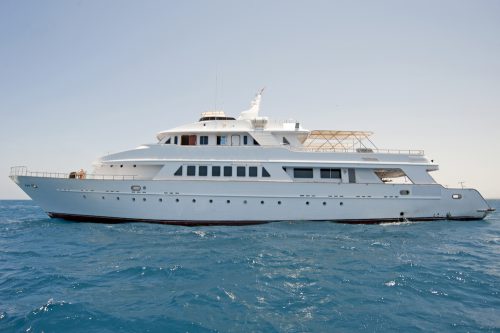 Variety is the spice of life! Diving and living from liveaboards are amazingly fun because you're right there. You wake up in the morning and your liveaboard is anchored at an exotic remote dive site or sit outside on the deck enjoying the sunset and maybe take a dip in the ocean.
Multiple dives including night dives can be done and at the end of each dive, you are greeted with all sorts of delightful foods.
Your opportunities of seeing larger sea animals are greater because you're diving between channels where the ocean currents bring in fresh plankton soup.
There are many liveaboards that offer PADI's entry-level Open Water Diver Certification too and snorkelers are often welcomed.
11) Learning is Fun
Of course, you still have to take dive courses and take diving seriously and like most things in life, certain rules need to be followed.
If you're curious about diving and don't want to spend a lot of money, there is always PADI's Discover Scuba Course (no certification). This is about a half-day course depending on your comfort level. You get to enjoy time with your professional dive instructor, get familiar with your dive gear and learn all the necessary dive skills. The exciting part is when you do one dive in open water accompanied by your instructor.
You can take PADI's entry-level Open Water Diver Certification course (3 -4 days) and it is good for life and perfect for recreational divers. Sometimes divers get too busy and don't have time to dive for a few years. In this case, I recommend going for a refresher with an instructor which is about an hour or two.
This isn't all though, there are other courses you can take to step up your diving a notch and give you more adventure. You can learn to do other types of diving such as:
Drift diving – This is when you let currents take you wherever it wants to take you. It can be nice easy currents to very fast-moving ones and it feels like you're getting a glimpse of everything as you travel a longer distance. I like to think of diving in fast currents as a joy ride.
Cave diving – There are definitely some very strange and weird-looking caves and can be quite exciting when you come upon some very ancient objects.
Wreck diving – These dives can sometimes make you feel like you are experiencing the souls who lost their lives and I think it's always good to do some research on the wreck to get the full story. This way you get to know why it sunk and learn some history.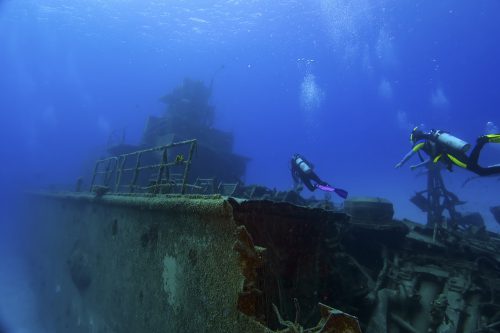 Night diving – There are many nocturnal sea creatures like lobsters, crabs, and eels that don't want to be seen by us humans in the daylight but we get to see them at night, busy and hustling for food. As you shine your night light you can see their magnificent colours, even the corals you thought were not alive are extending their polyps to catch food.
12) Make Memories
Everyone likes to have memories and many divers bring their underwater cameras to take pictures of beautiful lush coral garden reefs, and small and large unique aquatic life.
When you get home from your dive vacation, you share your pictures with your friends and family and again you're the envy of them all.
You take pictures of everyone you connected with and treasure those awesome memories. They are yours and no one can take them away.
13) Learn About Sea Life
While many land lovers go to aquariums to learn about sea life, we get to interact with them. Humpback whales, sharks, whale sharks, manta rays and turtles, etc. come to visit us. Sometimes, you can even see them give birth.
14) Pretty Cool Dive Gear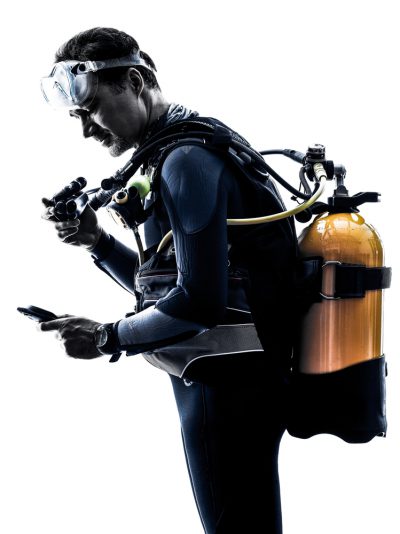 Wearing dive gear is always fascinating and you will learn all about them during your course. There are lots of different and cool-looking wetsuits, the shorties and full-lengths, thick and thin ones. Different style BCDs (Buoyancy Control Devices) and colourful dive masks of various shapes and sizes, and regulators and fins. Of course, there are dive bags and other accessories.
15) Feel Unique
It can make you feel unique and special in a different sort of way because diving is not for everyone. You don't certainly don't boast about diving but inside you feel proud of yourself to be a diver.
16) Aquatic and Environmental Awareness
Divers quickly learn to love and respect the ocean and aquatic life. It won't take you long to participate in coral restoration projects and dive with ocean scientists and researchers from liveaboards to help protect the sea animals.
17) Dive Clubs and Communities
There are many dive centers that have dive clubs worldwide that you can join. They have scheduled dive trips to various destinations and it's a great way to find someone to dive with if you have a non-diver partner or friend.
Are you ready to take the giant leap into the underwater world? Want to take some lessons? Click here to PADI Travel to find out how you can be a certified PADI diver.
Thanks for reading and if you have any questions or comments, I really would like to hear from you.
Monica