Getting back on a dive boat may not be so easy if you're new to scuba diving. In this post, I'll give you tips on how to climb up a boat ladder after a dive. It's easy if you don't have a tank on your back, but what if you do?
After you do your safety stop and slowly ascend to the surface of the water, your dive is not completed until you are safely back on the dive boat.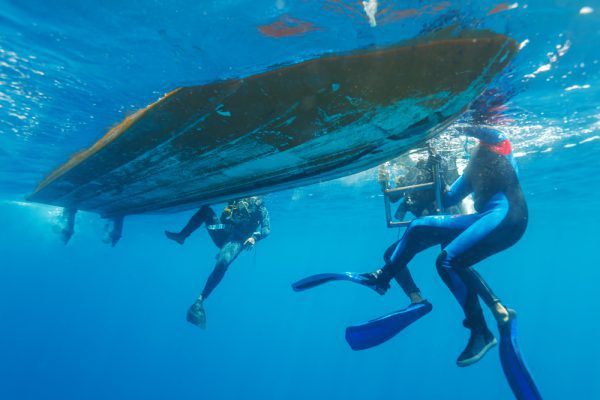 Ladder exists can be an easy way to get out of the water. There are times when making your way to or climbing up a boat ladder can be somewhat challenging if you're faced with rough seas and huge swells causing the awaiting boat to rise up and fall. But have no fear, a boat crew member will toss a line out in the water so you can hang on to it while comfortably waiting your turn to climb up the ladder or use the rope to pull yourself closer to the boat.
My first ladder climb
---
My first attempt of climbing up a boat ladder with my BCD, regulator and mask on didn't go as well as I expected. I was working on my entry level Open Water Diver Certification at the time and during our first open water dive the Instructor had to end the dive earlier due to a student diver being low on air.
I don't weigh a lot and when we surfaced I still had 2000 psi of air left in my tank. The water at the surface was a little rougher than what I hoped which caused some anxiety but I figured this was going to be an easy climb up the ladder. I mean really? Why would it be difficult? Anyone can climb a ladder…
Following instructions, I planted both my feet onto the first rung and had a good grip on the hand railings ready to pull myself up and maintaining a 3 point contact I lifted one foot up but nothing happened. I didn't seem to have the strength to pull myself up. Feeling rather embarrassed I finally resigned and let 2 polite boat crew members reach out their helping hand and let them haul me up to avoid having a lineup of divers who were patiently waiting in the water.
Happily it was a simple matter of keeping my core muscles tight and using my leg muscles. Also learning the correct technique to climb up the ladder with confidence makes a difference… lol!
I will say though, during my many dives and over the years, I have seen a few experienced divers lose their balance and fall back into the water and thankfully no one was hurt.
Anyway, I decided to give you some tips in case you are new to diving or never have climbed up a boat ladder with your regulator, BCD and tank on.
Tips To Ending The Dive And Climbing Up The Boat Ladder
---
1) Listen to the pre-dive talk. The entrance procedure of how to get back on  the boat will be described in detail by your tour guide before starting your dive.
2) Air in your BCD. After you do your safety stop and have slowly ascended to the surface of the water, make sure to put a bit of air into your BCD to keep you comfortably afloat. Stay close to your dive group while observing the boat as it slowly approaches closer. If a boat member tosses a rope into the water, swim slowly to where the rope is and hold onto it.
If the water isn't rough, you don't need to hold on to a rope, it's easy to hover around in the water while you wait your turn.
3) Wait your turn. Water conditions can change by the time you surface causing the boat to rise and fall. It's important to stay a good distance away from the diver who is climbing up the ladder in case he or she loses a grip on the boat ladder and falls into the water landing on you.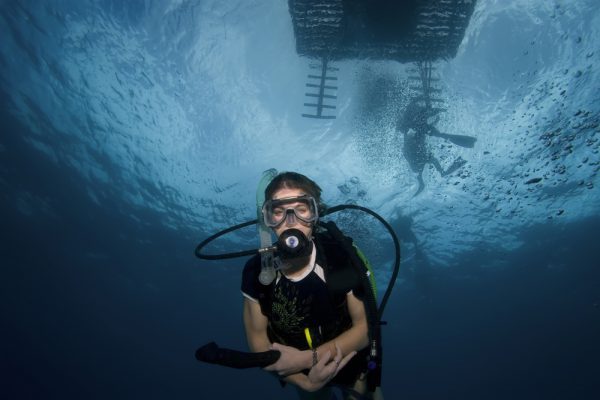 4) Your turn. Slowly make your way closer to the boat using the rope to draw you in. It's important to keep your mask on and your regulator in your mouth in case you lose your balance and fall into the water.
If you remove your weights and hand them over to a boat crew member, it will be less weight on your body to carry when climbing the ladder. If you have a camera, speargun or anything else that can get in your way, hand them over too.
Sometimes, you can even hand in your BCD still attached to the tank, if the water is too rough. (Lol… why didn't I think of this on my first open water dive?)
Relax your body as you get a good hand grip of the hand rail or ladder with one hand below the water and keep your elbow bent to absorb the up and down motion of the boat.
Next, you need to remove your fins one at a time because it's awkward climbing the ladder with them on. To do this, bend your leg over the opposite thigh to remove the fin.  If you're wearing fins with a strap and buckle, just loosen the strap and do not unbuckle it in case you need to use them.
Remove one fin and either loop it over your free wrist or hand it over to the boat assistant one fin at a time. Turn and grip the opposite hand rail or ladder and repeat the process of removing the other fin.
Wait until the ladder is down from an upswing (this is important). Place both feet on the bottom rung and lean inward to relocate your weight onto the ladder. This keeps your center of gravity close to the ladder which helps you stay balanced and more in control as you climb and pull yourself up on the platform.
5) Back on the boat. Once you're back on the dive boat move away from the exit area for the next diver to climb the ladder and now your dive is safely completed.  
Pick up your fins and mask and any other personal belonging lying on the boat deck and go back to your seat and remove your dive gear.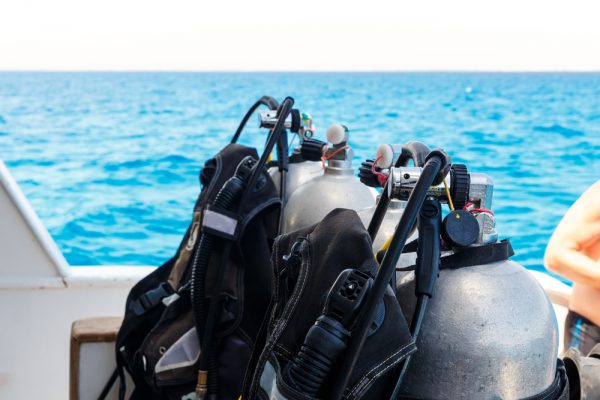 Are you ready to go on a dive trip and try this out? Click here if you're interested in getting to know all about whale sharks.
Do you have any stories you would like to share of your experiences with climbing boat ladders with your dive gear on? If you have any comments or questions, I really would like to hear from you.
Thanks for reading!
Monica