This Scubaspa Ying and Yang Reviews say they're 5 Star Liveaboard Resorts. Find out why they're so special.
Will your non-diving family or friends be entertained enough on these liveaboards? What if they want to learn to dive?
When we take a faraway vacation to do some diving, we like to share our fun with family and friends and make wonderful memories.
Thank you for taking the time to do your own research before booking a liveaboard vacation that may seem like fun or look like a good budget deal. This is the way to avoid ruining your vacation and to learn more about the lifestyle on liveaboards like the Scubaspa Ying and Yang.
I'll tell you if it's worth their price, about their activities, who they provide services to, the pros and cons are. I also have a very interesting video for you to watch.
Scubaspa Ying and Yang Liveaboards Review Summary
Product Name: Ying and Yang Liveaboards
Destination: Maldives
Price: From $331 USD + per day
Main Sports Activity: Scuba diving and snorkelling
Diver Rating: 5 Stars
Recommended for: Divers of all skills, snorkelers, and non-swimmers
Requirement: Divers bring proof of certification and log book
On-Board Scuba Diving Lessons: Some PADI courses are available
Aquatic Creatures Highlight: Giant manta rays, friendly whale sharks, dolphins, hammerheads, other sharks
Best Time To Go: Male Atoll – May to November for manta rays and whale sharks
Best Time To Go: Ari Atoll – Manta rays and whale sharks are year-round residents
Summary: Both the Ying and the Yang liveaboards are equally 5-star liveaboard resorts. In fact, they are twin sisters! Everyone is welcome to board. Their servicesare impressive and range from mini-gyms, spas, yoga, kayaking and more. Many customers are repeat guests and offered excellent reviews.
Recommended: Yes!
Disclosure: When you use the links on this page to make a purchase I may earn a small commission. Learn more.
What is The Ying and Yang Liveaboard?
Built by a passionate diver and his bride's dream while honeymooning in the Maldives, the Scubaspa Ying Liveaboard was launched in 2013 with full luxury spa treatments. The Scubaspa Yang followed suit in 2014. They are sisters, built identically and are owned and operated by a Maldivian liveaboard company in Male, Maldives.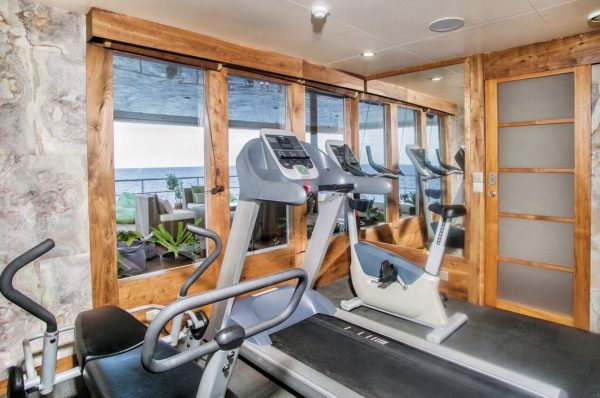 What's impressive with the two liveaboards, is they have won several awards. The South Asian Travel recognizes them as 'Leading Vessels'. They're also the only Maldivian vessels with the 5 Star Dive Resort award from PADI (Professional Association of Diving Instructors).
They have a fairly large crew of 30 and they promise you 'outstanding service'. This means having a professional dive crew, 6 spa therapists, 4 experienced and creative chefs, a yoga master and a very helpful manager to look after their services to keep you happy.
Who are the Scubaspa Ying and Yang Liveaboards for?
One of the reasons why I like the Scubaspa Ying and Yang Liveaboards is they cater to everyone. For instance, they welcome:
Passionate divers
Snorkelers
Families, young and old
Mobility impaired
People interested in learning how to dive
Groups (Maldivian weddings)
Honeymooners
The Scubaspa Ying and Yang are quite different from other liveaboards in the Maldives because they have the bells and whistles of the extravagance of a floating resort. There are activities for everyone.
Why not think of getting married in the Maldives? Divers have had their marriage ceremony underwater, on the deck or on an unspoiled sandy beach surrounded by their loved ones. All you have to do is choose a package that suits your heart!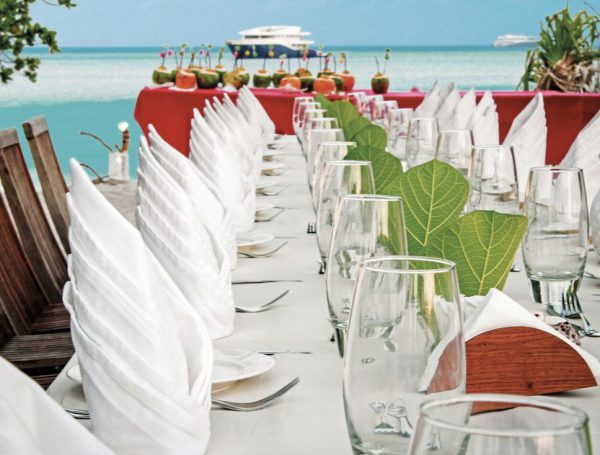 You, the passionate diver will get your world-class unforgettable diving.
The non-divers and divers who want a day off from diving are pampered with luxurious spa treatments, snorkelling, restaurant dining garnished with fine wine and many other activities like:
Morning yoga
Kayaking
Fishing
Long walks on crystal white beaches
The best in Malaysian dining
Paddleboarding
Sitting in a jacuzzi
Deck bathing
Watching a movie in your outdoor cinema
Exercising in your mini-gym
The Scubaspa Ying and Yang Liveaboards' Features
The Scubaspa Ying and Yang liveaboards guarantee you will have a "memorable" trip. This means having good nights of sleep, great food, breath-taking dives, and peace of mind regarding safety.
The cabins/suites are spread over 3 decks.
Well Designed Boat Layout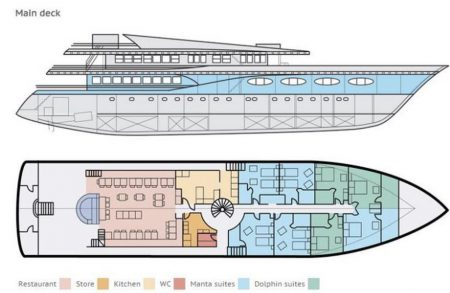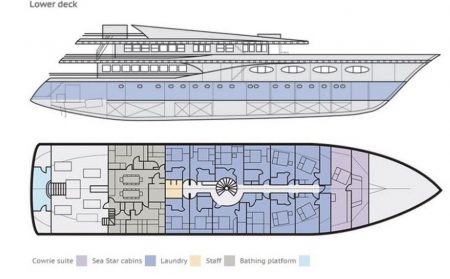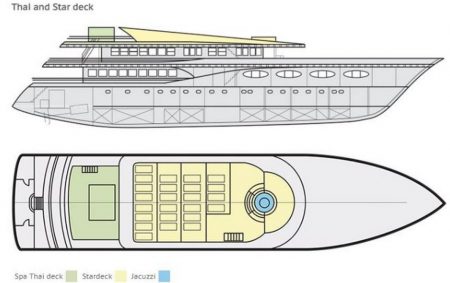 Both liveaboards measure a stunning 50m (164 feet) in length and 11m (36 feet) wide with 4 large impressive decks. They are the largest 2 liveaboards cruising in the Maldives.
Even though the maximum number of guests is 40, it is amazingly spacious for your quiet moments. In fact, you can enjoy your sunset cocktails privately while dining under the stars with your significant other.
The other features of the Scubaspa Ying and Yang Liveaboards are:
19 Cabins
2 Large sundecks
3 Generators
2 Engines
Dinghy
Dhoni (dive boat designed for divers)
The water supply comes from the Desalination plant Biopur
Roomy Cabins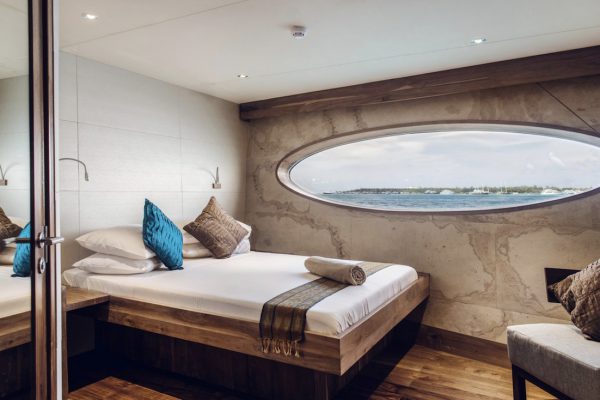 Both the Scubaspa Ying and Yang Liveaboards have roomy grandiose cabins and suites to suit your needs and budget. You can get your choice of king, queen or combination of twin beds on their Main and Lower decks.
Their premier 10 cabins and 9 suites are impressive. Each room has air-conditioning, a mini-fridge, a mini-safe, and its own en-suite with generously large bathrooms with a shower.
The Dolphin Suite is impressively spacious with a queen bed and a large port window so you can get a great view of the ocean.
Unlike other liveaboards, there is also lots of storage space in the cabins of the Ying and the Yang liveaboards so you can easily see where you placed your belongings.
Housekeeping service is daily as well.
Do you have a friend or family member who is mobility impaired and wants to be included on this vacation? The good news is the Ying and the Yang liveaboards have a suite for special people.
Mouth Watering Foods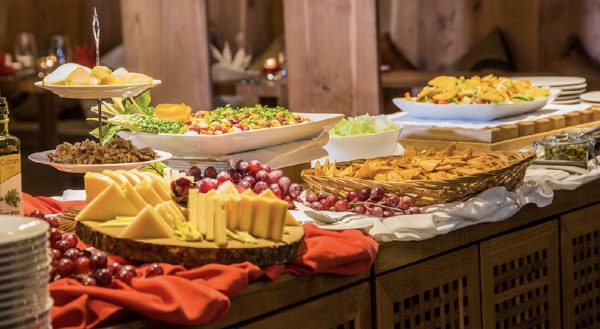 You get 3 meals that are usually buffet-style served each day.
Soft drinks, water, juices, tea and fresh 'real' coffee for breakfast including espressos and lattes are always complimentary, however, any other time during the day, you have to pay if you want it.
The buffets are local and international cuisine. Also, if you're a vegetarian, no worries, there will be plenty of fresh and delicious food for you. You'll not be bored with your selection of food because it'll be different every night.
Your only complaint on the Scubaspa Ying and Yang Liveaboards will be you eat too much!
If you have any allergies to certain types of food, let your chef know ahead of time, in fact, let them know when you book.
Other amenities for food and drinks are available at the:
Restaurant
2 Bars (reasonably priced)
Your Breath-Taking Scuba Diving
First, I want you to enjoy watching this video…
Divers always get the best of both worlds with the Scubaspa Ying and Yang Liveaboards. Not only can you enjoy the spa treatments and other fun activities of the non-divers from these floating resorts, but you can also spend time underwater with large pelagic creatures.
Diving from these liveaboards is done from their specially designed Dhoni dive boats. In fact, the Dhoni is a real separate dive boat that accompanies each of the two liveaboards.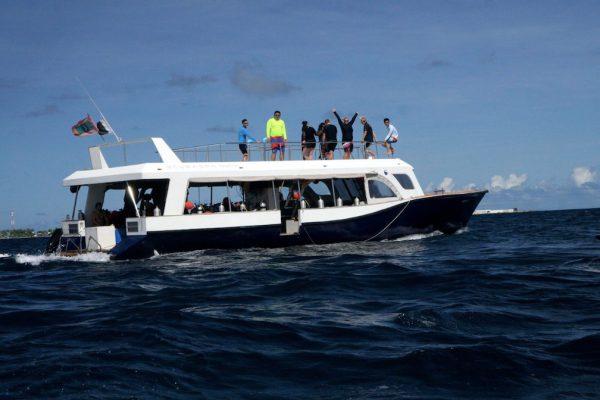 Each Dhoni is about 19m long (62 feet long). These big boats are large enough to hold air compressors, your free nitrox, all your scuba gear including rentals, seating area, multiple points of entry into the water and even an ensuite washroom.
The Dhoni is not crowded because most of the divers' partners are non-divers who are on the liveaboard doing what they want to do.
After you receive your pre-dive orientation on board, you're guided underwater by your PADI-trained Dive Masters and Instructors who know the best places to see these friendly whale sharks and giant manta rays.
Another popular service about the Ying and the Yang liveaboards is how the dive crew helps guests who want to learn to dive.
NOTE: To take dive courses, you need to be physically healthy and will be required to fill out their Medical form. This is a standard dive industry practice.
It's important that you keep in mind that your dives are drift diving. But please, don't stress about this! The dive crew has this figured out too. They divide you into groups on the Dhoni depending on your dive skills giving you enjoyment and experience of great diving.
The guests who are learning to dive or are certified divers who want to improve their skills with advanced PADI courses are with their PADI professional dive instructors.
NOTE: If you have asthma, I highly recommend you consult with your physician.
Certified divers are advised to bring the following:
Underwater camera
Dive Certification ID
Dive Log Book
Medical Certification
Dive Torch (can rent)
Reef Hook (can rent)
Dive Computer
The Itineraries of The Ying and Yang Liveaboards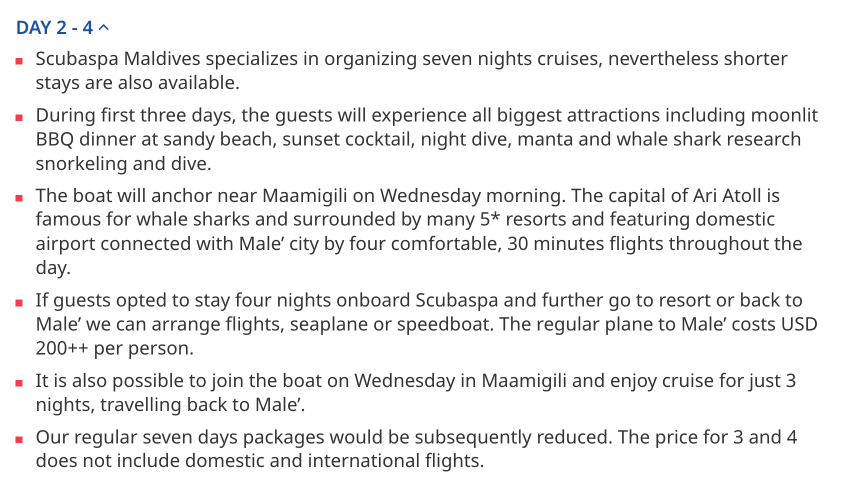 The Ying and Yang liveaboards offer good selections between the North Male Atoll and the South Male Atoll. You can choose the following:
7 nights/8 days (15 to 17 dives)
4 nights/5 days (8 to 9 dives)
Cabin types
The spa package
Dives and spa package
Dive packages
Honeymoon packages
Extra service options
There is just one mandatory fee, the Green Fee which needs to be paid in advance.
Disclosure: When you use the links on this page to make a purchase I may earn a small commission. Learn more.
==>> CLICK HERE To See The Ying Liveaboard Availability and Prices
==>> CLICK HERE To See The Yang Liveaboard Availability and Prices
What Guests Say About The Ying and Yang Liveaboards
I don't know if you're like me but before I take my wallet out, I want to know what customers are saying especially when planning a vacation. So I did some research and found the following:
Represents the Ying and the Yang Liveaboards

Ying Liveaboard Guest

Yang Liveaboard Guest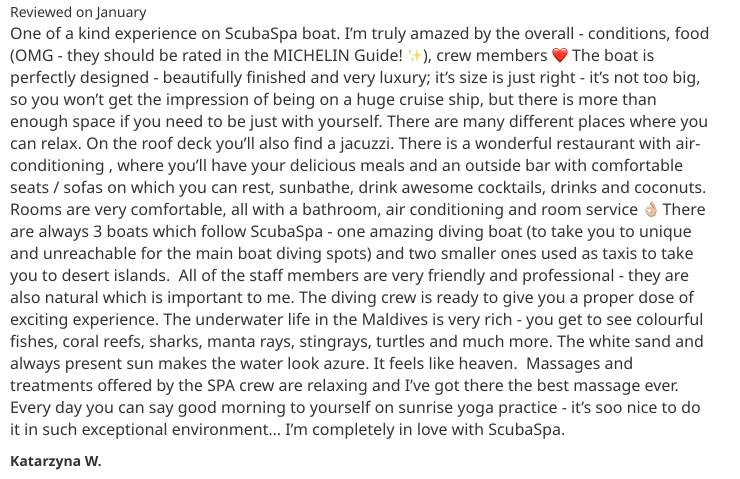 Yes, everything looks perfect, right? I took these from the actual liveaboard's site. And I do believe they are authentic. If you want to read more, this is the Yang Liveaboard's site where you can click in the 'Review'.
Are Ying and Yang Liveaboards Prices Reasonable?
The base rate starts at $331 USD a night per person. From what I can see from my research, it's the most expensive compared to other liveaboards that go to remote places in the Maldives.
However, when you look at all the activities that the Ying and Yang offer, the price, in my opinion, is decent. They're also larger boats and have more professional Dive Masters and Instructors. Their services are top notch and guest reviews say it all!
Like all liveaboards, they'll charge you on their dive rental gear and it's not cheap! There is an additional charge on cabin types and fancy alcohol spirits.
Here is an example of their Optional Extras: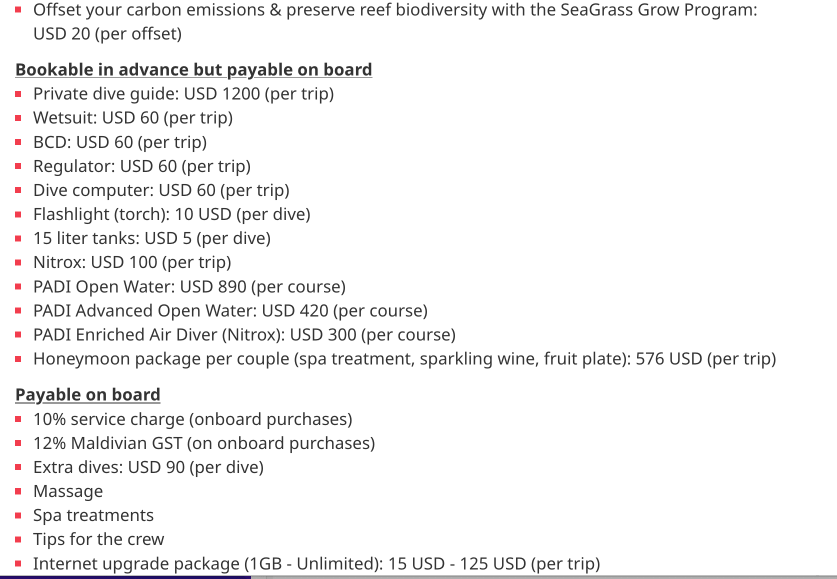 You can save a lot of money, just by doing the following:
About the dive courses, if you want to be a certified diver, you can take the PADI Open Water training and upgrade your training skills from your local dive shop. The cost will be substantially lower.

If you have your own dive gear bring it with you if possible. You'll not only have the advantage of being familiar with your own gear but you will save more money.
Safety On Board the Ying and Yang Liveaboards
Of course, safety must be the number 1 priority!
Once you board the liveaboard, you'll be given a safety talk on the location of all the safety features such as:
Fire extinguishers and alarm
First aid kits
Emergency oxygen kit
AED (Automatic External Defibrillator)
Life rafts
Life jackets
Emergency radio beacon
Please do not disregard this because it can save your life and others.
You'll be accompanied by guides on land and underwater you'll be diving under the guidance of the liveaboard's professionally trained Dive Masters and Instructors.
The Pros
You'll get your money's worth and more
Lots of activities to keep you, your family and friends entertained
Service is with a smile
Internet – WIFI (2GB per cabin )
Rental equipment is available $
Dive courses offered $
15-liter tank $
FREE nitrox
FREE dive insurance if your booking is greater than $1000 USD per person
Island BBQs and walks along the crystal sandy beaches
The Cons
Your coffee, tea, and juices are only complimentary (free) during breakfast
Prices on extra services do not include tax so your final bill will be more than you expect
Bar drinks can be pricey
How to Book the Scubaspa Ying and Yang Liveaboards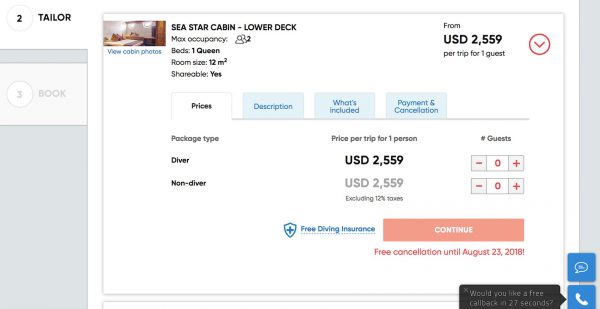 PADI also owns PADI Travel and they are the #1 recommended online travel agency for divers. Their travel agents are professionally trained and are divers themselves so they understand your needs. They can help answer your questions, and plan and assist in your booking of liveaboards, dive resorts, and dive courses.
Booking either one of the two liveaboards is quick and easy with PADI Travel. If you're a PADI diver like I am, then you already know that PADI is the #1 dive training organization in the world.
For support, they have 24/7 Live Chat and are accessible by email and phone.
There are only 4 easy steps to book:
Step 1: Go to PADI Travel's website.
Step 2: Choose your desired itinerary.
Step 3: Select your cabin.
Step 4: Fill out the simple form.
After you book your itinerary with the Ying or the Yang Liveaboard, you can then choose your desired package, either the dive package, spa package or the dive and spa package.
How to Cancel or Change Your Booking
PADI Travel, unlike booking directly with most liveaboards who only give you 24 hours to cancel or change your booking, will give you 48 hours. This is an extra 24 hours. This gives you plenty of time to book your flight.
Review Summary of Ying and Yang Liveaboards
Despite the cons, the Scubaspa Ying and Yang Liveaboards are the only luxurious floating diving resorts in the Maldives. I think their awards also speak for themselves.
As I mentioned earlier, not only have they received awards, they are the only Maldivian vessels with the 5-Star Dive Resort awarded by PADI (Professional Association of Diving Instructors).
In my opinion, you're definitely getting value for your money and much more. 1st class diving on the roomy Dhoni, all the liveaboard activities, and special spa treatments are at your feet for you and your family and friends to enjoy.
==>> CLICK HERE To See The Ying Liveaboard Itineraries
==>> CLICK HERE To See The Yang Liveaboard Itineraries
I hope I have given you useful information on my review of The Ying and Yang Liveaboards.
If you have any stories you would like to share your experiences on either of the two liveaboards or if you have any questions or comments, I really would like to hear from you.
Thanks for reading!
Monica