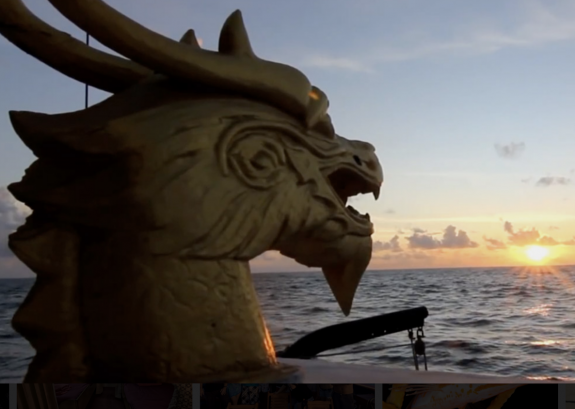 Review of "The Junk" Liveaboard in Thailand – Are Open Water Divers Invited? – An Excellent Pass!
Can new and novice certified divers do the dives offered from "The Junk" Liveaboard? Are you looking for budget prices?
This review will give you an in-depth picture of everything you need to know for new and novice divers. Find out why I gave "The Junk" Liveaboard such a high rating.
There is also an amazing video of the crew members and a couple of guests hoisting the sails. It will give you a taste of what the much-talked-about diving is like in the Similan and Surin Islands of Thailand offered by "The Junk" tour guides.
Product Name: "The Junk" Liveaboard (Similan and Surin Islands – Thailand)
Price: $400 to 1695 USD per person and depends on the itinerary and number of nights (2, 4, 6 to 8 nights)
Best Suited For:  Certifed Scuba Divers of all levels and snorkelers
Overall Rank: 97 out of 100
Recommended: Yes
"The Junk" boasts to give you the 'best liveaboard diving vacation' experience due to their 'high standard of service'. This also means having the best food on a liveaboard, awesome diving, and their guarantee that you will never go hungry. They also say you will enjoy their 'exceptional value on your money'.
Will "The Junk" Liveaboard take you to dive destinations suitable for your dive skills as a certified Open Water Diver?
Let's find out…
Ready for a Safari Dive Adventure in Thailand?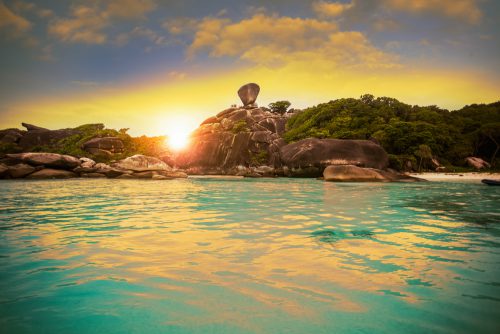 The exotica remote Similan and Surin Islands in Thailand is rated among the top 10 dive destinations in the world.
Some beautiful sea creatures you can see diving from "The Junk" Liveaboard are Tiger tail seahorses, large schools of barracudas, eels, Bumphead Parrotfish, large Napoleon wrasse, frogfish, tiny nudibranchs, giant manta rays, friendly whale sharks and much more.
This is a trip I did years ago and it's one I hope you will put on your bucket list. There are 3 ways to this in the Islands, small dive boats, day boats and liveaboards.
Day boats, as the word implies, means the divers return to the mainland or an island for land accommodations. These boats can still do the trip to remote dive sites but are just out for the day.
Watch the weather, if you book your dives going out on small dive boats. It's a long boat ride and you still need to come back to the mainland.
In case you're not familiar with what a liveaboard is…
What Is "The Junk" Liveaboard?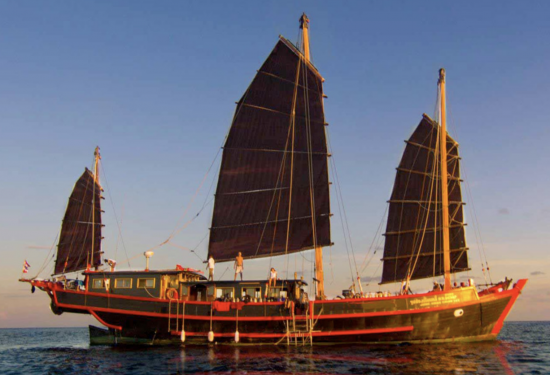 "The Junk" is a beautiful and unique historical sailing vessel liveaboard. Built in Malaysia in 1962, it's original name is June Hong Chian Lee (meaning 'respect wind, travel forever').
During the 60's, this vessel's purpose was used as part of a merchant fleet trading along Burma to the Malaysia coastline. Then in 1998, in the hands of a new owner, it was converted to function as a liveaboard vessel for divers and snorkelers so they can live on it and dive from it.
"The Junk" liveaboard measures a stunning 33m long and 8m wide with impressive sails that are 330 sq meters. It's my favorite desirable liveaboard in Thailand when it comes to getting the aura of a romantic safari dive adventure.
When I first saw this unique sailing vessel, I fell in love with the wood. This vessel is mostly constructed out of Takien Tong, hard teak wood. (Off the topic here, this vessel always makes me think of my historical home, built in 1875, in Grand Turk, Turks & Caicos Islands because it has original wood inside the house that comes from a ship.)
"The Junk" comes with 12 experienced crew members who are English and Thai speaking and I must add, quite friendly and entertaining.
"The Junk" claims to give you service with a smile and this they do well. You are welcomed the moment you step onto this vessel and made to feel safe like it's your home.
It's simply different… this is a 140 ton three mast junk and if you go back in time, you might envision yourself as a pirate. The dragon's head is fascinating to look at too!
A movie tidbit… part of the filming of the James Bond movie, The Man With The Golden Gun (1974) and the Swiss Family Robinson (1960) took place on this world-famous sailing vessel.
Who Is "The Junk" Liveaboard For? 
"The Junk" liveaboard offers all 5 exciting and well-organized itineraries for new and novice certified divers.
Depending on the number of nights you book for, you can get anywhere from 8 to 28 dives. What a great way to get more diving experience from "The Junk"! The dives are very suitable to your dive skills because there is very little current.
All you need is your Open Water Diver Certification card. This is your minimum requirement. In fact, some itineraries will say 'no minimum logged dives required' so you don't have to prove your total number of dives done to date.
TIP: Even though the itineraries say "no minimum logged dives required", my advice is to bring your dive log book and write your memories and log all your new dives.
Thailand's well-known dive destinations in the Similan and Surin Islands or in Chalong, Phuket are…
Koh Bon, Koh Tachai, Richelieu Rock and Khao Lak Wrecks, Koh Phi Phi, Koh Haa, Hin Daeng and Hin Muang, Similan Islands with Elephant Head Rock
You will get your safari dive vacation on "The Junk" liveaboard and if you go in the right season, you will hopefully get opportunities to see large pelagic sea creatures like the giant manta rays and the friendly whale sharks.
There is just one itinerary, the "Best of Thailand Manta Trust special Expedition", for 8 nights where your tour guide will let you know on board if there is current that may not be suitable for novice divers.
What Features Does "The Junk" Liveaboard Have? 
So we all know now that liveaboards are going to be our home for the next 2 to 6 nights and even 8 nights. What will life on "The Junk" be like?
The Most Notable Features of "The Junk" Liveaboard:
The Cabins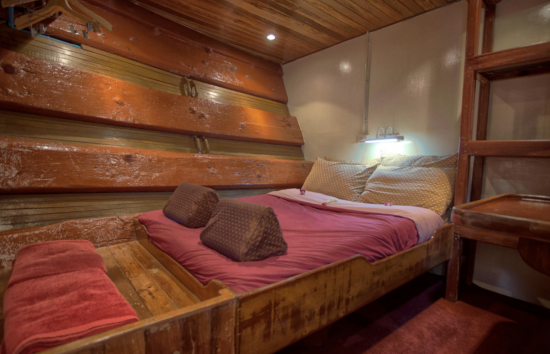 If "The Junk" was fully booked, you might think 18 guests sounds like a lot of people on board, but this one is really quite different. I find it quite spacious and professionally designed so you don't feel like you're squeezed in.
"The Junk" is nicely laid out with a total of 6 air-conditioned cabins encompassed with clean ensuite washrooms and showers. Bath towels and soap are conveniently provided for you.
Private double cabins with double bed (sleeps 2 per cabin).
Triple cabins with 2 single beds and 1 berth (sleeps 3 per cabin). The 2 single beds can be made as 1 double bed.
Quad cabins with 4 berths. These are bunk beds and can be changed to shared twins. Perfect for a family.
The Boat


The boat has a decent sized sundeck with sunbeds for you to lay on and have a leisurely nap or read a book in the ocean breeze. Their other activities on board are:
Watching movies, visits to the library room where you can find other books to read, and games to play in their nicely air-conditioned salon.
Enjoying their dining area, both covered outdoors and indoors.
Filling your belly with their well-known first-class meals.
Snacking and yes, more snacks.
Lounging around with air-conditioning and watching TV.
Alcohol $
The Diving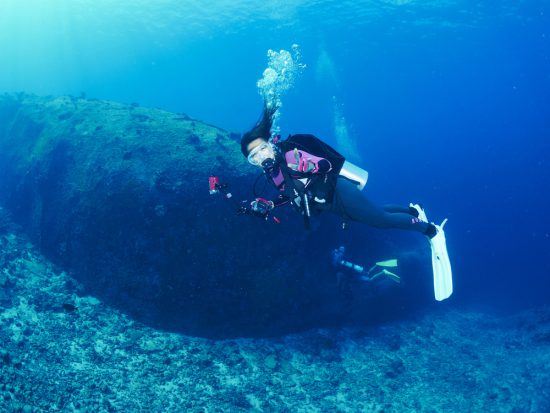 How much diving do you want to do?
Some divers are happy doing 2-tank dives a day from small dive boats and call it a day.  Why not take advantage of the option of 4 dives a day that is offered on "The Junk" liveaboard?
"The Junk's" standard service features for the water guests that come with the itineraries are:
Snorkel tour guide
DiveMaster for every 6 divers
Pre-dive orientation
Night dives
Tanks – compressed air
12-liter aluminum tanks, weight belts, and lead weights
Surface marker buoys (SMB)
DIN/INT Adapters
Motorized dinghy
Station to charge your batteries
Roomy dive deck shaded
Deck towels
Showers (warm)
Dive books and fish identification cards
Crate to store your dive gear and accessories and setup area
Meals
It's true when "The Junk's" crew say you will never go hungry!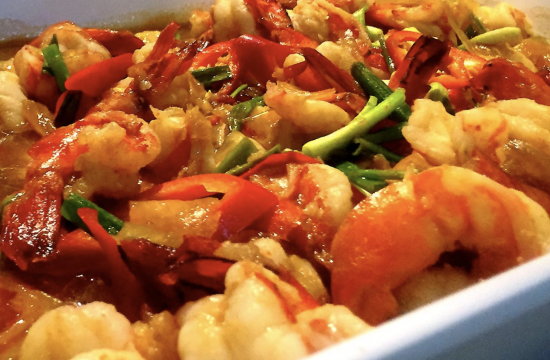 You get 2 breakfasts, before and after the first dive in the morning.
Lunch is a lovely mixture of their first-class Asian affair.
Dinner is seafood, meats and veggies and fresh salads before your night dive
Snacks/desserts between meals (always open)
Water, coffee, tea, juices, and sodas
After dive drinks at the bar
If you are a vegan or have allergies to certain foods, just let the cooks know and they will look after you.  They will prepare extra vegetarian dishes and ensure you have a choice of a variety of dishes that will work for your body.
Other Activities  and Services From "The Junk" Liveaboard 
A crew member will pick you up at the airport, take you to the liveaboard and look after you on your return.
You will get a dry run on their emergency procedure.
In addition to scuba diving, all of "The Junk's" itineraries offer you snorkeling, kayaking, and land excursions so you can walk along the beautiful white sandy beaches of the Similan and Surin and other Islands.
If you are prone to seasickness or have ear issues, they have tablets and ear drops to help you. (I suggest you still bring your own, in case they have a small inventory).
They also help you get fitted with your rental dive gear if you don't bring your own and help carry your tank onto the tender.
Options Are Payable On Board (Per Person)
They take  VISA, Cash, USD, THB, and EUR.
Rental gear
15-liter tanks
Nitrox
Advanced Open Water Course
Nitrox Course
Tips (I highly recommend tipping the crew members, they work hard)
Beer and wine are at a price.
How Can You Book "The Junk" Liveaboard?
If you're a diver, I'm sure you have heard of PADI, in fact, you may be a PADI certified diver like me.
In January 2018, Diviac, the #1 dedicated dive travel experts became PADI Travel, your ultimate dive travel agency worldwide.  Yes, they are now part of the PADI (Professional Association of Diving Instructors) family. Their professionally trained consultants, who are also divers, provide guidance in finding and booking your liveaboard AND/or dive resorts/dive centers worldwide.
Booking your dive and snorkel vacation on "The Junk" thru PADI Travel is quick and easy with only 4 steps.
Step 1: Go to PADI Travel's website.
Step 2: Choose your desired itinerary.
Step 3: Select your cabin.
Step 4: Fill out the simple form.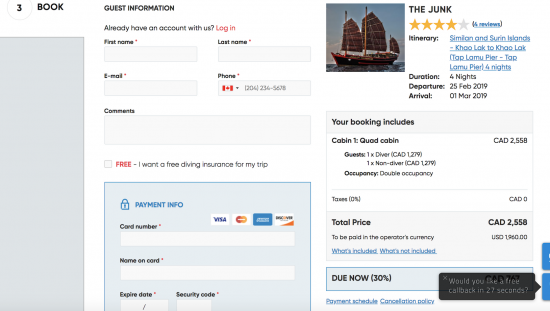 How To Cancel & Change "The Junk" Liveaboard Booking
PADI Travel understands that unexpected things can happen and so they work with you and give you time when you make your booking.
While you still have to give them your credit card information, the good news is they give you 48 hours before they process your card. They also give you a friendly reminder of the expiration date of your FREE cancellation at the time of your booking.
Changes to your booking can be done via email or thru their LIVE CHAT.
At the end of the free cancellation, "The Junk's" Payment And Cancellation Terms come into play (see below)
"The Junk" Liveaboard Payment And Cancellation Terms

"The Junk" Liveaboard payment schedule and cancellation terms is what I consider standard with liveaboard operations and acceptable in the diving industry.
Payment:
A down payment deposit of 30% of the total amount of your booking is required at the time you book your itinerary. The remaining balance must be paid 74 days before you arrive.
NOTE:  All payment is with PADI Travel.
Cancellation:
For cancellation taking place over 60 days before your arrival, you must pay 30% of your total booking amount.
For cancellation taking place less than 60 days before your arrival, you must pay 100% on your total booking.
What I Like About "The Junk"

 

Liveaboard
Feeling of freedom and adventure.
Safari diving.
Rental gear is in excellent condition.
Dive from dinghies.
Excellent service with a smile.
Everything is clean.
Comfortable beds.
Tasty and eye-appealing meals.
Never go hungry.
Safety is their #1 priority.
Pricing is cheaper than staying at a resort and booking from a dive center.
Impressive real testimonials.
What I Don't Like About "The Junk" Liveaboard
I was honestly 100% happy with everything I did and received from "The Junk" liveaboard but hey, not everything is perfect. For instance, they have:
No Internet.

No rental full-length wetsuits.
How To Get On The Junk
Phuket International is your arrival and departure airport leaving no complication or confusion.
If you're staying in a hotel in Patong, Karon, Rawai and Chalong area, "The Junk" has transfers to and from the boat.
NOTE: You will be required to fill out a standard diver's Medical Statement, Liability Release and Express Assumption of Risk Agreement and Safe Diving Practises.
My Final Opinion
Overall Rank: 97 out of 100
Does The Junk deliver on its promises? YES, ABSOLUTELY!!
I didn't miss the internet and had more time to socialize with other guests.
I got cold wearing a shorty the first couple of days because of a good rainfall but after that, the sea warmed up nicely.
The dives are excellent for certified new and novice divers.
The sailing masts are amazing and if you have never been on a sailboat, "The Junk" liveaboard will give you a safari vacation.
Did I get my exceptional value on my money? YES, ABSOLUTELY AND MORE!
The Junk Liveaboard gets my 97 out of 100. I deducted 2 points for not having full-length wetsuits and 1 point for not having internet.
Name: "The Junk" Liveaboard
Website: PADI Travel
If you have been on "The Junk" Liveaboard and would like to share your experiences or have comments or questions, I really would like to hear from you.

I hope you found this review useful and thanks for reading!
Monica