Novice divers can feel intimidated when they scuba dive with whale sharks. But it doesn't have to be! I have 5 of the Best Places for you To Swim with them.
Whale sharks may be large but did you know they are filter feeders?
Even the word 'sharks' makes you want to hold back from diving too often. You hear divers talk on the dive boat about the whale sharks huge mouth but they're not stories of scary tales.
In this article, I'll give you some important advice when swimming and diving with the gentle whale sharks. I'll tell you what each of the 5 places has to offer, the best times to go, how to get there, and how to book your vacation.  
I also have a couple of great videos for you to watch. 
A Wee Bit Of Whale Shark Info!
Whale sharks are the largest fish in the world and they could easily swallow you whole if they wanted to, but did you know their meal plan is not humans?
What's amazing too is whatever food they get in their large mouth, their 300 – 350 rows of tiny teeth don't even have a role in their feeding.
These gigantic gentle whale sharks are filter feeders and delight in plankton soup mixed with fish eggs and tiny copepods (groups of tiny crustaceans like crayfish) and krills (juvenile fish). 
Here's an interesting video about some facts of the gentle whale sharks. Enjoy!
NOTE:
There is no record of whale sharks intentionally harming humans.
Now that you know all this you can take that fear to a feeling of awe…
Few Things to Know Before You Dive With Whale Sharks
1) You are never guaranteed to see whale sharks.
2) Stay a safe distance away from whale sharks. You don't want to accidentally get hit by its large tail,
3) Diving with whale sharks may have to be from liveaboards depending on the dive site remoteness.
4) Book only with reputable dive centers or liveaboards. Do they have a pre-dive safety plan on how to dive with whale sharks?
5) If you are prone to sea-sickness take preventative measures because some boat trips may be long and in rough waters.
6) Whale sharks sometimes like to go deeper than 60'/18m.  For better underwater dive experiences consider taking PADI's Advanced Open Water Diver Certification. NO EXAMS!!
5 Best Places to Dive and Snorkel with Whale Sharks 
---
1. Dive & Snorkel With Whale Sharks in Mozambique – TOFO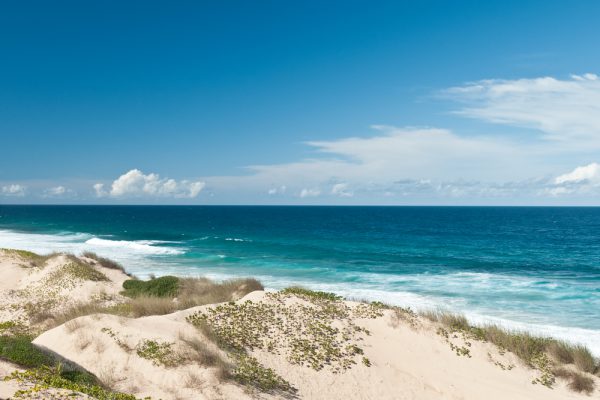 Mozambique, on the southeastern part of Africa, is also located south of Tanzania with the Indian Ocean on its east side.
This country is well known for its 1553 miles/2500km of virtually untainted pristine and sandy white beaches.
Tourists come from all over the world for adventure and exploration for many reasons. Mozambique is gifted with the beauty of its own freshwater lagoons and protected marine national parks. 
There are even 2 archipelagos with hundreds of scattered islands and unblemished marine life, 
Why Come To Tofo, Mozambique To Watch Whale Sharks?
Mozambique may seem far away but I believe it's a must to put in your 'To Do List'.
Tofo is famously known to have one of the largest population in the world of friendly whale sharks AND as a special bonus, they are residents along with the giant manta rays year round!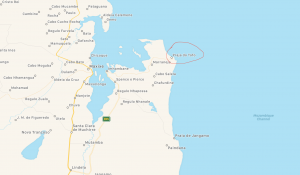 Tofo can be found on the southeastern part of Mozambique with the Inhambane Penninsula on its eastern side.
Historically, Tofo used to be a small fishing village but over the years its become the international hot spot.
Because of the attraction of friendly underwater behemoths, Tofo is booming with hotels, cottages, self-catering houses, chalets, guest houses, bed and breakfasts, restaurants, and entertainment.
But… Tofo is still laid-back!
It also comes with a bewildering 8km of powdery sandy beach.
Dolphins are a regular sight too. Can you imagine the stories you can tell?
Diving at the Tofo is Best For: Beginners, Intermediate, Advanced Divers and Snorkelers
Visibility may not be great, around 10 to 15m/33 to 49′ but this is because of the rich plankton soup. But, you won't be disappointed when you are suddenly confronted by the colossal marine lives who come out from the blue to feed on them.
There are some areas though where the outer reefs have stronger currents and may even require doing a negative descent. If you are not comfortable doing these dives or do not have your Advanced Open Water Diver Certification, it's ok.
You can go on whale shark watching excursions to snorkel with them.
How To Dive And Snorkel With The Whale Sharks At Tofo
The best way to dive with the gentle whale sharks and the giant manta rays is with a reputable dive center. 

Best Time To Go To Tofo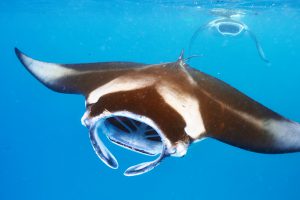 While the whale sharks are residents year-round at Tofo the best time to hang out with them is from October thru March. The best time for manta rays… well, you have 12 months with them.
How To Get To Tofo
There are direct flights to Inhambane from Johannesburg, Maputo, and Vilanculos to Inhambane Airport. Upon arrival, you are greeted by Customs and Immigration first to pay a visa fee of around 82.00 USD. 
NOTE:  The fee must be paid in cash (rand or mets).
Once you are outside of the Inhambane Airport, walk down to the access road where you can catch a Chappa (fixed route mini-bus) for a 30km ride to Tofo.
Another way to get to Tofo is at Maputo from a hostel called Fatima's Backpacker. They have daily shuttles that leave very early in the morning near 4 am to take passengers to its sister hotel in Tofo.
Divers and Snorkelers Experience at Tofo
1) The largest population of whale sharks in the world are in the Tofo area.
2) Resident giant manta rays.
3) Other awesome sea creatures can be seen such as dolphins, turtles, humpback whales, eagle rays, and over 800 other different marine species.
2.

Dive & Snorkel With Whale Sharks in Tanzania – Mafia Island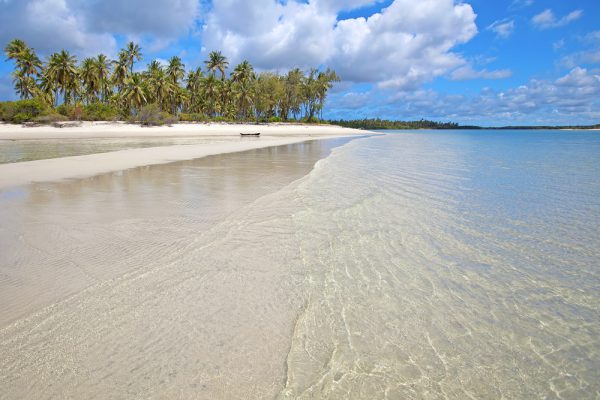 Tanzania is a country in East Africa with Kenya and Uganda on the north, Zambia and Mozambique on the south, and the Indian Ocean on its east side.
The country is famous for its safaris in the Serengeti National Park and Mount Kilimanjaro. 
Tanzania also has the Zanzibar Archipelago which is made up of 4 main islands one of which is the Mafia Island.
Mafia Island is well known for game fishermen, scuba divers and for those who want total relaxation. It's home to the healthy abundance of beautiful underwater coral and pelagic whale sharks.
Just above you are surrounded by white sandy beaches. You could easily want to extend your vacation stay.
Why Come to Mafia Island To Watch Whale Sharks?
This is just a 30-minute flight south of Zanzibar which is on Tanzania's east coast in the middle of the Indian Ocean.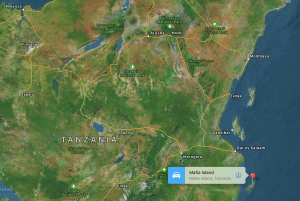 Mafia Island is 822 km2. It's still fairly new and unexplored when it comes to scuba diving.
In 1996, the island became the largest protected marine park in East Africa.
There are now a total of 42 different colorful corals and well over 400 different fish species identified and more yet to be discovered.
At times you may be joyfully surprised to find it's just you and your tour guide underwater. You won't get a diver's fin in your face…
Diving at the Mafia Island is Best For:  Perfect for novice divers and snorkelers as most of your diving happens less than 30m. You will get some of the best whale shark experiences here. You can also do shore and night diving.
How To Dive And Snorkel With The Whale Sharks At Mafia Island
The best way to dive with the whale sharks is with a reputable dive center. 

*Best Time To Go See Whale Sharks At Mafia Island
Mafia Island has the one of the longest best time to see these graceful giant whale sharks from November to February. You can even see them swimming close to shore.
How To Get To Mafia Island, Tanzania
The first thing you need to do is fly internationally to Dar es Salaam, the capital of Tanzania. There are 2 ways you can get to Mafia Island, by flight or ferry.
I suggest flying by Tropical Air and you might even be able to bargain on a last-minute deal with them.
Just to get to the ferry will be a long trip because it means taking the bus (approximately 4 hours). 
Divers and Snorkelers Experiences at Mafia Island
1) Perhaps you want to learn to dive, Chole Bay on Mafia Island is the perfect place to do this. Around the bay the reef is shallow and it's ideal for tourists who want a new sport or want to broaden their dive skills in water depths from 65'/20m to 100'/30m. 
2) The dive sites are not overcrowded with divers and snorkelers and you get the serene sense of the ocean as belonging to you.
3) Mafia Island offers few hotels and is laid back. The island is almost untouched by tourists so you might even want to sport fish. 
6)  Sightings of giant Manta Rays are rare but you can see humpback whales, pilot whales, and eagle rays from June to September.
Plenty of lush coral reef and full seagrass beds can be seen. You'll also run into some huge eagle rays, reef sharks, giant potato groupers, seahorses, and pilots whales and much more….
3.

 

Dive & Snorkel With Whale Sharks in The Maldives – The "Best of The Maldives"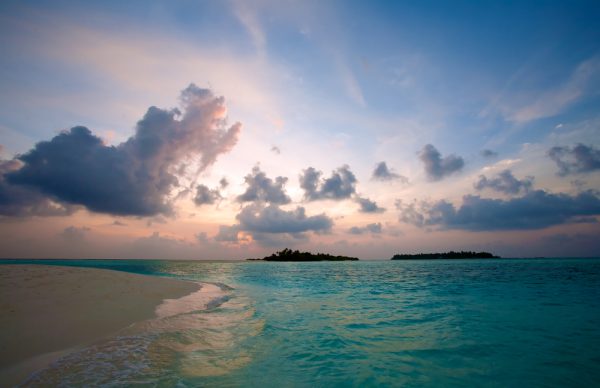 'The sea, once it casts its spell, holds one in its net of wonder forever' by Jacques Yves Cousteau.
The islands of the Maldives, located in the Indian Ocean were once part of a lively gigantic volcanic mountain range 65 million years ago.
When this mountain range stopped being active, it slowly took its time to partially sink into the ocean allowing the growth of coral formations to thrive on its mass. This growth of coral formations eventually became the outer edge of the atoll reefs that spectacularly extend as deep as 6400'/2100m.
Over the years various currents from the oceans began forming channels which to this day presents the Maldives with over 1000 islands made up of 26 atolls with just under 300 inhabited islands.
With the Indian Monsoon Current and other ocean currents flowing in and out of these channels, there are tons of plankton soup for the giant filter feeders. Even the sponges and soft corals take advantage of this delightful meal.
The Maldives is a paradise gem to divers who repeatedly come back to be entertained by giant marine creatures, dive through tunnels, caves, reef walls, and unusual gigantic rock pinnacles colorfully decorated by a variety of sponges.
The best place to dive and see whale sharks is to go to the remote islands.
Why Come To The Maldives To Watch Whale Sharks?
Whale sharks and giant manta rays can be seen year round. Dive sites are shallower and much easier to dive with less current. You'll have opportunities to see huge gorgonian fans, canyons, interesting batfish, snappers, caves and a large pinnacle and more.
Diving at the Maldives is Best For: Beginners, Intermediate and Advanced Divers, and Snorkelers
How To Dive With Whale Sharks At Remote Islands
The best way to dive with whale sharks is from liveaboards because of the remote dive location.
There are many great liveaboards in the Maldives and the one I recommend is the Scubaspa Yang and the Scubaspa Ying liveaboards.

Best Time To Go to The Maldives
If you're a novice diver and looking for calmer water with great visibility, you might want to consider looking at December thru May.  
Water temperature will be around 79F-84F/26C-29C for the entire year. Remember there is no guarantee for you to see these marvelous giants.
How To Get To The Maldives
*If you booked your liveaboard, you will be picked up by their representative at the Male International Airport to take you to the dock.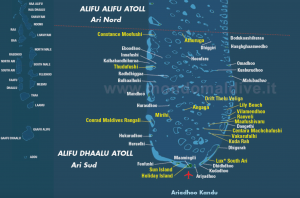 If you do not book with a liveaboard, then follow this…
From the Male International Airport, you need to take a seaplane to Ari Atoll which is approximately a 20-30 minutes flight.
From there you should be able to find transportation to make your way to South Ari Atoll.
Divers and Snorkelers Experiences at the Maldives
1) There are certain rules for liveaboards and dive centers that must be followed that affect divers and snorkelers such as being limited to 5 boats allowing a maximum of 80 visitors for a period of 45 minutes.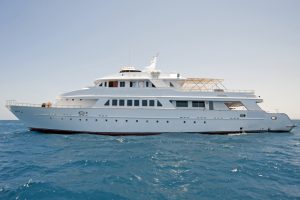 2) You should know that the best dive sites to see these delightful gigantic sea creatures are not short distances in remote places and the best way to see them are to dive from a liveaboard.
You'll find the rates much cheaper on liveaboards than what the resorts on the islands can offer.
3) Other possibilities to see are dolphins, eagle rays, turtles, hammerhead sharks, reef sharks, whitetip reef sharks, snappers, eels, nudibranchs, frogfish and much more.
4.

Dive & Snorkel With Whale Sharks in Belize – Gladden Spit and Silk Caye Marine Reserve 
Watch the Cubera Snappers spawning and the Whale Sharks feeding on the eggs!
Belize

is located in Central America on the very western edge of the Caribbean Sea and east of Guatemala.  
When you think of diving in Belize you're probably thinking of that mysterious abysmal sinkhole, the Great Blue Hole off the coast of Belize or the breath-taking Brazilian Amazon jungle.
Not only is it rich in historical stories, but it's also known as the divers haven for the giant sea creatures, the Manta Rays, AND the Whale Sharks.
Why Come To Gladden Spit To Watch Whale Sharks?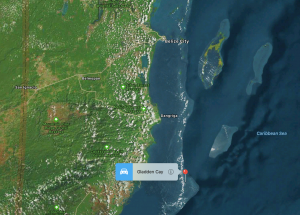 Whale sharks can be seen in many places in the world but Gladden Spit is special. Not only can you dive with them, but you can also witness large schools of Cubera, Dog and Mutton Snappers spawning. 
The magnificent Gladden Spit Marine Reserve is 26 nautical miles off the east coast of Placencia in southern Belize.
This is where you can talk to any local fisherman and they'll tell you the story that occurred in 1920 about their fishermen in Hopkins while fishing at Gladden Spit.
It was on a full moon between March and June and always having a full catch during those times, they would notice a wide spread of white milky substances floating in the water. Suddenly humongous whale sharks could be seen swimming thru them with their mouths wide open.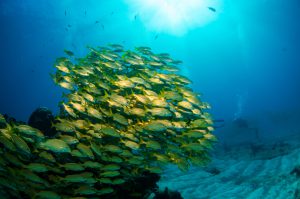 Together with scientists in 1997 they confirmed witnessing this great orgy of a great variety of tropical fish snappers congregating to spawn at this site.
The snappers would create this intense mass of cloudiness by releasing their eggs and sperms and the whale sharks would home in on the rich nutrients in the eggs.
The events of the whale sharks and the snappers are biologically necessary and so in 2001 thru the efforts of the local "Friend of Natures and the Fisheries Department, they made the site protected.
Diving at Gladden Spit is Best For: Beginners, Intermediate and Advanced Divers, and Snorkelers
How To Dive With The Whale Sharks At Gladden Spit
To book your dives with the whales you need to contact the licensed dive centers in Hopkins, Placencia, Seine Bight, Monkey River, Dangriga, Belize City or major hotel resorts.

Reserved tickets are issued to licensed dive centers thru lotteries and are given specific times to take you out on whale shark excursions.
Best Time To See Whale Sharks At Gladden Spit
1) Easter Holiday – book well in advance
2) Between March thru June
2 days before full moon – 10 days after

April and May best months

March 30– April 10(Full Moon – March 31, 2018)

April 28 – May 8 ( Full Moon – April 29, 2018)

May 28 – June 7 (Full Moon – May 29, 2018)

June 27  – July 8 (Full Moon – June 28, 2018)
How To Get To Gladden Spit
There are several ways to do this.
From the Belize International Airport, there are 2 local air flights you can choose that fly to Placencia 5 times a day. Upon your arrival at Placencia, you can then catch a taxi to Gladden Spit.
Taking the shuttle. There is one shuttle you can take near the International Airport in Belize City that will take you to Placencia. Travel time will be about 3 ½ hours and the cost for one way for an adult is about 93.00 US. From Placencia, you will need to take a taxi to Gladden Spit.
Divers and Snorkelers Experiences at Gladden Spit
1) Dives are rated as advanced however, you can still scuba dive in Gladden Spit and Silk Caye Marine Reserve as a novice diver. 
2) Snorkelers are certainly welcomed to join and see the whale sharks as they swim close to the surface to feed.
3) Dives with whale sharks are determined by full moons
4) The underwater landscaping will show sloping of the walls and disappear into the blue bottomless pit but you'll only be diving around 60'/18m easily.
5) Your boat ride from Placencia to Gladden Spit and Silk Caye Marine Reserve is approximately 1:30.
6) You will dive with a small group, no more than 12 individuals (divers and snorkelers) and be accompanied by a divemaster(s) as your tour guide.
5.

Swimming & Diving With Whale Sharks in Thailand – Similan Islands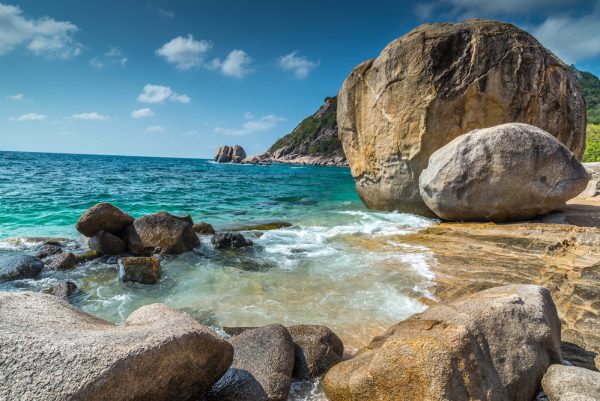 You probably already know Thailand which is located southeast of Asia, as a 'Land of a Thousand Smiles'. Divers, non-divers, and backpackers are always made to feel at home.
Tourists not only come to visit the mysterious ancient ruins, but they also come to explore the surreal dense jungles and Buddhist temples enshrined in gold. 
They also come to bask in the sun and walk along the long white sandy beaches.
Thailand is definitely for everyone, from recreational novice, advanced to technical divers, snorkelers and those who want to learn to dive.
Diving in Thailand first emerged from the result of the American Navy Seals involvement in the Vietnam War.
In 1977 the first dive shop opened in Pattaya drawing thousands of travelers into discovering scuba diving and even the Thai people themselves. The next dive shop to open was in Phuket, then the Andaman Sea and the Similan Islands.
Diving in the Similan Islands is now one of the most popular dive areas in the world.
Why Dive in Similan Islands to Watch Whale Sharks?
There is no other place in the world that can match what you will see underwater than in the Similan Islands.
There are 11 famous islands all located in the Mu Koh Similan National Park ( 140 sq.km) located in the Andaman Sea off the west coast of Southern Thailand
Koh Similan is the largest of these islands and this is where you want to start your diving experience.
You might have already heard of the islands like Koh Bon and Koh Tachai When repeat divers and snorkelers come back it's because they have manta rays, whale sharks and turtles (who come to lay their eggs) on their minds.
Diving at Similan Islands is Best For: Beginners, Intermediate and Advanced Divers, and Snorkelers.
How To Dive With The Whale Sharks At The Similan Islands
The best way to dive with the whale sharks is by a reputable liveaboard because of its remote locations. You will also find liveaboard rates are much more affordable.

Best Time To Go See Whale Sharks At The Similan Islands
During the monsoon season, most of the dive shops will close in November.
Although whale sharks are around year round, the best time is from February to April.
Divers and Snorkelers Experiences in the Similan Islands
1) There is some current ranging from mild to strong. Beginners and novice divers are certainly welcome on the liveaboards but you are advised to have your Advanced Open Water Diver Certification for a great experience.
There are many liveaboards that offer this certification in addition to the Nitrox course.
2) The main attractions, of course, are the whale sharks and manta rays.
3) Stunning underwater landscapes at each dive site from humongous boulders to soft and hard coral reefs.
4) Excellent visibility with tons of diverse marine life.
5) Along with whale sharks, you can dive with a variety of sharks like the blacktip reef sharks and bull sharks. You'll also see seahorses, minke whales, cute dolphins, various turtles, eagle rays and stingrays, eels, and more.
Are You Ready For A Whale Of A Time?
So what do you think? You watched the video and now you know Whale Sharks are harmless. They are truly one of God's created beauty!
I really hope you put one of these places into your Bucket List. 
REMEMBER TO TAKE PHOTOS!!
If you have any whale shark stories you would like to share or have any questions or comments, it would be awesome if you would put them in the Comment Box below.
Thanks,
Monica